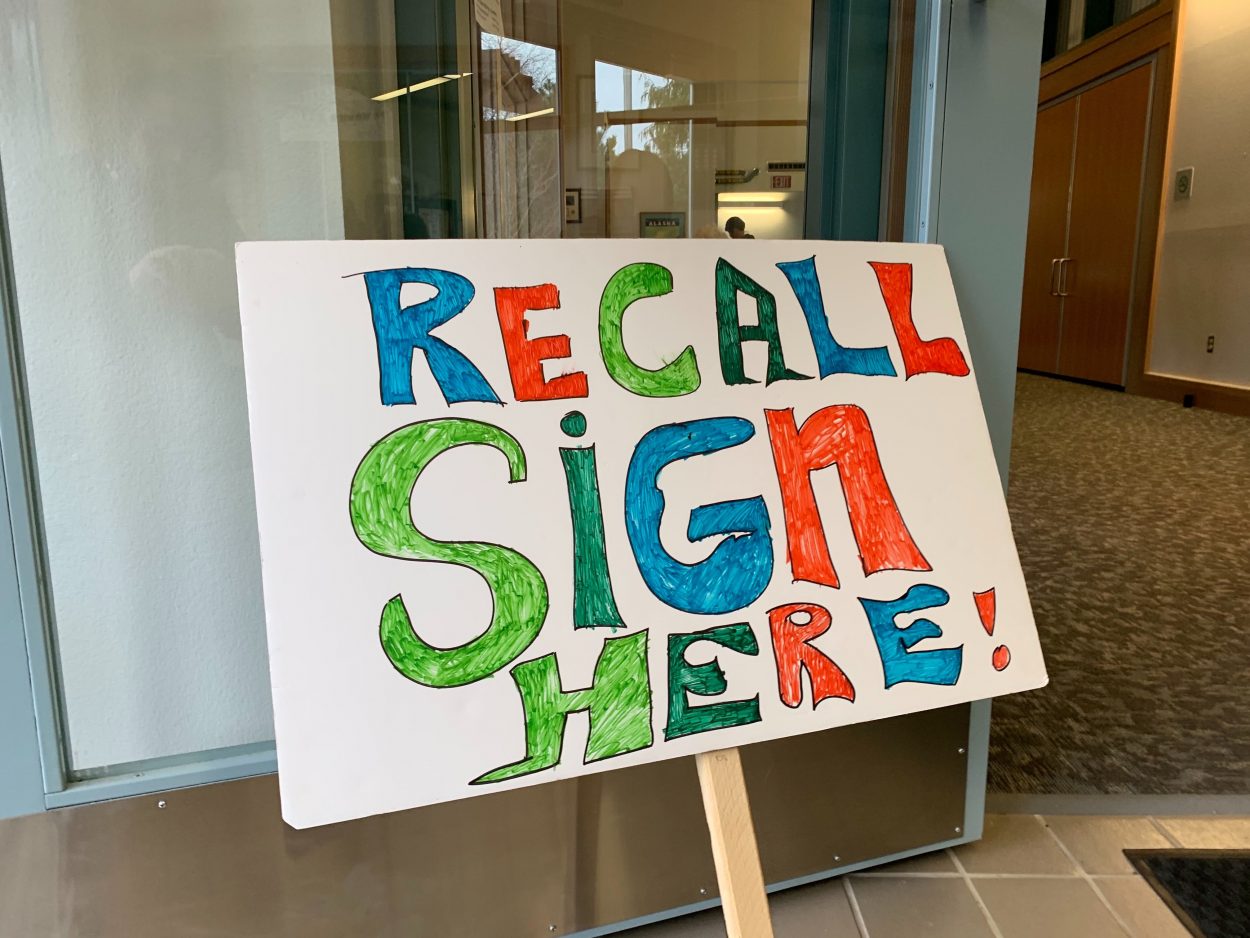 The Recall Dunleavy campaign entered a new phase Saturday. Organizers across Alaska began a second round of signature gathering seeking to reach the more than 71,000-signature threshold to force a special election.
It's around 2 p.m. on a sunny Saturday afternoon in Ketchikan. There's about a dozen people here chatting with the three volunteers at the table.
Organizers told KRBD that they're aiming to get 2,250 signatures in Ketchikan. That effort started inside the Ted Ferry Civic Center.
"Ketchikan is doing pretty fantastic on our first day out," said campaign volunteer Frankie Urquhart. She's a public school teacher who's helping coordinate the local effort to recall Gov. Mike Dunleavy.
"I think one of the most amazing things that he has done is polarize so many Alaskans against him," she said.
She said that's the result of the Dunleavy administration's wide-ranging cuts to social services during last year's budget cycle.
"He's cut the ferries, he's cut the university. He has cut education. He has cut our Pioneer Homes, Medicaid," she said. "He's cut so much funding for some of our most vulnerable people in our population."
Recall volunteer Joey Tillson said she was encouraged to see Dunleavy back a law that stiffened sentences for drug and sex crimes.
"But yet then he cuts public safety. He cuts the courts," she said. "All the stuff that's supposed to enforce these laws that he enacted."
She's also president of the Ketchikan chapter of the largest union representing state employees. Organized labor has been a vocal supporter of the Recall campaign.
Outside the civic center, retired state ferry worker Diane Charrier has just added her name to the Recall effort. She said she's frustrated by the governor's cuts to the Alaska Marine Highway System.
"Because I live in Haines and I live here in the winter and go to Haines in the summer," she said. "And I don't know if I'm going to be able to get there this year."
Ferries were also on Jean Snodderly's mind. The Ketchikan resident signed as well.
"The big one is keeping the Alaska Marine Highway intact," she said.
If Dunleavy is recalled, he'd be automatically replaced by his Lt. Governor: Kevin Meyer, a former Republican state senator who was Dunleavy's running mate. Meyer would serve the rest of the term which expires in 2022.
The Recall Dunleavy campaign has set a self-imposed April 1 deadline to reach the nearly 72,000 signatures needed to call a special election. By the end of Saturday, Ketchikan had added 429 names to that effort.