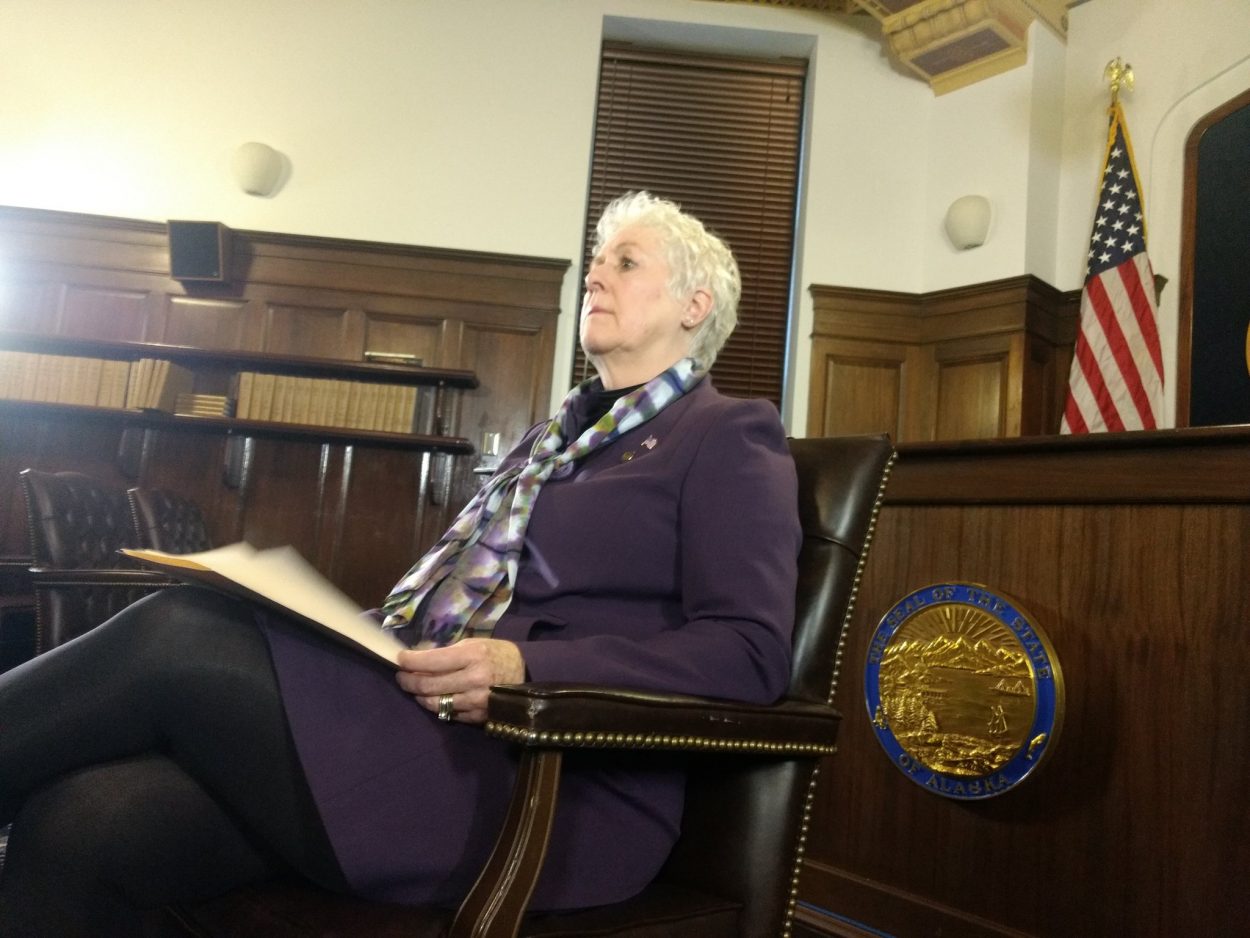 Rep. Louise Stutes (R-Kodiak) recently boarded idle ferries in a fact-finding mission to the Alaska Marine Highway System's headquarters in Ketchikan.
"It's very sad. It's just very sad to see what has happened to our marine highway system," she told reporters in the state Capitol on Monday.
It was part of the co-chair of the House Transportation Committee's Feb. 27 visit that included laid up vessels and the shipyard in Ketchikan.
She says she found vessels in poor shape, low crew morale and a lack of leadership.
"It's inconceivable to see the dereliction that has occurred in the maintenance of these vessels and I don't know how to refer to it in any other capacity," she said.
Stutes reported she had candid discussions with captains, engineers and other ferry workers who were afraid to speak publicly lest they be retaliated against.
"The crews are frustrated," she said. "They're they're abandoning ship — literally."
By that, she means veteran crew members are cashing out on retirement early or finding other jobs, as some ferry workers have been without paychecks for weeks.
Regional service was abruptly suspended in January after the only mainliner in service broke down.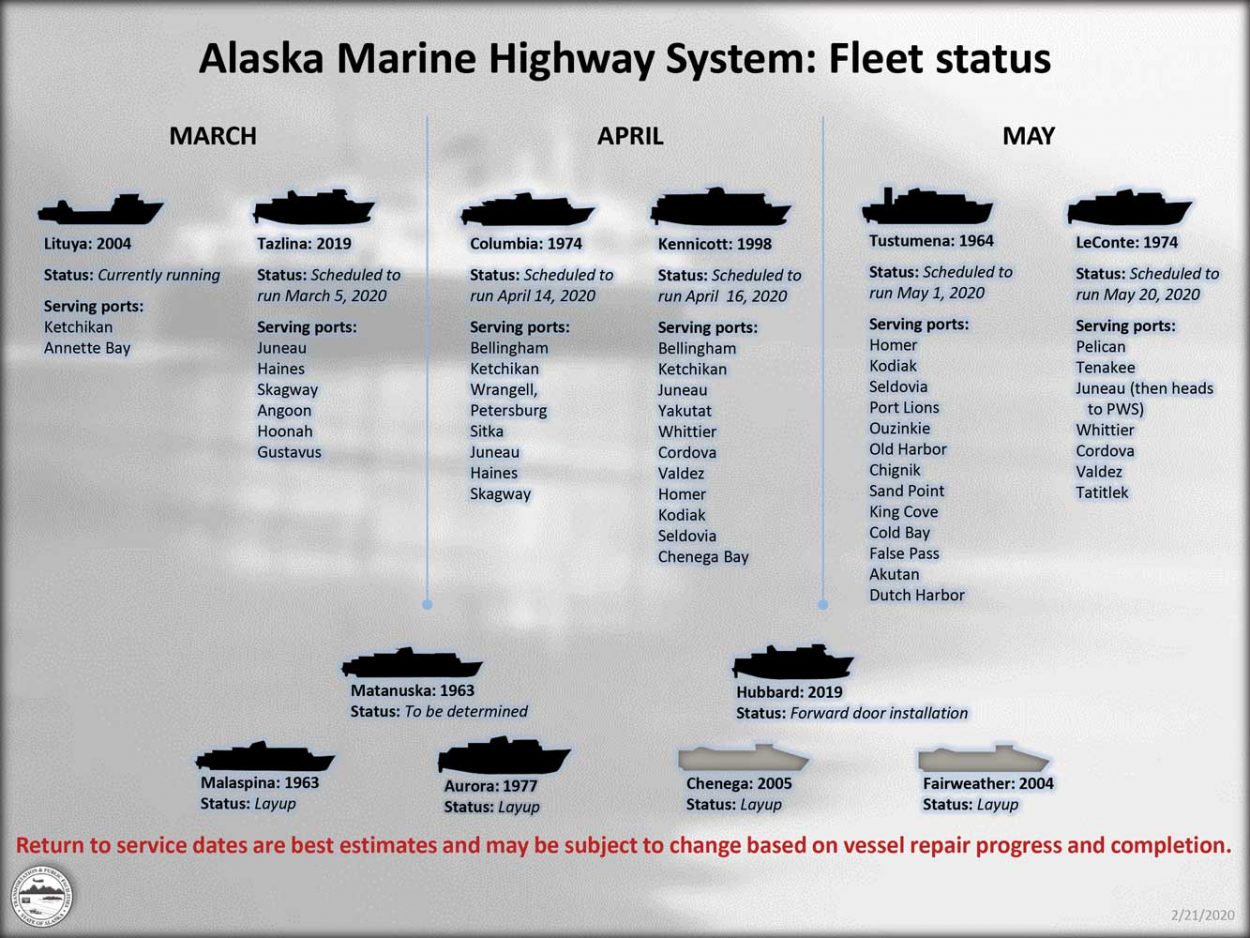 Rep. Stutes also accused the Department of Transportation of downplaying the damage to the ferry Malaspina. The ship has been tied up without a crew since late last year. That's despite the advice of engineers who warned the ship could be damaged by the elements if not properly laid up.
By all accounts, freezing temperatures in January caused some of the ship's pipes to burst while moored in Ketchikan's Ward Cove.
"We were told that there was a slight pipe bursting on the Malaspina and that there was just a little bit of water damage," Stutes said.
That's the official version from the Department of Transportation.
But during her visit to the ship, Stutes and an aide say they saw pools of water in at least 10 staterooms
"And as we went from room to room, you could walk on it and it was squishy the carpet was wet from water so it wasn't just a little insignificant leak," she said. "It was a flood and why? Why did they tie that vessel up and allow those pipes to freeze?"
Secondhand reports – and social media rumors – have widespread damage have circulated for weeks. CoastAlaska filed a public records request in February seeking a month's worth of the Malaspina's maintenance records. The agency denied the request, saying such documents didn't exist.
A broader request filed last week remains pending.
Lawmakers have expressed concern that the Malaspina is being allowed to fall into disrepair. Already artwork and furniture has been stripped from the vessel. The loss of the vessel would eliminate one of the fleet's original mainliners.
Some state lawmakers complain they were never consulted and are now seeking greater oversight over the fleet through legislation.
"Clearly they have no intent of running that vessel again," Stutes said of the Malaspina.
In a statement Monday, Department of Transportation spokeswoman Meadow Bailey says that's not the case.
"The Malaspina is being kept in warm storage, if the vessel is needed in the future it can be returned to service," she wrote. "The carpet is being dried, the artwork was removed to secure storage for safe keeping."
The Kodiak lawmaker also says she heard from skeptical crew members whether the collapse of regional service could have been prevented. She says crew members expressed frustration that the state was paying for two other ferries to be moored in the Vigor Alaska shipyard, rather than put back into service.
"We had the Kennicott and the Tustumena pulled out — they sat down there in dry dock for two months," Stutes told reporters, "the shipyard had no work orders, but yet the state is paying $90,000 a month to have those vessels tied up for no good reason."
Transportation officials didn't specifically address the point over paying to moor ships in Vigor's facility. But in a statement Meadow said both ships were due to begin their annual overhauls in January and the agency had to stick to its plan.
"The vessels could not be put into temporary operation for a month," Bailey wrote. "AMHS does not have the budget to bring the vessels back into operation temporarily, and then remove them from operation for the required repair work."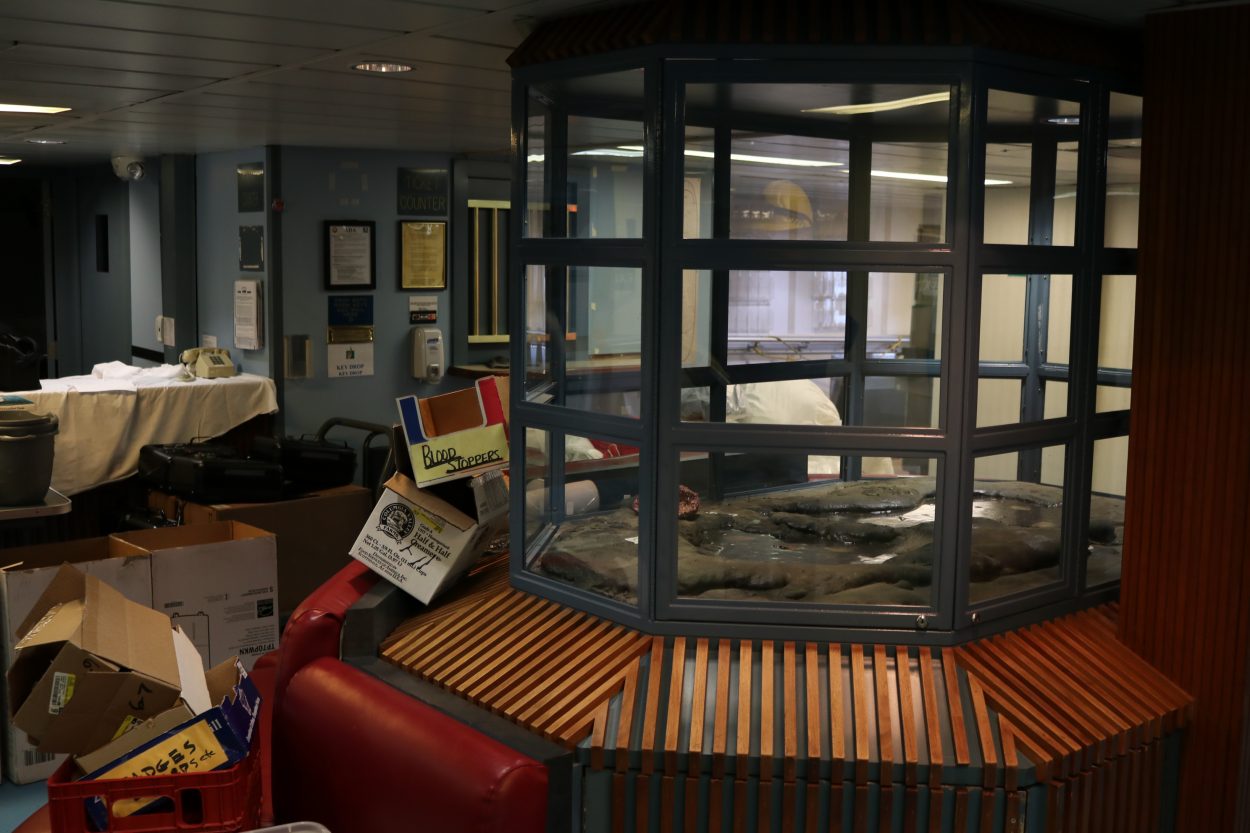 The ferry system's woes pre-date the Dunleavy administration. That point was conceded by Stutes who has been a vocal critic of the Dunleavy administration over its ferries policy. But she says the governor's response to the shutdown has been inadequate.
"And it seems like it's just not been an emergency for some reason," she said. "You see all the pictures of these rural communities with no food in their grocery stores … and so what do we do? We form another committee."
Gov. Mike Dunleavy has appointed a working group to advise the administration on the future of the ferry system. Rep. Stutes is a member of that nine-person group, whose recommendations are due in late September.
This month the state also chartered an Allen Marine tour boat to make passenger runs to several villages. The ferry Tazlina is slated to come back online this week in Upper Lynn Canal. But mainline service with connections to the Lower 48 aren't expected to resume until mid-April.