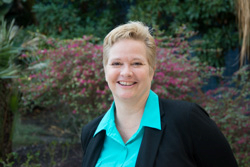 Ketchikan Medical Center will soon have a new top administrator. That's according to a statement from PeaceHealth, the Washington state-based nonprofit that runs the hospital.
PeaceHealth says incoming chief administrator Dori Stevens is familiar with life in an isolated community — she spent a decade working at a hospital in Honolulu. But more recently, she held the top job at a hospital in the San Francisco Bay Area. Her career in health care began as a licensed nurse.
Stevens will take over for interim Ketchikan Medical Center chief Joe Mark on April 13 following a two-week quarantine period, according to the statement.
The hospital's previous chief, Ed Freysinger resigned in December. He said at the time he wanted to re-join his family in the Lower 48.