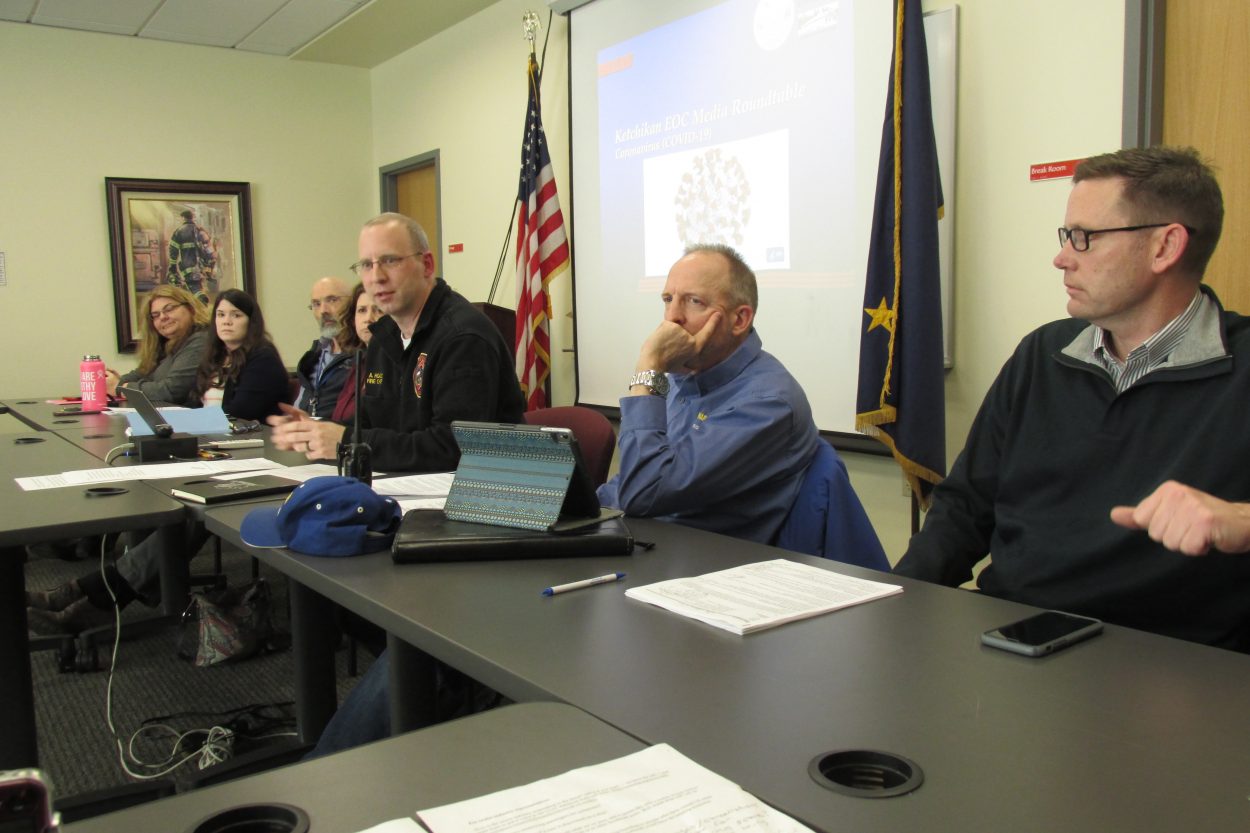 Ketchikan was an early coronavirus hotspot in Alaska. Its first case was announced on March 17. Four days later, that grew to six. Ketchikan's emergency manager, Abner Hoage sent a message on the community's alert system.
"If we don't take action now to stop the spread, the number of cases will grow exponentially," the message read, "and within about a week, six cases could become 26. In another week, 26 cases could become 130, and by the third week, the 130 cases could become 650, and so on."
That same day, Ketchikan's city and borough mayors joined the mayor of Saxman and issued an advisory urging residents to "hunker down" and shelter in place. That followed a state mandate banning public gatherings of 10 or more throughout the borough.
Still, the number of positive cases in Ketchikan grew to 14 by April 1.
But the tide was turning. Authorities started to announce more recoveries than new cases. And on Wednesday, the local emergency operations center announced that all 14 Ketchikan residents known to have contracted COVID-19 had recovered.
So what's next for Ketchikan? KRBD's Eric Stone sat down with Hoage to find out.
The following transcript has been edited for clarity.
Eric Stone: We're down to zero active cases, so that seems like a reason to celebrate.
Abner Hoage: In general, that is a reason to celebrate. But I would say celebrate cautiously.
You'll notice that the number of tests that we've administered is still relatively low. I want to see those numbers higher.
I want for us to be able to find out what's still here in Ketchikan, because we do believe that there probably are still some cases here that just have not been identified due to our limited ability to test until now.
ES: So, I guess the question on a lot of people's minds is when things can get back to normal. And with zero active cases, I think that question maybe has some new urgency.
But I wanted to pose it to you: Do we know when people can go back to work, or are we still too early to really discuss that?
AH: In all honesty, we are still too early to discuss that because, as I was just saying, I'm confident that there's probably still COVID-19 cases in our community that just have not been tested yet.
So if we were to celebrate and reopen everything, what we would see is that curve that we were on before — that was going to spike — would come back immediately, because we don't still don't have a treatment. We still don't have a vaccination.
And so, even with one case in the community, if we go back to normal, we'll immediately be back on track, and we'll have two cases within a day, and then we'll have four cases the next day and we'll have 10 cases the next day, we'll get that exponential spread again.
ES: Are there specific policies that you see having an effect?
AH: Well, I think the combination of all of the actions that we've taken here in Ketchikan — and the overall cooperation of the community has had a huge impact in why we are where we are today. And I really want to thank everyone in Ketchikan for their hard work and their sacrifice to get us to where we are.
ES: So part of what I'm hearing is — your message is that even though we're down to no cases, it's no time to let up, keep on hunkering down, we're not through it yet.
AH: We're not through it yet. And if you watch the state and national news, you watch those experts — Dr. [Anthony] Fauci, Dr. [Anne] Zink from Alaska — they're still predicting that we're going to be in this for a little while.
And that's my prediction as well. We're not in this for the short term right now. We're in it for the long term. Exactly how long that long term is, I don't yet know. But I would suspect we probably have at least another 30 days, if not longer.