We are SO CLOSE to our membership fundraising goal for this fiscal year, but we're not quite there. Help us make sure we have the funds needed to accomplish everything you expect from KRBD, your community radio station!
We are having a "mini-drive" June 8-10 to raise $5,000 to hit our goal of $70,000 by the end of June. If you haven't donated yet, please click the button below to donate now!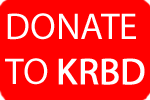 If you are a sustaining donor, perhaps you could afford an additional gift to help us hit that final goal of FY21. Or you can increase your current sustaining amount by clicking here.
Your generous donations make it possible for us to continue vital news gathering and reporting, and distributing important community information. It also helps pay for the technology that makes all our great music programs possible, and for maintaining our aging equipment. For example: we've spent more than $10,000 this fiscal year on maintenance for the transmission tower alone.
Thank you for all you do to support KRBD!