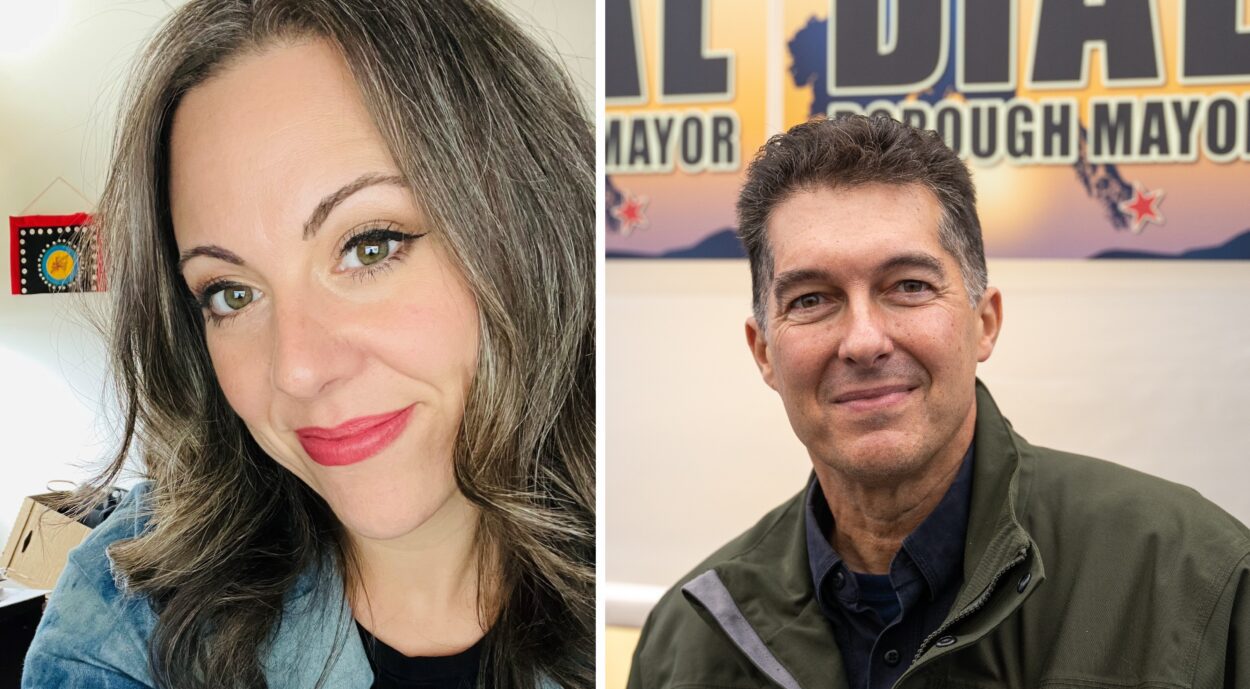 Candidates for Ketchikan Gateway Borough Mayor took questions in a live call-in forum on Friday.
Incumbent Rodney Dial is seeking a second three-year term in office. Though the mayor's office doesn't have many formal duties in Ketchikan's strong manager form of government, the retired state trooper touted his commitment to advocating for Ketchikan as a "full-time" mayor during a KRBD forum on Friday.
"I believe that years ago, we outgrew a ceremonial mayor — probably sometime after the pulp mill and we started transitioning into tourism," Dial said.
He said he's been successful bringing state and federal dollars into the community through his advocacy. He pointed to a federal project to revitalize a NOAA facility on Stedman Street that'll allow Ketchikan to host the research vessel Fairweather.
Asked about his vision for the future, Dial said he'd like borough government to run efficiently, keep taxes low and ensure Ketchikan retains its essential character.
"I think that one of the ways that we get along with each other is if we feel that doing something would intentionally offend somebody, we need to think twice about doing it," Dial said, adding, "Maybe having that performance at the library is not the best thing. Maybe we could have it at a at a private facility. Maybe you could go have it at a park. There's ways that we could we can find compromise, if we're willing to do that."
Dial was referring to the Ketchikan Public Library's decision to host a drag queen for a storytime during Pride Month festivities in June.
During the roughly 80-minute forum, Dial refused to say whether he supported or opposed Proposition 2 — that's a measure that'll go before voters outside Ketchikan and Saxman city limits that would prevent the borough from collecting a tax that provides roughly 40% of the Ketchikan Public Library's funding. The measure was proposed in response to the drag queen event.
"If I, as an elected official, said something, either for or against it, people would say that I'm trying to influence the election," Dial said. "It wouldn't be appropriate for me to do that."
But Dial did say that if Proposition 2 passes, he would not use his veto power to prevent the Borough Assembly from funding the library another way.
"I would not veto it … The assembly, which represents everybody on the island, can make the decision that we're going to fund it a different way, and that would be their call," he said.
Dial said he'd continue to use his veto sparingly in a new term — he's vetoed two measures since taking office in 2019. One of those was a resolution asking the Alaska Legislature to protect LGBTQ civil rights, and more recently, he vetoed a $1,638 borough grant to the Ketchikan Pride Alliance for education and outreach events.
"What's important to know about that situation is we were about $100,000, short on having the appropriate funds to address the basic needs of the community such as homelessness, substance abuse, taking care of our seniors. We don't have money to give to groups to throw parties," he said.
The assembly overrode his veto both times.
Katie Parrott, the school district finance official who's challenging Dial, took aim at the vetoes.
"I'll admit and be quite frank that it has felt sometimes that an organization like Ketchikan Pride Alliance is kind of unfairly characterized in ways in community conversations that have come up," she said. "Other organizations in this community haven't had to combat the same kinds of concerns about their group being too political."
Parrott also explicitly opposed Proposition 2, the library funding ballot question.
"The library provides so many critical resources and services to this community that go so far beyond being able to check out a book," she said. "Literally, for some people, for young families and vulnerable people and people who can't necessarily afford maybe Internet services and those kinds of things, the library is a lifesaver."
Parrott also committed to not vetoing efforts to fund the library through other means if Proposition 2 succeeds.
Parrott, who already has a full-time job as the school district's business manager, says the mayor's role should be nonpartisan and ceremonial — a sharp contrast from Dial's vision of the position.
"While I know that having a very active mayor is a benefit to the community, we do have a strong manager form of government," she said, adding that advocacy for federal funds and other community priorities should be done in concert with the borough administration and the assembly as a whole.
As for her vision for the future, Parrott says the borough should focus on increasing school funding, creating a better business environment and increasing social services like health care and substance abuse treatment.
"I want this community to be absolutely thriving, flourishing, prosperous — a community that is the envy of Southeast Alaska," she said.
Early voting starts September 19 at the city and borough clerks' offices and is open 8 a.m. to 5 p.m. Monday through Friday. Election day is Oct. 4.
KRBD is holding two more forums this week. City Council candidates face off at 7 p.m. Tuesday, and Borough Assembly candidates will take questions starting at 7 p.m. Thursday. Tune in to KRBD or watch live on KRBD's Facebook page.
Listen to the full forum below, or watch on Facebook.