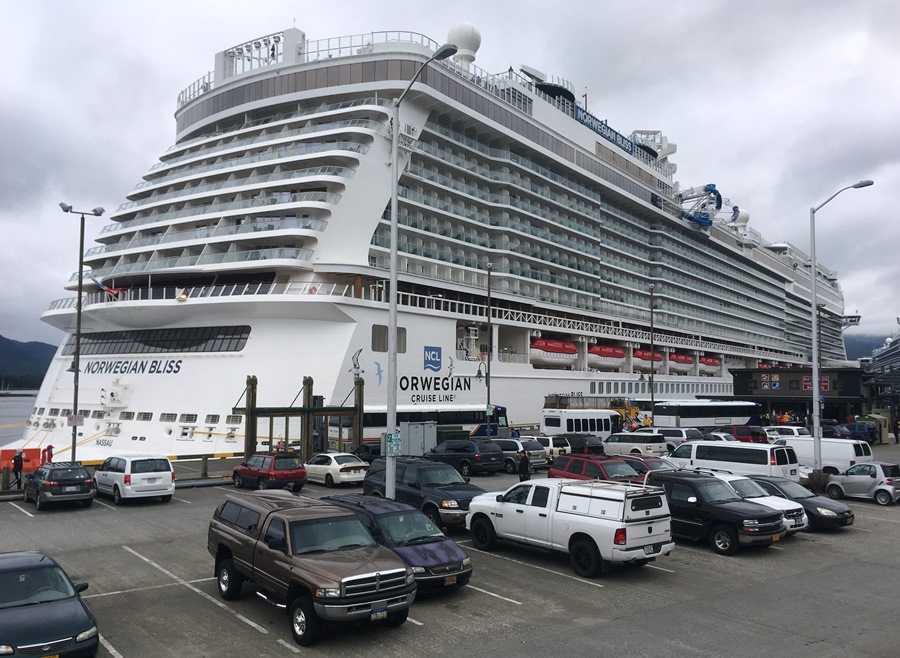 Ketchikan's City Council pressed the head of an Alaska cruise industry group on Thursday about how cruise lines can help the city upgrade its port and pay for infrastructure to support the tourism economy. Charlie Ball, the president of Cruise Lines International Association Alaska, said he was open to allowing Ketchikan to spend some of its port fees on city services, but didn't make any firm commitments.
Ketchikan City Council members wanted to know if there was any room for leeway when it comes to how to spend passenger and cruise fees.
Council member Mark Flora brought up the organization's existing agreement with Juneau, which allowed the community to use $10 million in passenger fees to expand their convention center.
"As an industry, has there been any talk amongst yourselves about the opportunities for our community to have some latitude, some more autonomy with how we spend money off of our own public asset?" Flora asked.
The discussion was the latest in a years-long back-and-forth about just how the per-passenger fees charged to cruise lines can be spent. In 2018, a federal judge in Juneau ruled that head tax revenue can only be spent on things that directly support the vessel.
Flora also brought up an arrangement in the town of Bar Harbor, Maine, where some cruise ship passenger fees go toward the city services. He wanted to know if that's a possibility for Ketchikan.
CLIA Alaska President Charlie Ball didn't shoot down the concept.
"I think the Juneau model does presuppose that a portion of the fees go to setting the cost of city government and that there is and there is a process by which that is reviewed," Ball said. "So that, you know, there's a charge off for the various city departments that is embedded in the Juneau fees. So yeah, absolutely. I think that model is worth looking at."
He said there's room for negotiation, but said it was a discussion for another time.
"We have discussions, it's not nearly as acrimonious as I think sometimes the media makes it out to be, we want to make sure that we're not subsidizing our businesses at the expense of communities," Ball said. "And we try to be as reasonable as we possibly can on a fee basis and how those work."
Ball said CLIA's top priority was upgrading the city's third cruise ship berth to handle larger ships. He said the city needs to expand the berth to stay competitive with a privately-owned dock seven miles north of town in Ward Cove.
Council member Riley Gass also asked where the agency stood on raising passenger or cruise fees. He said raising the city's $9-per-passenger head tax could make it easier for the city to afford upgrades to the berth and catch up on deferred maintenance.
"I think we, from our side of this, are looking at probably wanting to see pretty significant increases," Gass said.
Ball said higher head taxes were on the table.
"It's likely given the, you know, the facts around all this, that the increase will be significant," Ball explained.
Ball said CLIA would be able to help with the cost of those improvements but wouldn't give a firm dollar figure.
Ball emphasized throughout the discussion how the agency wanted to keep a good working relationship with Ketchikan.
The council didn't set a date for the next discussion with the agency.
Raegan Miller is a Report for America corps member for KRBD. Your donation to match our RFA grant helps keep her writing stories like this one. Please consider making a tax-deductible contribution at KRBD.org/donate.