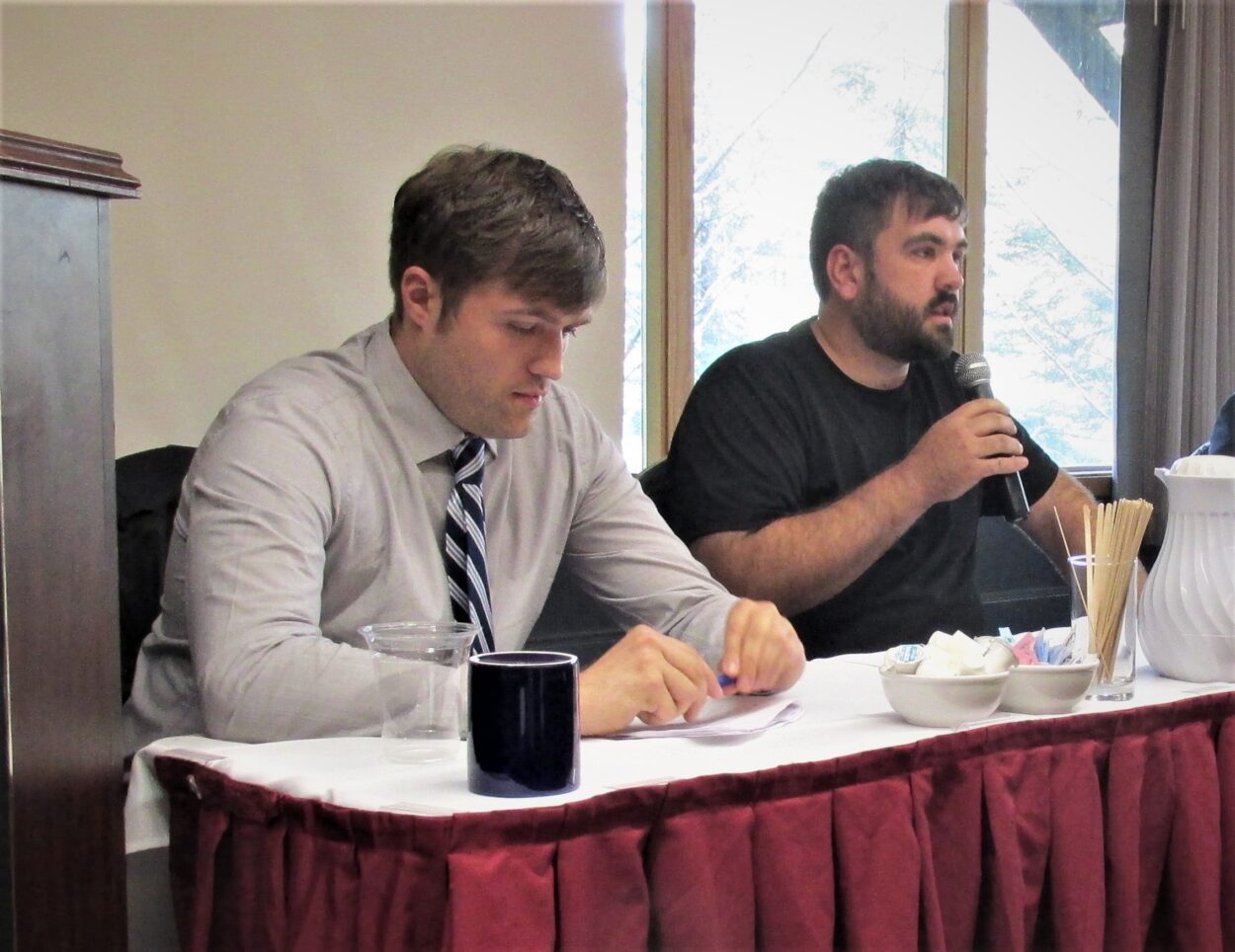 Two of the four candidates vying for two, 3-year seats on Ketchikan's Borough Assembly participated in a forum hosted by the Chamber of Commerce Wednesday. They spoke about how they would address challenges in the community and what qualities they could bring to the assembly if elected.
Incumbent Austin Otos and political newcomer Joshua Titus fielded questions posed by community members during a luncheon at the Cape Fox Lodge.
Candidates were asked what they feel are essential qualities for an assembly member and how they would approach an issue that ran counter to their personal beliefs. Otos says it's important to be non-partisan, serving constituents with many different perspectives and backgrounds.
"You can have your beliefs and values, but just understand that there are people that would disagree with you up there," he said. "So I think it's very important to put on a certain character when you're there to be representative of all the people in the community."
He says he also likes to establish friendships on the assembly to help break down barriers.
Titus highlighted his conservative and religious background and said he'd lean on his personal values when making decisions.
"There are certain principles with Christianity and they're right there in the Bible if you want to know what I believe, that I'm just not willing to compromise with. I've also stated that I'm a conservative. And that's not partisan, that's a mindset."
He says as a conservative, he believes in lower taxes and controlled spending.
"We need to look for an efficient government. We need to look for new solutions for funding. And not just for increased tax payer dollars," he said.
Titus added that it's important to be a good listener, have an open mind and be able to work with others to find solutions that work for everyone.
The two candidates also talked about what they saw as the community's top issue.
Titus pointed to the cost of living and said Ketchikan relies too much on resources barged in from the Lower 48.
"I would love to see a way to get lumber from here in town and be able to certify that so it can be used on a permitted project," Titus said. "I'd love to see more seafood available. I'd love to see more agriculture here in town."
Otos says the greatest challenge facing the borough is housing. He says without housing, there can't be economic development. Otos says some progress is being made.
"We're in the planning stages right now – new subdivisions and expanding some service areas. Putting in new roads and utilities," Otos said. "The Federal Government, through the CARES Act, gave us about $7 million that we were able to put into a housing fund. In the future, I'd like to see this as a rotating fund to put new roads and utilities into subdivisions but also selling some of our land and putting it back into the fund."
Otos says he'd like to see the borough require permits for short-term rental properties to ensure that property owners pay sales taxes on their units.
"About half of the vacation rentals are not registered for sales tax, so half of them are paying and the other half are not," Otos said. "To me a permitting processes would make sense to get those required local taxes to the borough."
But he said he didn't support limiting the number of short-term rental properties in Ketchikan in an effort to free up housing stock for residents.
Titus offered tentative support for licensing, but said he opposed regulating short-term rentals.
"People need to be able to do with their property what they want, within reason," Titus said.
He believes many landlords are switching to short-term rentals to avoid problems with irresponsible tenants.
"Maybe if we found a way to empower landlords to deal with a bad, long-term renter, that might bring more people into the long-term rental market," he said.
Changes to Alaska's Landlord and Tenant Act, which governs long-term rentals, would need to be approved by the state Legislature.