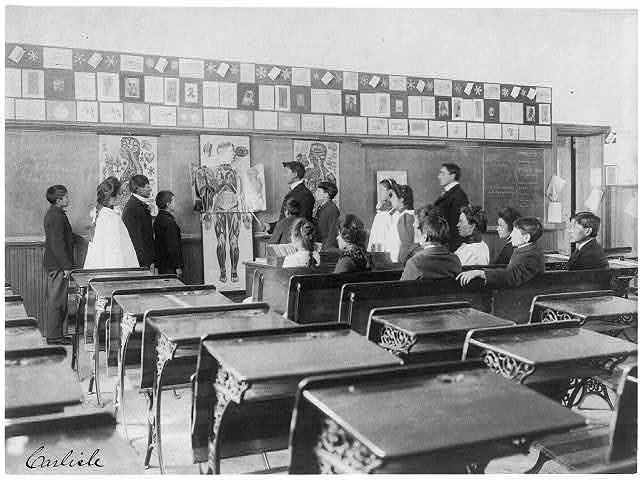 Dozens of Ketchikan area residents were students at a Pennsylvania boarding school before it closed in 1918. Archived records show details about their lives and what happened to them after they left the school.
The last day of September is recognized each year as Orange Shirt Day. It's in remembrance of the trauma caused by the forced relocation of Indigenous people to residential boarding schools.
Irene Dundas said the day is about recognizing the pain caused by residential schools. She is a cultural heritage specialist for Ketchikan's tribe, but she spoke to KRBD outside of that role.
"So the awareness of Orange Shirt Day, and of just recognizing that there is a history, you know, of historical trauma on the native community, and that is raising awareness and not trying to erase the past," Dundas said.
She said there could be more than 30 Ketchikan area residents who went to Carlisle Indian Industrial School — a boarding school in Pennsylvania that operated for nearly 30 years. Carlisle is regarded as the first government-run boarding school.
"And some of them are not all Tlingit – they're Tlingit, Haida and Tsimshian," she explained. "And we are trying to work to try to locate the families."
Researchers from the Carlisle Indian School Digital Resource Center and the Carlisle Indian School Project are working to connect families to more information about their loved ones who attended the school.
Dickinson College houses the records compiled for the resource center. KRBD obtained archived student records from the college's special collection, which included every Alaskan student registered at Carlisle before it closed. That's funded by the Andrew W. Mellon Foundation — the same foundation funding the first phase of Sealaska Heritage Institute's Totem Pole Trail in Juneau.
Twenty-six students had at least one address in Metlakatla, Ketchikan, Saxman or on Gravina Island. Some of them appeared to have been adults at the time–in their early 20s, according to records.
After graduating, many of the students worked in Ketchikan. That includes Thomas Hanbury — his school records show that worked as a carpenter in Ketchikan. Student Christopher Dalton, from Metlakatla went on to work in the saw mill in Ketchikan when he graduated. And Patrick Verney worked in a Ketchikan printing office.
The youngest student from Southeast Alaska was seven-year-old Margaret "Maggie" Jane Brown of Metlakatla. She graduated in 1913.
The records offer a glimpse into the Alaskan students' lives – many had at least one parent who was deceased, left school due to poor health, or had no known home address. Several records showed misspellings of Metlakatla and Ketchikan.
Dundas said she's aware of the work being done to further identify those who attended residential schools, including Carlisle.
"They have a web page that they really did a lot of work on, to try to help families and individuals look for their family members that had went to the East Coast (to boarding schools)," she said.
She said she has hope that local families might one day learn more about their loved ones' history.
"It's going to be a big, it's going to be a big healing … I guess maybe it's not even a ceremony. There will … will be some healing that needs to be done, because it's really traumatic," she said.
But Dundas said there are still changes that need to be made today to keep moving forward.
"I feel like some of it isn't just something that has happened, you know, a couple hundred years ago or 100 years ago," she said.
Other students with addresses in the Ketchikan area included Albert Dundas (Metlakatla), Alice Dundas (Gravina), David Guthrie (Metlakatla), Dora Allen (Meltakatla), Elwood William Mather (Metlakatla), James Johnny (Saxman), James Keith (Metlakatla), Jesse Dickinson (Ketchikan), Joseph John Kochteets (Ketchikan), Joseph Simpson (Metlakatla/Port Chester), Katie Dalton (Ketchikan), Lydia Faber (Metlakatla), Margaret Burton (Metlakatla/Port Chester), Margaret Jane Brown (Saxman), Mercy Allen (Port Chester), Paul Richard Kinninook (Saxman), Paul Young Jones (Ketchikan), Reuben Ridley (Metlakatla), Sara Johnny (Saxman), William Grant Burgess (Ketchikan), Henry Burton (Metlakatla), and Sydney Burton (Saxman).
You can search for Tsimshian students here, Haida students here, and Tlingit students here. More information about Alaskans who attended the school can be found from the Carlisle Indian School Project or the digital resource center.
Editor's note: The communities attributed to each student are listed as they appear on the 'home address' line of their student information cards.
Raegan Miller is a Report for America corps member for KRBD. Your donation to match our RFA grant helps keep her writing stories like this one. Please consider making a tax-deductible contribution at KRBD.org/donate.