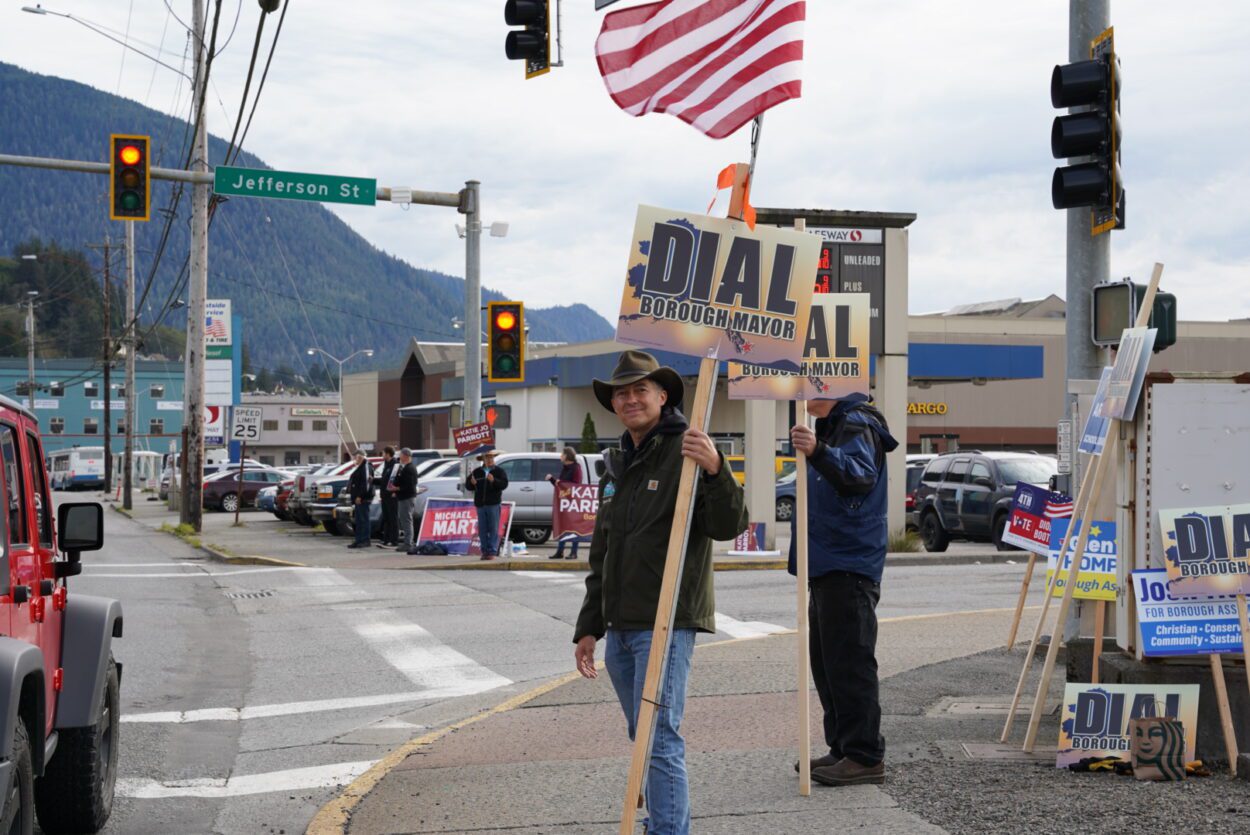 Polls are open for a few more hours in Ketchikan, Saxman and communities across Prince of Wales Island. KRBD took a swing through town to talk with voters and candidates on municipal election day.
It's a Ketchikan tradition: waving signs on a busy street corner reminding voters to head to the polls. A little before noon on Tuesday, Borough Mayor Rodney Dial stood with a campaign sign and an American flag.
"Just go out and vote — don't matter who you vote for, just go out and vote," he said. "Our community's worth it."
Across the street is Dial's challenger, outgoing school district business manager Katie Parrott.
"We had a good group out this morning, and it's we've gotten a lot of waves, a lot of honks — for both teams — and it's been wonderful," she said.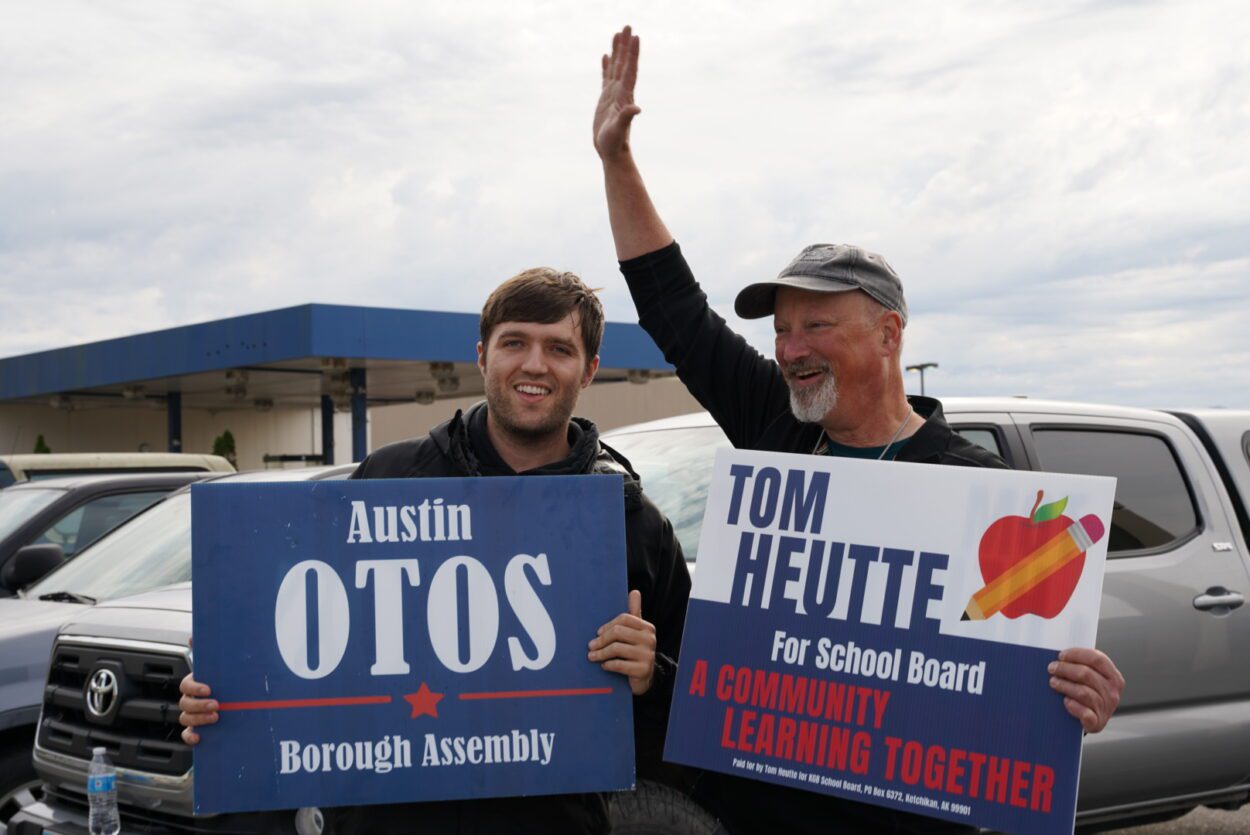 She stood alongside Austin Otos, who's seeking a second term on Ketchikan's Borough Assembly, and school board candidate Tom Heutte. He's been appointed to the board to fill vacancies in the past but is looking for his first election victory.
"Austin (Otos) and Katie (Parrott) and I are all supporting each other — and (Michael) Iann (Martin) too," Heutte said. "We're all sticking together and having fun with it."
Heutte is a KRBD board member, but the board is not involved in the newsroom.
LEARN MORE: KRBD's voter guide for the Oct. 4, 2022 Ketchikan election
Inside the Plaza Mall, poll worker Marily Yaw says turnout has been about on par with prior years' municipal elections — which is to say, not great.
"I'm surprised — I thought it would be that there would be more people," she said. "It's been kind of steady, but not like it should be."
Proposition 2 was top of mind for many of the voters casting ballots in Ketchikan. The ballot initiative to remove borough funding for the Ketchikan Public Library was filed after a group of parents expressed concerns about library books and programs dealing with gender and sexuality. It was announced days after the library held a storytime with a drag queen during Pride Month.
MORE COVERAGE: Ketchikan Proposition 2 author downplays impacts of library defunding measure in KRBD forum
Alan Falzarano spoke shortly after casting his ballot at North Tongass Fire Station 8. He said he voted for Dial and voted in favor of the library defunding measure.
"I don't think we should be teaching our kids about transsexualism until they're at least in eighth grade," he said. "Not out in our frickin' library, man."
He said he thought residents outside city limits should have more control over the public library.
That was on voter Karla Reinhardt's mind, too.
"I voted to change the way the library is funded," she said. "I voted yes for that one, so maybe people will listen a little bit better to what a percentage of the population here feels instead of being so condescending."
The drag queen storytime was a hit among the kids who attended — librarians had to add two extra showings to keep up with demand. But it's been a political lightning rod. Members of Ketchikan's City Council, which has the final say over the library's budget and programming, tried and failed twice to cancel the storytime.
If the measure passes, the source of roughly 40% of the library's annual funding would disappear starting in 2024. If the city or borough doesn't replace the funding, city officials say they'd be forced to cut almost all programming, lay off half the staff, and people outside Ketchikan and Saxman city limits would not be eligible for a library card.
Malcolm Doiron was among those who voted against Proposition 2.
"I hope there's enough smart people around here to not foul up the library," he said. "I've been using it for 60 years. I'd like to continue using it."
Bob Soptei cast his ballot at a fire station in Ward Cove. He says his vote against Proposition 2 is a statement about what he wants Ketchikan to be.
"The community is a pretty inclusive community, and I felt that voting against (the library) would just make a statement that we're not inclusive," he said. "I just think it's important because since we have a variety of different people, we need to accept everybody."
Polls are open until 8 p.m. KRBD will provide election updates on air as returns come in. The first results are expected around 9 p.m.