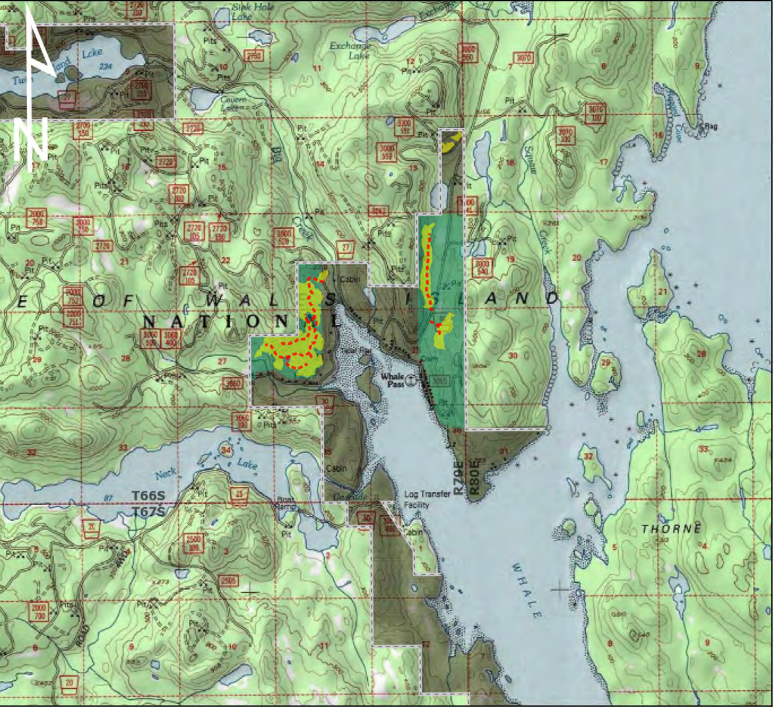 There is a growing amount of opposition on Prince of Wales Island for a proposed timber sale near the town of Whale Pass. The Prince of Wales Community Advisory Council, representing several communities on the island, drafted a letter opposing the state timber sale, which would clear-cut almost 300 acres of old-growth right above homes, leaving the town's hillside bare.
Brian Templin is the council's chairman. He says three communities have signed on to the letter as of Tuesday morning, but at least six are needed to to make it official. Templin said that it's POWCAC policy to require a majority of member communities to sign on to decisions.
"The process then essentially goes to the membership (communities)," Templin said. "And if enough communities approve or sign on to the letter, then POWCAC can send the letter."
Whale Pass' City Council has already sent a resolution in opposition to the proposed logging to the state's Department of Natural Resources. Templin said that's also where they'd send their regional letter.
"The letter has gone out to the communities for their consideration," he said. "Three communities so far have signed on, and many are just still considering whether or not they want to sign on to support the letter, as well."
The state is accepting public comment on the project until Oct. 17. That's the deadline for public comment on the proposed timber sale. Templin said that if at least six communities sign the letter, it will be sent electronically to the department.
Both the regional council letter and Whale Pass's resolution ask for the boundaries of the sale to be pushed back by about 100 feet. Both councils hope this will ease concerns about opening up neighborhoods to landslides, harsh winds and rockslides. They also hope it prevents a clear-cut hillside detracting from the town's visitor appeal.
The letter states, quote: "The majority of Whale Pass residents are not opposed to responsible logging, but clearcutting this particular contiguous stretch of old growth would negatively impact the community's economy, viewshed and way of life in ways it will take many years to recover from," end quote.
POWCAC represents the communities of Coffman Cove, Craig, Hollis, Hydaburg, Klawock, Naukati, Kasaan, Point Baker, Port Protection, Whale Pass and Thorne Bay, plus the Prince of Wales Chamber of Commerce, the Craig Tribal Association, Hydaburg Cooperative Association, Klawock Cooperative Association and the Organized Village of Kasaan.
Whale Pass is located on the Northeast side of Prince of Wales Island. It has about 84 full time residents and many seasonal visitors.
Raegan Miller is a Report for America corps member for KRBD. Your donation to match our RFA grant helps keep her writing stories like this one. Please consider making a tax-deductible contribution at KRBD.org/donate.