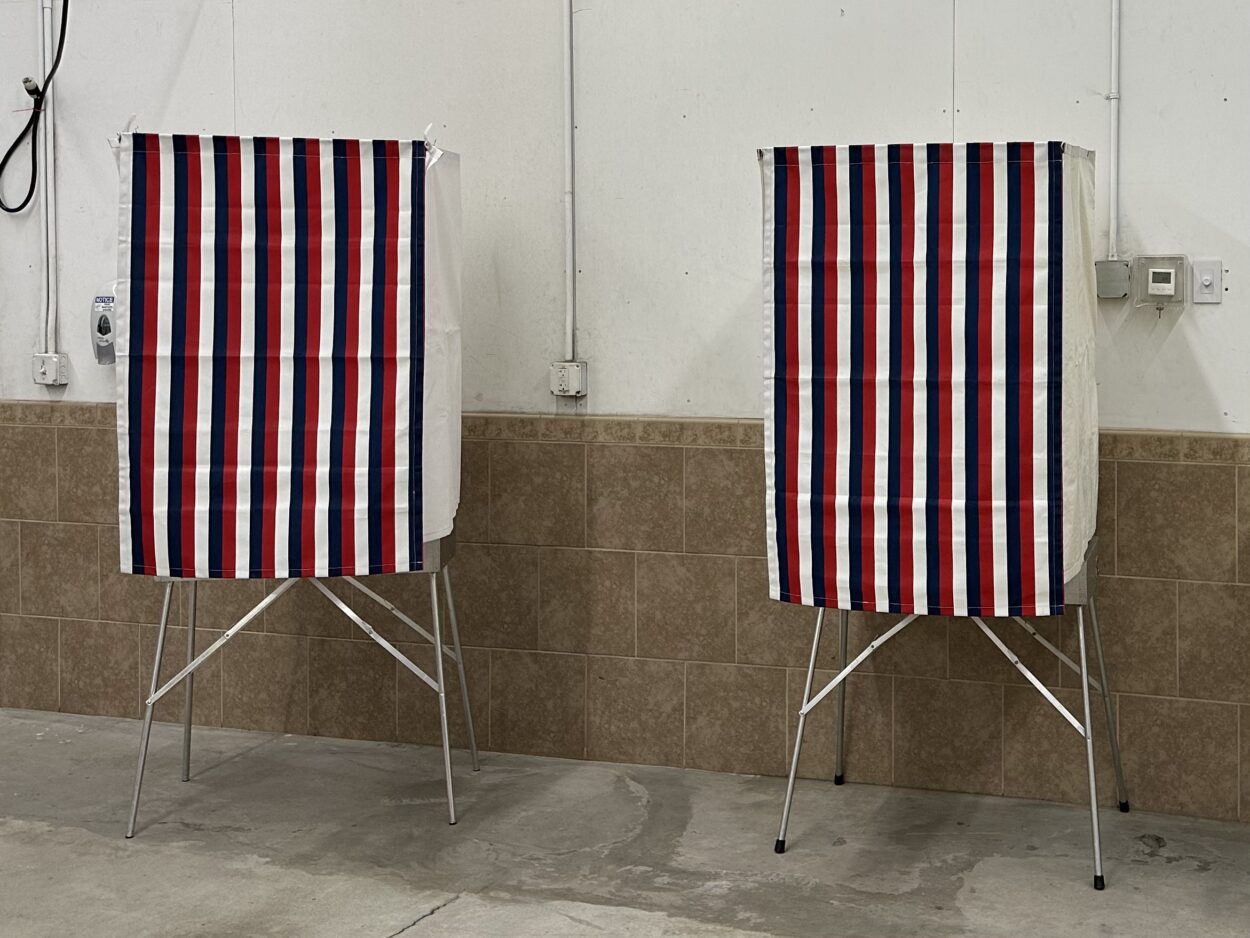 Ketchikan Gateway Borough Mayor Rodney Dial has a substantial lead after in-person election day votes were counted in Tuesday's municipal election. And a proposition that would remove borough funding for Ketchikan's library appears on track to fail. But there are still hundreds of ballots left to be counted.
Ketchikan Gateway Borough Mayor Rodney Dial has a nearly 300-vote lead over challenger Katie Parrott in preliminary results. About 54% of in-person voters cast ballots for Dial.
It's a big lead, but the results are not final. There are 680 ballots left to count in borough races, including mayor, assembly and school board. Those will be counted by the borough's Canvass Board starting Monday, Oct. 10.
Dial thanked his supporters in an on-air interview Tuesday night.
"I want to thank God for this night, and I want to thank all those people that prayed for me, I'm very humbled that the voters would give me another chance to serve. And I also want to deeply express my gratitude and let the community know that I will do everything I can to make our island a better place for everybody," he said.
He also reached out to voters who cast ballots for his opponent.
"I want to thank her for running a good campaign," he said. "She definitely challenged me. She was a great candidate. And I also want to just let those who didn't vote for me know that I'm going to work harder to earn your trust, you know, and I do care about you. I care about your opinion. "
In the race for two seats on Ketchikan's Borough Assembly, incumbent Austin Otos leads by about 400 votes. He has received more than 1,700 votes so far.
"I think it's so important that younger people are represented," he said. "I'm glad I got reelected again, and, yeah, I hope I represent everybody equally, so thank you."
Glen Thompson is in second with nearly 1,300 votes. Michael Iann Martin is in third, a little more than 200 votes behind.
On Ketchikan's school board, Melissa O'Bryan looks to have secured one of two available seats. She was the top overall vote-getter with more than 1,700 votes.
"Very exciting, very humbling," she said. "That's 1,755 people who believed in enough than me to vote, and I appreciate that very much."
Tom Heutte is in second place with more than 1,200 votes — that's a lead of about 180 votes over third-place finisher, Robb Arnold. But Arnold could make up some ground as absentee ballots are counted.
A once-a-decade proposition asking voters whether to retain the existing voting system for the Borough Assembly looks to have passed by a wide margin — more than 80% of ballots cast on Tuesday favored keeping the current at-large system.
But a proposition that would remove borough funding for the Ketchikan Public Library is narrowly failing in preliminary results. Nearly 55% of borough voters outside city limits voted against the proposition.
There are nearly 300 absentee, questioned and special needs ballots outside city limits still to be counted, so it remains to be seen whether the 159-vote margin from election night will hold.
In races for Ketchikan City Council, incumbent Mark Flora is leading in the race for two available three-year terms with more than 600 votes. He's ahead of the third-place finisher by roughly 150 votes with about 300 city ballots left to count.
"If this holds up, I think maybe one of the things that helped me get back there is just a sense of continuity that the community needs right now, especially with a new manager," Flora said. "New blood, new ideas are always good, but just because you're the incumbent doesn't mean that you can't welcome change and new ideas."
Fellow incumbent Lallette Kistler placed second with just over 500 votes. That's a razor-thin lead of 33 votes over Kevin Kristovich. Ketchikan's city Canvass Board is scheduled to start counting absentee, questioned and special needs ballots on Friday.
There's also a one-year seat on the City Council up for election this year. Jack Finnegan looks to have won that race — he has a 369-vote lead over second-place finisher Christopher Cumings. Finnegan says he's looking forward to getting to work.
"I hope to bring a really even-tempered, open mind to the Council, and the willingness to listen, and empathy for all members of our community, especially those who are most vulnerable for whatever reason, and a patience and willingness to learn to admit when I'm wrong, and to challenge my own assumptions," he said.
City voters also approved one ballot proposition. More than three quarters of voters favored three-term limits for the mayor and City Council.
Voter turnout across Ketchikan was 31%, which was substantially higher than the 20% figure reported last year.
Turnout was especially high in areas outside city limits, where voters were asked to vote on library funding. In Ketchikan's northernmost precinct, including the Clover Pass area, 43% of registered voters came to the polls or cast an absentee ballot.
Disclosure: Tom Heutte is a member of KRBD's nonprofit board of directors, which is not involved in the newsroom.
This story has been updated with comments from candidates.