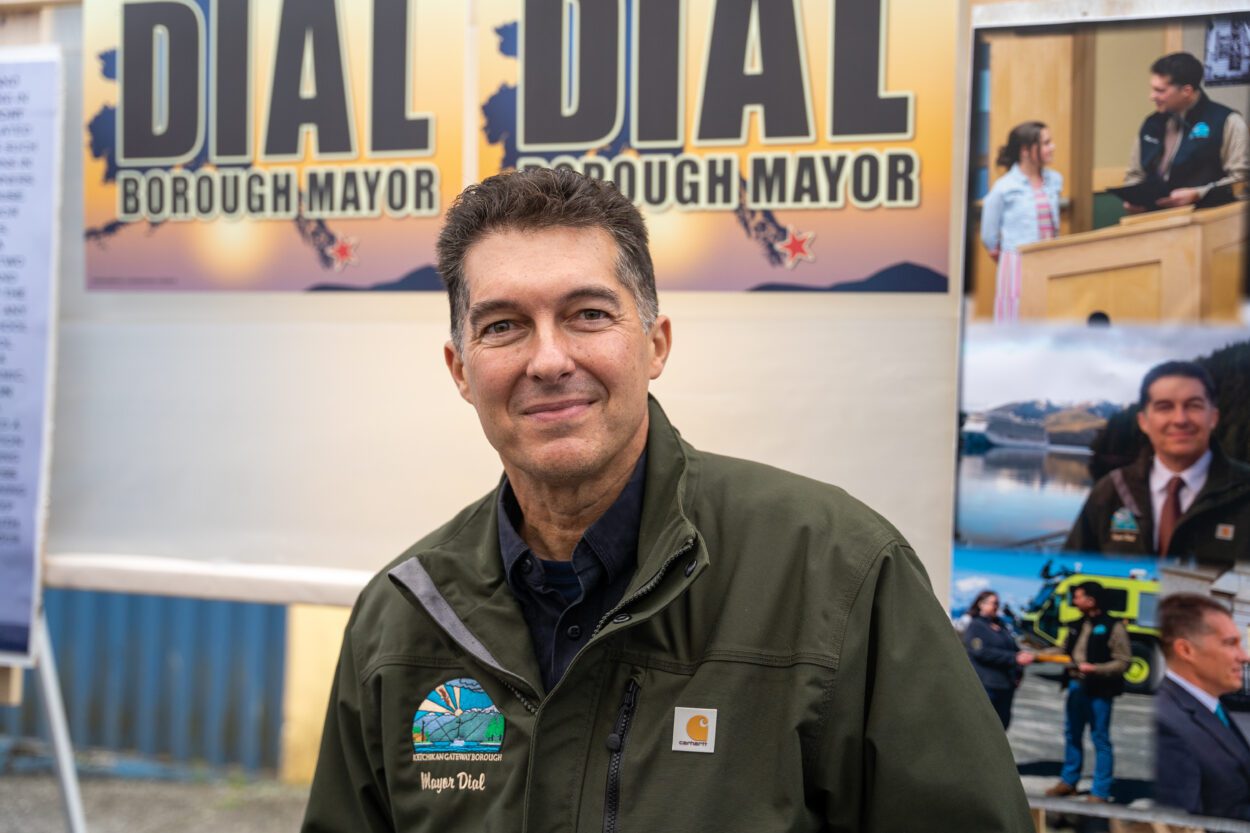 Ketchikan Gateway Borough Mayor Rodney Dial has won a second three-year term in office. And a proposition that aimed to defund Ketchikan's library over LGBTQ books and programming has failed. That's after 659 absentee, questioned and special needs ballots failed to change election night standings in Ketchikan borough races.
Dial thanked his supporters in a Facebook post celebrating the win.
"I always want to give thanks to God first and to all who voted and put their trust in me. Time for the community to come together and heal… we are all on the same side," Dial said.
Dial's lead over his challenger, outgoing school district business manager Katie Parrott, shrank to less than 200 votes as absentee, special needs and questioned ballots were counted on Monday. But he ultimately came away victorious with 52% of the vote.
Parrott congratulated Dial and conceded the race in a lengthy statement, saying in part, "The voters on the whole have decided to give Mayor Dial another term, and I unequivocally respect this decision."
She thanked her supporters and called on Dial to govern with the whole community in mind.
"It's also important to note that almost half of the voters voiced their desire for a more consensus-building kind of leadership. I trust that Mayor Dial will take this into account and commit himself to leading as Borough Mayor in a way that is collaborative, inclusive and more representative of the wider community over the next three years," she said.
In other races, residents outside Ketchikan and Saxman city limits voted not to cut funding to the Ketchikan Public Library. In the end, 56% of borough voters rejected Proposition 2, a ballot measure that would have removed the borough's so-called "nonareawide library power." That allows the borough to collect a 0.7 mill property tax on homes and businesses outside city limits that provides roughly $500,000 in annual funding to the Ketchikan Public Library.
A group of residents led by former assembly member John Harrington led the effort to remove the borough's library power. They cited library books on gender and sexuality and a Pride Month event in which a drag queen read a book to a standing-room-only crowd of kids as the reason for the proposition.
The standings were unchanged in races for seats on the Ketchikan Gateway Borough Assembly and Ketchikan's school board.
Austin Otos came in first in the four-way race for two assembly seats with nearly 2,200 votes. And former assembly member Glen Thompson is set to make a comeback after placing second with more than 1,500 votes.
On the school board, Melissa O'Bryan placed first with just over 2,100 votes. Tom Heutte will take the second available seat, placing second out of four with just shy of 1,500 votes.
All the borough offices up for election this year carry three-year terms.
Borough voters also overwhelmingly approved Proposition 1 to maintain the assembly's current at-large representation system, with 84% of voters casting a ballot in favor.
The results remain unofficial until certified by the Borough Assembly on Oct. 17.