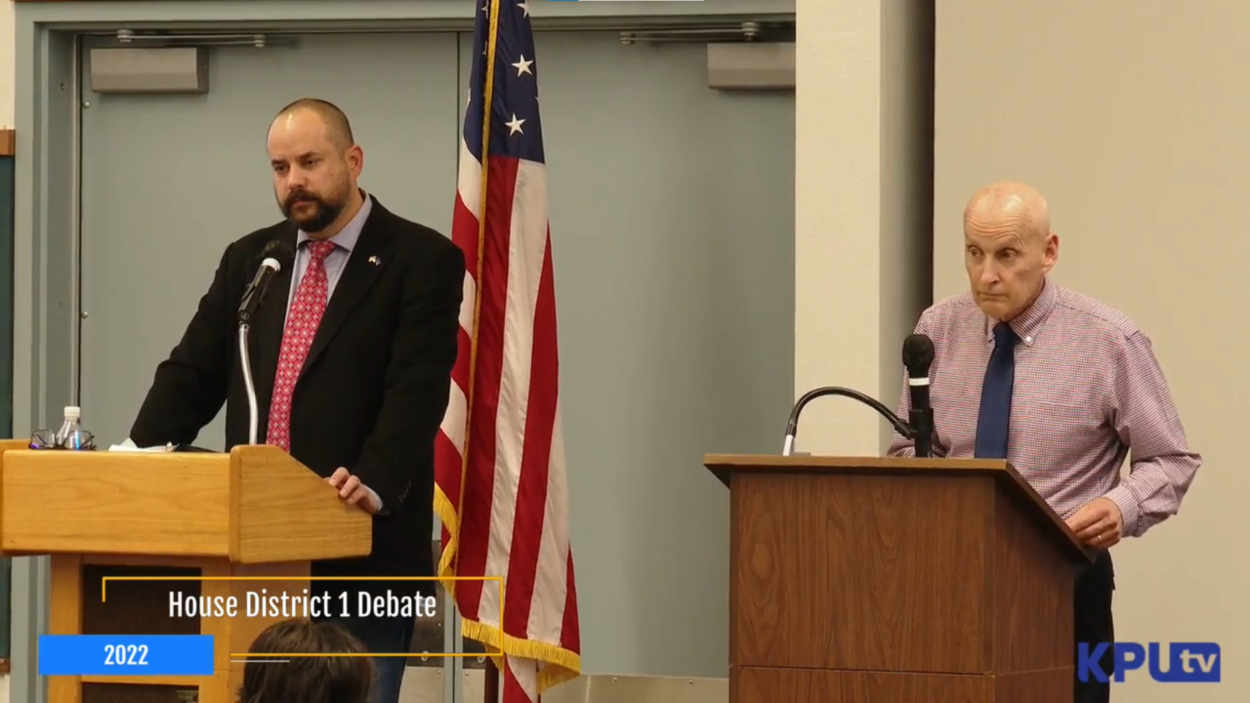 The two candidates for a southern panhandle state House seat faced off in a debate on Thursday. The candidates are vying to represent Ketchikan, Wrangell, Coffman Cove, Saxman, Metlakatla and other communities in House District 1.
Incumbent Rep. Dan Ortiz (I-Ketchikan) and Republican challenger Jeremy Bynum jointly organized the debate at Ketchikan's Ted Ferry Civic Center.
Ortiz is seeking a fifth term in Juneau. He pitched himself as an experienced leader.
"I come before you asking for your vote based squarely on my track record of service as your state representative," he said.
He touted his ability to ensure priorities are included in the state budget as the vice chair of the House Finance Committee and the chair of finance subcommittees for education, environmental conservation and transportation.
[Watch the full debate here, courtesy of KPUtv]
And Ortiz said his independent status would enable him to advocate for southern Southeast free of party allegiances.
"Unlike the position of my opponent, I would definitely join a caucus whose majority membership came from either the Republican or Democratic Party," Ortiz said. "My membership in the majority caucus for the past six years has given us a better seat at the table."
Bynum outlined the numerous headwinds facing the state in his opening remarks.
"Our ferry system is on life support. Resource industries are under constant attack. Businesses are struggling because we have a depletion of workforce and high shipping costs," he said. "We are experiencing a housing crisis and high cost of living that continues to rise. Fisheries are under siege due to regulations and lack of funding for proper assistance and research."
Bynum is a member of Ketchikan's Borough Assembly and he touted his experience with local government and with the energy sector — he's also the acting manager of Ketchikan Public Utilities' electric division.
He said he'd be a fighter for the district.
"I have the tenacity to bring a better quality of advocacy, an aggressive brand of advocacy. You ask why? Because we're in remote communities, overlooked by this Legislature and passed Legislatures. With your help, we're going to be heard," Bynum said.
The candidates had a chance to ask each other questions during the debate. Ortiz asked Bynum how he'd address a projected decline in state revenues.
Bynum said he'd look to cut spending.
"We need to really sit down and look at what our mandatory spending is, what our actual needs are, and make a decision about what we really need," he said. "What we really need is we need to focus on the important things, and that's our youth and our education programs. And those have been put second, really."
Bynum said he'd also look to trim the fat by finding efficiencies in the state budget. Ortiz countered that total spending on state agency operations had been essentially flat since 2016 — meaning there's not much fat left to trim.
Later, Bynum asked Ortiz what he thought was the most consequential piece of legislation that he'd personally introduced and seen through to final passage.
Ortiz pointed to his work on the state budget and a bill that increased the maximum loan amounts for fishermen looking to buy commercial fishing permits.
"What this did was that it made more resources available, particularly to young fishermen. It's expensive to enter into the market, but we've had a graying of the fleet," he said. "So I was really particularly proud of that bill."
The candidates also took questions from the audience, including one asking whether each would support a new statewide tax.
Bynum said he opposed a statewide income or sales tax.
"We're talking about broad-based taxes, whether it's a sales tax or an income tax. I think that we have tools available to us that we can utilize to really try to get a long term budget in place that's for the people," Bynum said.
Ortiz said he'd support a tax only as a last resort.
"I make tough votes, call for lower PFDs (Permanent Fund dividends) … even though our governor has hammered on us for as big a PFD as possible. That sounds good. But what that does is it leaves revenue short for us to fund the programs that need to be funded so that there isn't pressure to raise local taxes," Ortiz said.
Election Day is Nov. 8.