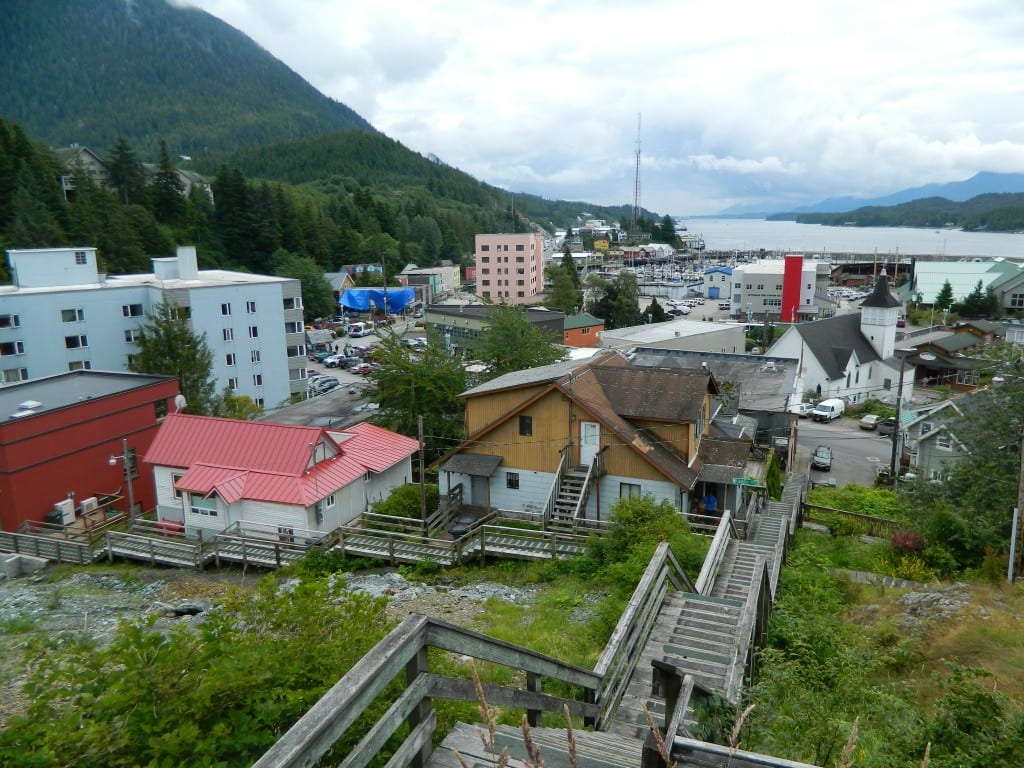 Ketchikan's borough took an early step towards addressing the increasing number of short-term rental properties as the community faces an ongoing housing shortage. On Monday, the Ketchikan Gateway Borough Assembly took the first of two votes on a measure to require owners of vacation rental properties to register for a free permit. It's a step aimed at figuring out just how many properties are listed on services like AirBnB and VRBO.
Ketchikan Planning Director Richard Harney said vacation rentals have upsides and downsides.
"Vacation rentals appear to have a negative impact on the affordability of homes in tourism destinations. This has been seen across the nation and talked about and reported on multiple times. That being said, vacation rentals do serve a very very important piece of a tourism destination's economy and should not be just excluded," he said at Monday's meeting.
So before the borough considers any potential limits on short-term rentals, Harney said it's a good idea to figure out just how many are out there.
"We have different reports that have been run, and they show different numbers ranging from less than 100 to over 300. This code amendment will allow us to identify how many there are," he said.
Harney said the permit won't require a fee or have any other special requirements. Pretty simple: name, address, property location, signature.
"It'll just be paperwork, so that way we can make sure that they get their zoning permits, and then also so we can get it over to (the borough finance department) so that way they can be registered for sales tax and the transient occupancy tax," Harney said.
Assembly member Jaime Palmer said keeping track of the number of available AirBnBs could make Ketchikan a more attractive destination for business conventions.
"I was just at the Alaska Travel Industry Association conference, and one of the reasons why they haven't been here in a long time is because they say we don't have enough beds. But I would challenge that," she said. "I hope that this ordinance moving forward would allow us to bring larger scale conferences like that down here."
But Assembly member Glen Thompson took issue with a provision that would have required owners to re-register their properties each year.
"It's going to tell the people, A, we don't trust you, and B, you need to come and kiss the ring every year," Thompson said. "I don't think that sends the right message to our business community, especially when we're trying to increase the amount of independent travelers."
Harney said requiring annual registration would help officials track how the vacation rental market changes over time. Assembly member Jeremy Bynum, who is running for the House District 1 seat in the November election, said that the borough could keep track of filings on quarterly sales tax reports instead.
The assembly tied on a vote to remove the requirement for an annual renewal, with Thompson, Bynum and Jaime Palmer voting in favor. Mayor Rodney Dial voted to nix the requirement, breaking the tie.
The assembly voted down another amendment from Thompson that would have allowed vacation rentals in industrial zones. Harney said that would allow residents to bypass a prohibition on housing in industrial zones.
"This would definitely open up a loophole," he said.
The final vote on the measure to require property owners to register short-term rental properties with the borough was 5-1 with Bynum opposed. He said he was concerned that the system wouldn't allow homeowners to live in properties designated as vacation rentals. Others suggested the issue could be fixed when the measure comes back for a final vote on Nov. 7.
In other business, sales taxes on large purchases won't be going up in Ketchikan — not yet, anyway. Ketchikan's Borough Assembly rejected a plan that would have raised the so-called sales tax cap from $2,000 to $12,000 at its meeting on Monday.
The measure was part of a plan to stabilize the borough's ailing Local Education Fund. That account provides the local share of funding for Ketchikan's school district. But after years of deficits, the account is nearing the minimum balance set in borough code.
In July, the assembly asked finance officials to bring them a plan that would bring Ketchikan's sales tax cap in line with other Southeast Alaska communities.
Hannah Ramiskey spoke to the assembly during public comment. She said she was concerned that raising the tax cap could hurt local businesses
"Here's the thing: the minute the tax gets to be equal to the barge cost, the business is gone," she said.
Jai Mahtani, owner of Gold Rush Jewelry, said it would be an especially big hit to jewelry stores. He said Ketchikan's low tax cap helped drive sales.
"When you want to generate sales, you want to give people incentives. And our incentive in Ketchikan is the cap on our sales tax of $2000," he said. (Mahtani is also a member of KRBD's nonprofit board of directors, which is not involved in the newsroom.)
Bynum suggested waiting until the assembly's policy session in January to allow local officials to gather more data on the effects of the tax cap increase.
"This is an item that we can bring up during our policy work session," he said. "I don't feel that we have an urgent need to address this issue at this moment."
Assembly member Grant EchoHawk said he didn't have an issue with waiting for more data. But he said sooner or later, the assembly would have to make a tough choice.
"We've been kicking this down the road since 2018, and I'd like to just figure something out and get this resolved one way or the other," EchoHawk said. "I would just like to to actually have us make a decision one way or the other, rather than continue to kick it down the road for another several years."
The assembly voted unanimously to postpone the proposal indefinitely, killing the measure.