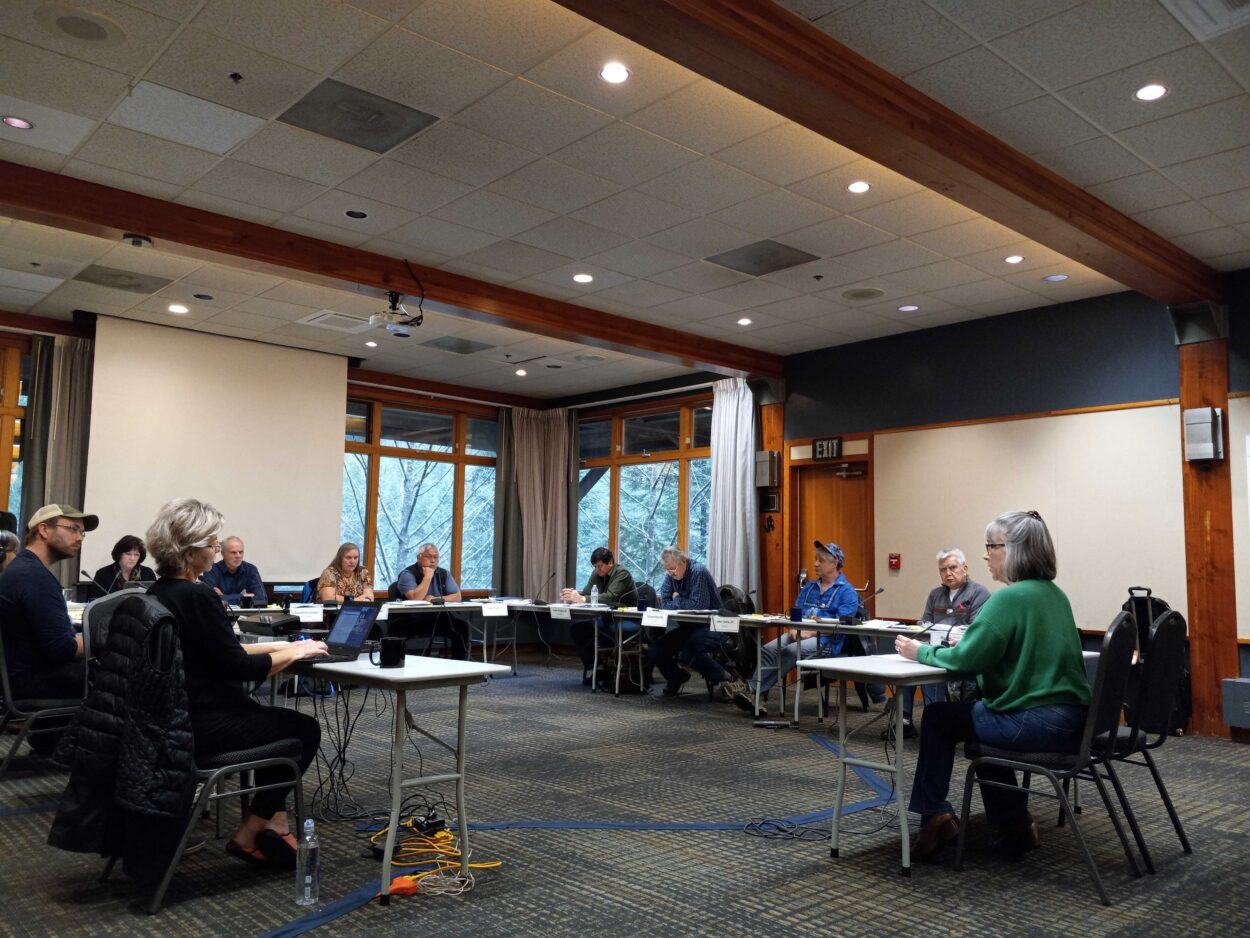 After a lukewarm reception, the Southeast Alaska Regional Subsistence Advisory Council voted unanimously to advance a proposal that would open federal subsistence hunts and fisheries to Ketchikan residents.
The board's vote triggers a two-year study of the proposal, which would officially designate Ketchikan as a rural community under federal subsistence regulations.
The decision came after hours of public testimony advocating for the change.
For decades, Ketchikan has been considered an urban area by the Federal Subsistence Board. Ketchikan's tribe has been pushing to change that. Tribal officials submitted a proposal to redesignate Ketchikan as a rural area in May.
Trixie Bennett is the president of Ketchikan Indian Community. She told the board at a meeting in Ketchikan that the designation is one step toward fixing things that are out of balance in the community, particularly for Native residents.
"I felt like I should come here and sing a mourning song because I feel like we're gonna be in mourning until we have this balance in our community for our people," she said.
Judy Leask Guthrie has lived in both Ketchikan and Metlakatla. She said the ability to hunt on federal lands would keep her family from paying for pricey processed foods at the store, and from having to travel far away for a hunt.
"It might take a lot of work to be able to go out and harvest these things," she said. "And it might not cost any money. But it's a lot of work. It's sometimes a lot of days away from our families. But at the same time, it means that we don't have to go to Safeway and buy meat or fish."
Tony Gallegos is the culture resources director for Ketchikan's tribe. He voiced frustration that, with Ketchikan listed as nonrural, residents can't collect ooligan from the Unuk River. Ooligan is a subsistence staple — it's an oily fish commonly used as a source of fat.
"What does ooligan taste like?" He asked the board. "We're losing that … connection. So we tried to open that up. But even though the fishery has been opened, we are not federally recognized subsistence users."
But the council wasn't immediately open to the idea. Councilmember Louie Wagner Jr. of Metlakatla voiced concern for how Prince of Wales Island would be affected by an influx of hunters.
"This is really serious, (it) is going to put a huge impact on the villages, and especially Prince of Wales," he said.
Angoon's Albert Howard agreed with Wagner. He said he was worried about the already struggling deer population on Prince of Wales Island.
"We're just opening something that we may pay a price for later," Howard said.
But Keenan Sanderson, the tribe's indigenous food expert, noted that even if Ketchikan hunters were allowed more area on the island, resident hunters would be prioritized first under federal law.
"If federal managers think that sustained harvest pressure at the reduced number, they can, and in my opinion, should exclude people who are not from that area to harvest," Sanderson said.
But after a parade of speakers delivered hours of passionate testimony in favor of opening federal subsistence hunts and fisheries to Ketchikan residents, the council unanimously voted to move the proposal forward.
Councilmember John Smith of Juneau said he'd been convinced it was necessary.
"And I hear that Ketchikan, just from testimony, that they need this healing," Smith said. "So I really believe this is really important."
Member Jim Slater of Pelican said it was the testimony that also changed his mind.
"When I first read this, in preparation for the meeting, I was somewhat conflicted on it, sharing the concerns of (councilmember Louis Wagner), that as we make more and more people rural, and you know, in the fact that everyone becomes rural, then no one's rural, essentially," he said.
Councilmember Harvey Kitka of Sitka also supported the proposal.
"I really think that this is just a small baby step," he said. "And then it can take a long time for it to come about."
Brent Vickers, from the Interior Department's Office of Subsistence Management, told the council that the tribe's proposal met all requirements of the threshold analysis — which determines if the proposal meets the guidelines — to be considered by the federal board.
"There's not a matrix, there's not a 'It needs to contain six of these and three of these to meet this,'" he explained. "It really just comes down to, 'Was there information not considered?' 'Does the proposal say that there's information that wasn't considered before?' 'Have there been changes since the last determination?' '… Does the proposal contain evidence that there's a rural character?'"
Bigger questions — like discussion about what makes Ketchikan rural and why residents should have access to subsistence opportunities — will be handled at later meetings.
"The full analysis takes two years, during which OSM (Office of Subsistence Management) will hold a public meeting here in Ketchikan where people, tribes and organizations can comment on the rural character of Ketchikan," Vickers said.
The council wrapped its three-day meeting on Thursday. Rural designation proposals are considered in two-year cycles. Ketchikan is the only Southeast community seeking that designation this cycle. Moving the proposal forward is a big step. But changes won't start happening until at least 2025, when the federal board is slated to take up the issue.
Raegan Miller is a Report for America corps member for KRBD. Your donation to match our RFA grant helps keep her writing stories like this one. Please consider making a tax-deductible contribution at KRBD.org/donate.