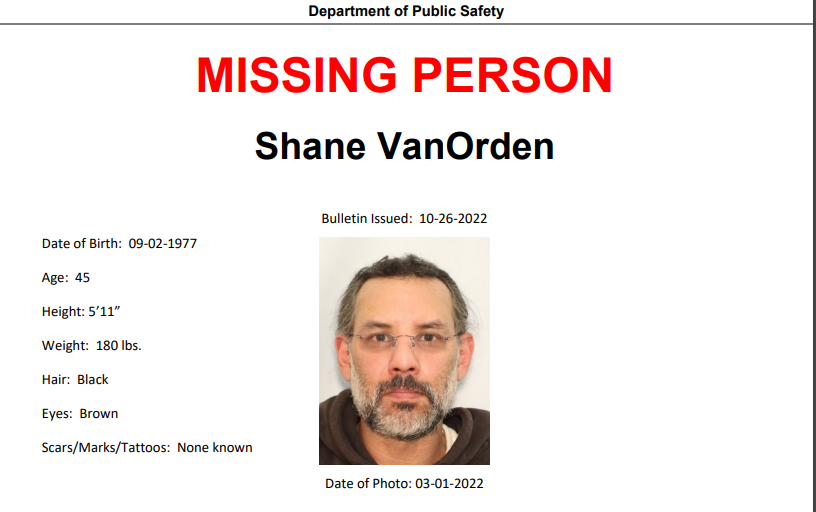 The Alaska State Troopers are looking for a 45-year-old man on Prince of Wales Island. They issued a missing person alert for Shane VanOrden on Wednesday but say the man has been missing since the summer.
Troopers say VanOrden was last seen near Thorne Bay in late June or early July, and was thought to be hitchhiking to Craig.
AST Lieutenant Nick Zito says the man's ex-girlfriend requested a welfare check on him on September 9th. Troopers haven't been able to find VanOrden, which prompted the missing persons alert on Oct. 26.
VanOrden isn't a resident of Prince of Wales Island. He has lived in Ketchikan since 2005.
Zito says that there was no new information about the man's whereabouts as of this Monday morning. Foul play isn't suspected right now, but troopers are working across agencies for more information.
VanOrden has black hair and brown eyes and no visible scars or tattoos. He is 5'11" and weighs 180 pounds. Anyone with information should contact the troopers in Ketchikan at (907) 225 5118.
Editor's note: This article has been updated to reflect that VanOrden is a Ketchikan resident.
Raegan Miller is a Report for America corps member for KRBD. Your donation to match our RFA grant helps keep her writing stories like this one. Please consider making a tax-deductible contribution at KRBD.org/donate.