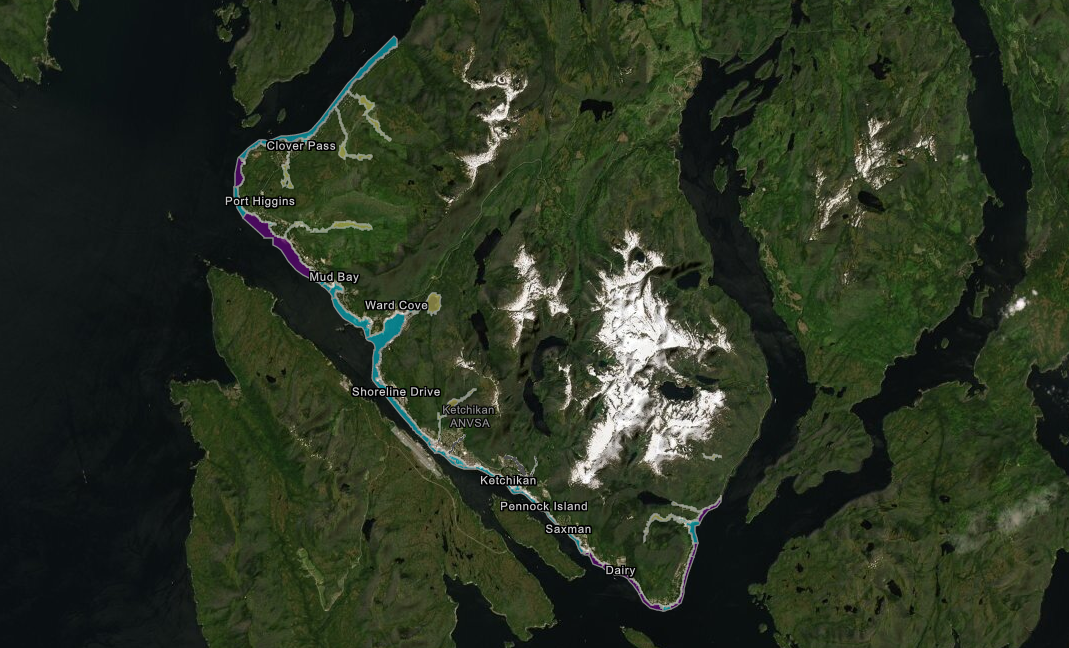 Federal officials are set to hold an open house in Ketchikan on Wednesday to discuss new flood insurance maps. The Federal Emergency Management Agency will take feedback on a set of maps that would require many coastal residents to buy flood insurance as a condition of their mortgage.
Ketchikan's current flood maps date back to 1990, and they only cover areas within city limits. So in 2013, FEMA started working on updated maps that covered the entire Ketchikan road system. Those were released in 2018.
The 2018 maps showed about 1,100 properties within flood zones — about 20 times as many as were identified in the 1990 maps. And the 2018 maps were not popular, to say the least, says the borough's planning director, Richard Harney.
"We identified quite a few problems with the maps the way that they developed them. They went back and they looked at … our comments and our complaints, and they then started work on revising those maps," Harney said in a phone interview Tuesday.
Since then, Harney says surveyors have examined areas from the north end of Ketchikan's road system to Herring Cove, near the south end.
The old maps were comparing Ketchikan to places like Florida and California. But Harney says there are some big, important differences — like the fact that Ketchikan's rocky seawalls don't erode as quickly as sand dunes.
"When they went back and identified that, it removed quite a few homes from the floodplain because of the rock walls that we developed around here for developing and protecting us from any big waves," Harney said.
Harney says the new maps would actually remove some 61 properties from flood hazard zones. The new data takes two downtown blocks along Mill Street out of the hazard zone, for example. But about twice as many, 116, would be added to flood zones — mostly coastal properties outside city limits. Those property owners would be subject to flood insurance requirements — specifically, those financed by federally-backed loans. 
Harney says after nearly a decade of back-and-forth with the federal government, it's a mixed bag. But he says it's about the best that the borough can hope for.
"I wouldn't say they're great, but they're better than they were. I don't think that we have any grounds to stand on for an appeal this time," Harney said. "But who knows, maybe somebody is a coastal engineer out there — which we don't have on staff — and they might be able to bring forward other issues. But for the most part, I think the maps look pretty good."
An open house to discuss the maps is scheduled for Wednesday from 5:30 to 7:30 p.m. at Ketchikan's Ted Ferry Civic Center.
For more information, visit KTNTalk.com.