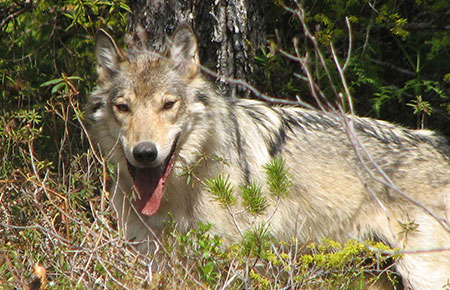 Trappers will have 31 days to harvest wolves in game management unit II, which includes Prince of Wales Island, starting on Nov. 15.
The decision follows intense public criticism hurled at the state's Department of Fish and Game on Wednesday. Trappers delivered hours of testimony in support of a longer season, and accused the department of mismanaging the island's predator population.
From 1997 up until 2019, state officials set a quota for how many wolves could be harvested in a season, based on population estimates from the year before. Now, Fish and Game sets open trapping periods based on estimates for how many wolves will remain after the season. The goal set by the Alaska Board of Game is to keep the overall population at a sustainable level — somewhere between 150 and 200 wolves.
The department estimates that somewhere between 65 and 99 wolves will be trapped this season. The figure is based on the annual harvest rate — the number of wolves taken each day of the season. The harvest rate has hovered between 2.1 and 3.2 since 2020, when the department moved away from the quota system.
As of last fall, there were an estimated 268 wolves on the island. That's a drop from 386 in 2020 and 316 in 2019.
Raegan Miller is a Report for America corps member for KRBD. Your donation to match our RFA grant helps keep her writing stories like this one. Please consider making a tax-deductible contribution at KRBD.org/donate.