Polls are open until 8 p.m. Tuesday evening, and Alaskans all over the state are casting their ballots for state and federal elected officials. KRBD spoke with some voters and candidates in Ketchikan.
It might be a red wave. Or it might not.
To state the obvious, it's hard to get a full picture of how voters are feeling from interviews outside polling places, at gas stations and on street corners. And it's especially ineffective at gauging public opinion when early and mail voting are more popular than ever.
But, even so, KRBD thought it might be interesting to hear from a few voters. And most of the folks I spoke with said they were looking for a change after two years of mostly Democratic control at the federal level.
At a precinct south of downtown Ketchikan, Bill Smart said economics drove him to pick Republican candidates.
"Inflation is the biggest thing, and the Biden administration is a bunch of dingalings, so if we don't get rid of 'em, we'll wish we did," he said. "If you've got too much cash, vote Democrat. They'll take it all."
But there's one thing he didn't vote to change: the Alaska Constitution.
"Leave like it is," he said. "I don't trust anybody right now."
[RELATED: Southeast Alaska midterm election results from KRBD and NPR]
Outside the Plaza Mall, Amado Montecillo told me he was voting for candidates that matched his conservative values. He said he'd voted for Republican Lisa Murkowski many times before.
"But just for this year, I don't vote for her anymore," he said. "I've got Kelly (Tshibaka) for that position."
Montecillo said he didn't trust Murkowski to vote for conservative causes.
"I think those politicians like that — they're hiding themselves. They have to show them(selves) for who they really are," he said. "They cannot just say, I'm a conservative, I'm a Democrat, but actually, I am an independent, just to get the votes of the people. You have to be upfront about who you really are."
At a nearby gas station, Tyler Mortensen told me inflation and the economy were at the top of his mind.
"I ranked the red," he said, referencing a popular GOP slogan. "I voted Republican down the line."
He said he ranked Republican Nick Begich first in the U.S. House race. He said he was a fan of fellow GOP candidate Sarah Palin — up until she resigned as governor in 2009.
"I just found it a little fishy, you know, a little sneaky to come in at the last moment after Don Young passes away," he said.
But even so, he said he ranked Palin second.
"Between Palin and Peltola I'd have to go with Palin, so I had to suck it up a little bit," he said.
He stuck with Republicans down the ballot. Though he said independent Dan Ortiz had a fairly good record as Ketchikan's state House rep, Mortensen said he voted for Republican Jeremy Bynum.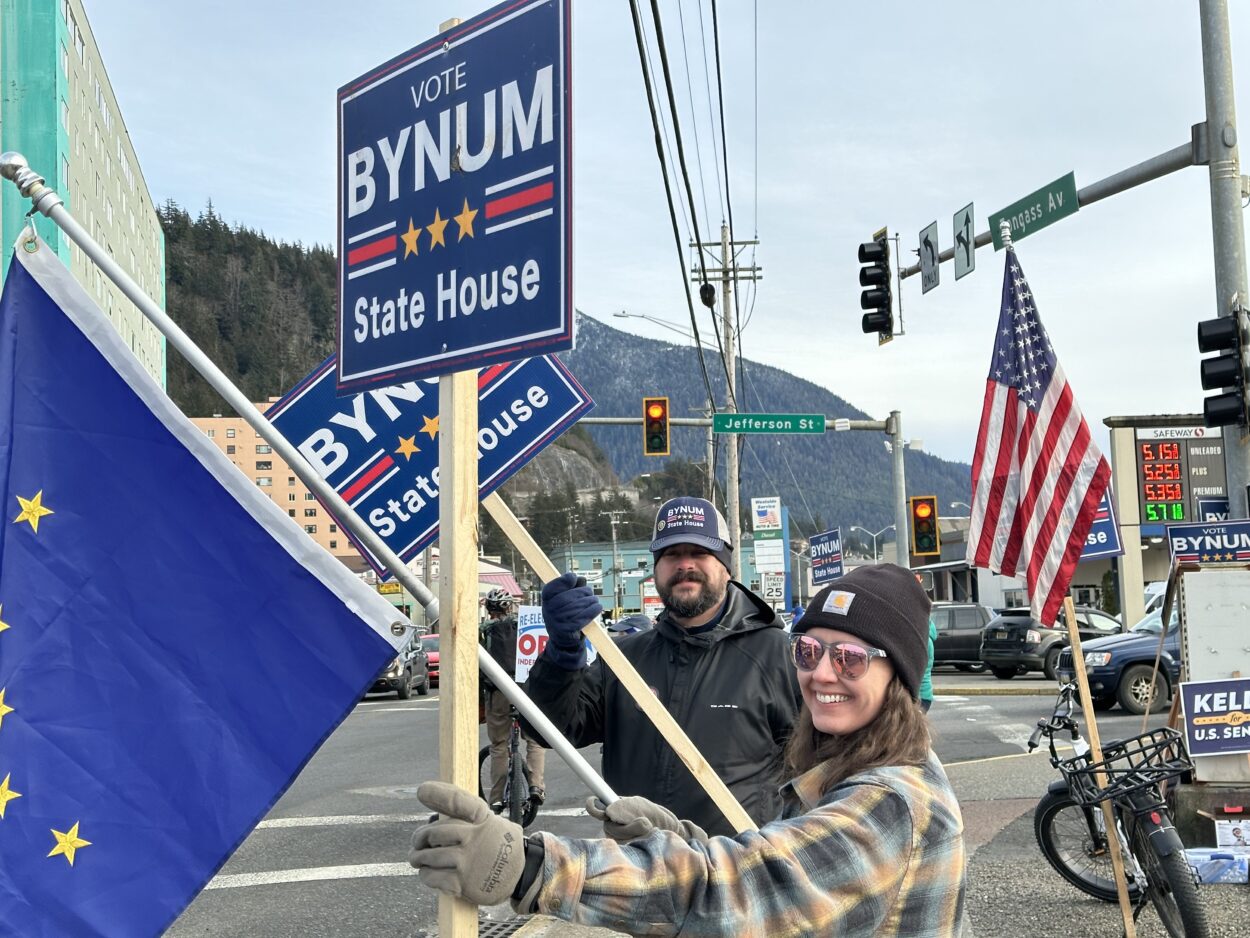 "I'll be honest, I don't know too much about the man, but in this wave, election of change, I'm hoping that he'll represent new voices," he said. "He seems like a pretty qualified candidate. And from what I've heard from him on the local debates on the radio, I was pretty impressed."
Kimberly Divelbiss was out waving signs for Lisa Murkowski — she was an intern for Murkowski right out of high school, and she said the senator is a role model.
"We all sat down and she said, 'If you sit in a room with someone else, and you agree with everything that they say, one of you is lying,'" she said. "That was kind of an eye-opener for me. It's kind of guided my dealings with people and in politics — I try to meet everyone where they're at and try to understand where they're coming from."
In other races, she said she supported Republican Gov. Mike Dunleavy's reelection campaign, and ranked Begich first in the U.S. House race.
"I voted for Nick," she said. "But I think Mary Peltola would do a good job, too."
Divelbiss said she did not rank Palin.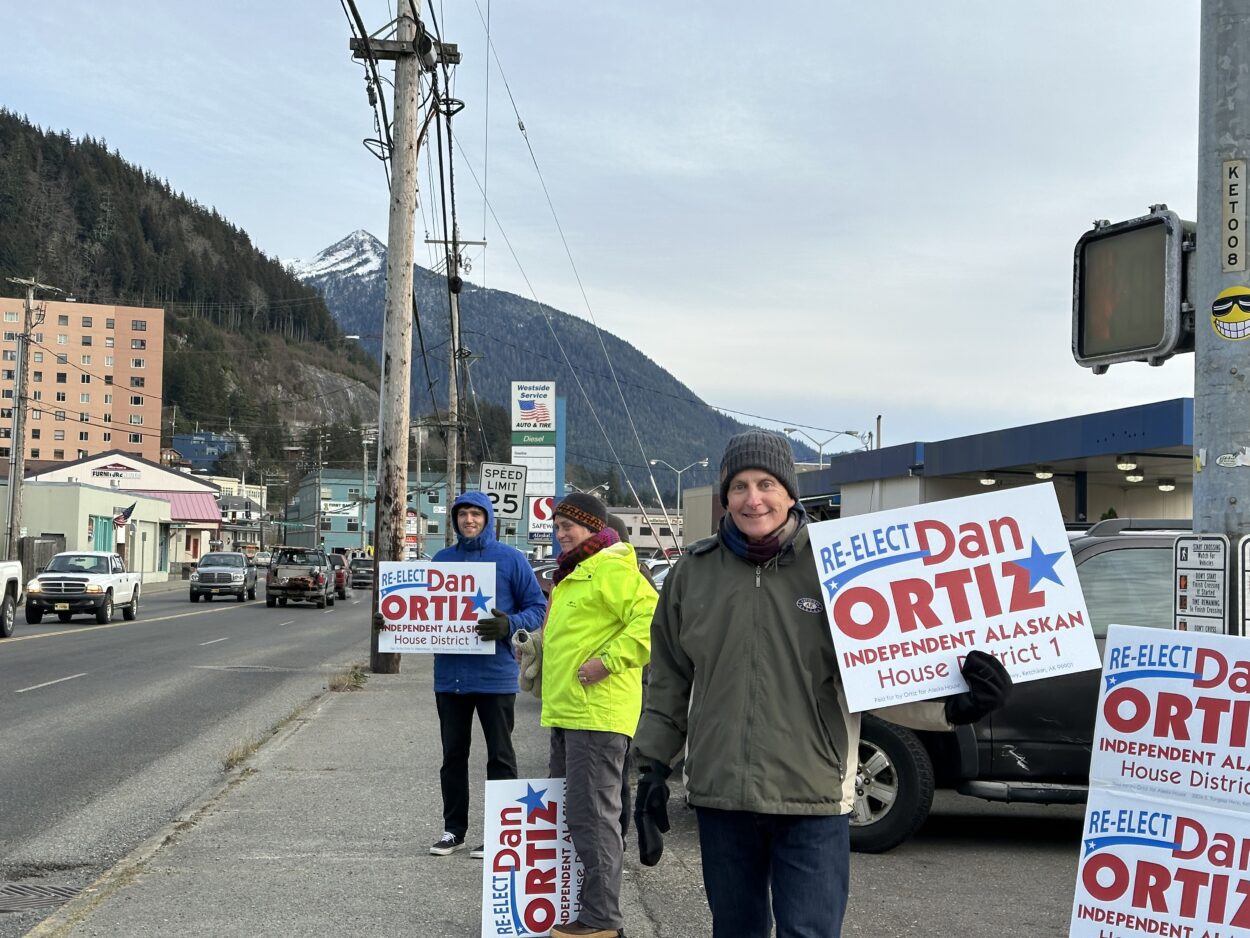 State House candidates Ortiz and Bynum spent most of the day at Ketchikan's traditional sign-waving corner at Tongass and Jefferson.
Ortiz says he's optimistic. He says he's been waving signs off and on since 7 a.m.
"Just get out and vote — encourage everybody to get out and vote and exercise their rights," he said. "Bigger turnout, I think that's good for everybody — let's put it that way."
Bynum says he's not nervous. He says he did over 34 miles of door-knocking in the four months or so of the campaign.
"I mean, you put the work in and you just see what happens. I mean, that's really what it comes down to," he said. "It's just like studying for an exam, you put a lot of hard work in you expect to get good grades, right?"
Now all that's left is waiting to find out what grade the voters doled out. Polls are open across the state until 8 p.m., and the first results are expected about an hour later.