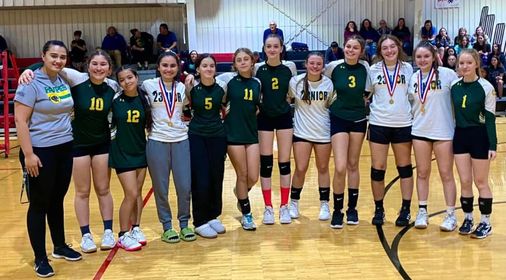 Craig High School's volleyball team took home a state championship title last week. Their coach said it was an emotional win for the Craig Lady Panthers.
Craig's coach, Shannon Isaacs, said she felt a wave of relief after the Lady Panthers won their first state title in three years.
"It's been a long season and once we got that last point, I felt like I could breathe — just because you never know how the games will go until that final point," Isaacs said.
Craig's team includes just 11 players, one short of the typical roster. Isaacs said it's the smallest team in years.
Isaacs said Healy's Tri-Valley School was their toughest opponent at the state tournament. The two schools faced off in the final game to determine the championship in a division for small and mid-size schools. Craig competes in the Alaska School Activities Association's Division 2A. Other competitors at this level include Glenallen, Wrangell, Petersburg, Sitka and Metlakatla. Healy competes in 1A. The tournament was a 2A tournament.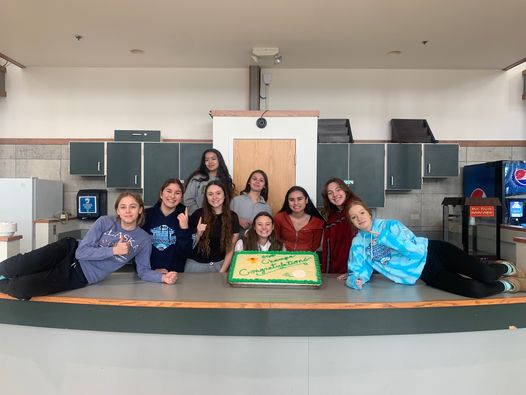 "They (Tri-Valley) just had a consistency about them that kept our girls just trying as hard as they can to stay with them and keep up," Isaacs said.
Isaacs said she can't remember what the scoreboard looked like when the match ended. She was following her own advice — don't focus on the points. Online information from ASAA shows that Craig won 3-1.
"I always tell my girls, 'Don't look at the scoreboard until that game is done, because it's not done until it's over,'" she said. "And so honestly, I knew we had a couple points. I don't know if it was like three or five or more, whatever. I'm not quite sure. But I knew that we had gotten a handful points in a row."
But Isaacs did note that Craig's squad held a consistent lead.
"Each time we lost it, we would get it back right away," she said.
Isaacs says it was an emotional victory filled with happy tears, especially for the five seniors on the team.
Isaacs said she always reminds her team that comebacks are possible. She said volleyball is a mental game.
"I always tell my girls, like, when we get to those points in our games, I'm like, 'You don't know how we'll play,'" she explained.
Looking back on the season, Isaacs is proud of her team. They started out the season with a month-long period of no competition, due to scheduling problems.
"And so we just kind of practiced as much as we can," Isaacs said. "And then once the games started rolling, they kind of didn't really stop."
Their toughest competition at the regional level came from Wrangell's team. At a tournament held in Wrangell, they came in second behind the home team. That happened again at another regional tournament later in the season.
Craig bumped Wrangell out of running for the division title in the semifinals. Isaacs said that was a big boost for her team.
"Wrangell was our best competition, they really played super hard," she said. "And we enjoy playing them there. They were fun to play against — high (intensity) games. And off the court, the girls are all pretty good friends with that team, too."
Craig's team captain was Amiaya Hansen. Hansen, along with Alissa Durgan and McKenna Taylor, were named to the all-tournament team. 
Durgan also was named best setter in the state.
Raegan Miller is a Report for America corps member for KRBD. Your donation to match our RFA grant helps keep her writing stories like this one. Please consider making a tax-deductible contribution at KRBD.org/donate.