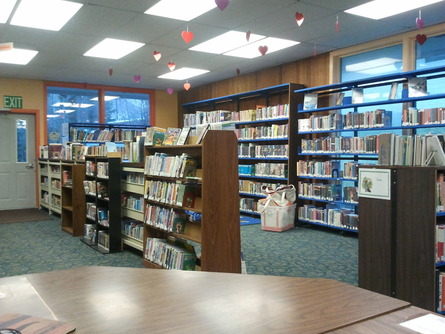 The city of Craig is taking its first step toward renovating its public library. It's one of a handful of ongoing projects aimed at improving public facilities for Prince of Wales Island's biggest town.
Putting out a call for an analysis of Craig's library, next door to the municipal offices on 3rd Street, is the first step in improving the library — either with renovations or a whole new building.
Brian Templin is Craig's city administrator.
"So the first thing that we need to do is do a spatial analysis of the programs and the features that the library wants to have in it," Templin explained. "And then we'll start a discussion on whether we can renovate the existing library to accommodate that, or whether new construction is needed."
The library is just one facility in Craig getting improvements. The local cemetery is short on graves, so a 30-year expansion plan was developed. There's ongoing work surrounding a potential harbor expansion. Prior to the pandemic, the city was looking at developing a skate park in town, and also purchased the old cannery site downtown.
The library analysis is funded by a $15,000 grant from the Rasmuson Foundation.
The city will accept bids on the project until Dec. 16. City officials are prioritizing bids from firms that have experience with small libraries, especially in Southeast Alaska. 
Templin said the city has conducted a series of surveys over the past decade to find out what residents want from their library — and it's a long list. 
"And the strategic plan in those surveys include any number of uses, from fairly typical library uses … like the collection of books and videos and those things, program space for reading programs and storytime, that sort of thing," Templin said. "Having both children's and adult space in a library for reading and activities. And the strategic plan also included some other potential activities like community meeting space, and individual study space, those sorts of things."
The analysis will be just the first of many steps. Templin said after it's done — which he hopes is by February — it'll be time to look at next steps.
"And then we would hire an architect to start some building designs, whether it's renovation designs or new construction designs, once we've determined whether it's a renovation of the existing site, or, or new construction at a new site," he said.
If the analysis finds that a new library is needed, Templin said there are a few potential locations — like downtown's cannery site, or nearby Crab Creek. 
But Templin noted that's a ways down the road.
"To be honest, we haven't really started looking seriously or making a list of the places that a new library might go in until we decide whether or not (a) new library is the direction that we want to go," he said.
Craig's library currently provides free WiFi and two public computers. The library is open six days a week. Volunteers sometimes staff up the library for extra hours in the evenings.
Raegan Miller is a Report for America corps member for KRBD. Your donation to match our RFA grant helps keep her writing stories like this one. Please consider making a tax-deductible contribution at KRBD.org/donate