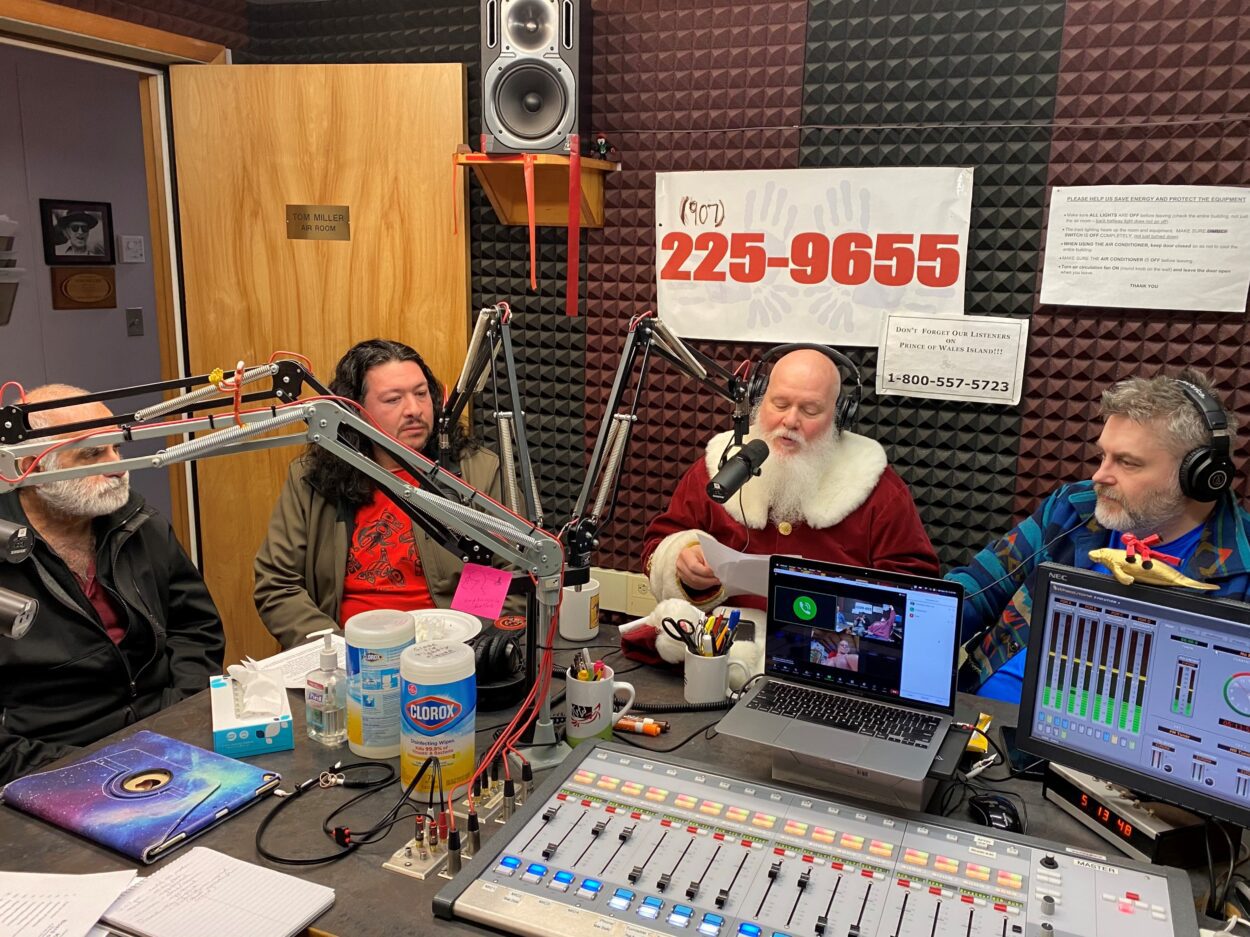 KRBD's annual meeting was Dec. 10, 2022.  The meeting was broadcast live on the air to increase accessibility to all listeners and members. Below are written versions of the President's and Manager's reports. We also recorded the broadcast and have it posted below.
---
Agenda:
Annual Meeting
KRBD Board of Directors
Saturday, Dec. 10, 2022
5:00 pm On-Air and via Zoom
Call to Order
Approval of Agenda
Approval of minutes from previous annual meeting
President's Report (Written version below)
CoastAlaska Report
Manager's Report (Written version below)
Open floor for Public Comment
Introduce new board members
Adjournment
---
Minutes from 2022 meeting:
The annual meeting was called to order at 5:07 p.m. Dec. 10, 2022, by Board President Vicki O'Brien.
Present: Board members: Vicki O'Brien, Eugene O'Brien, Mike Gates, Jai Mahtani, Bill Carey, Jason House (via Zoom) and Tonie Ogimachi (via Zoom). Staff : Leila Kheiry. Visitors: Gen O'Brien, Grant EchoHawk
Motion to approve agenda made by Mike, seconded by Jai. Unanimous approval.
President's report provided by Vicki with a short additional report from Grant, who was president for several months at the start of the year.
CoastAlaska report provided by Mike (no written version available)
Manager's report provided by Leila
Pause for public comment opportunity. No public comment.
New board members introduced: Tonie Ogimachi, Bill Carey, Zoe Sobel and Jason House
Motion to adjourn by Tonie at 5:25 p.m., seconded by Bill. Unanimous approval
---
Report from KRBD Board President Vicki O'Brien: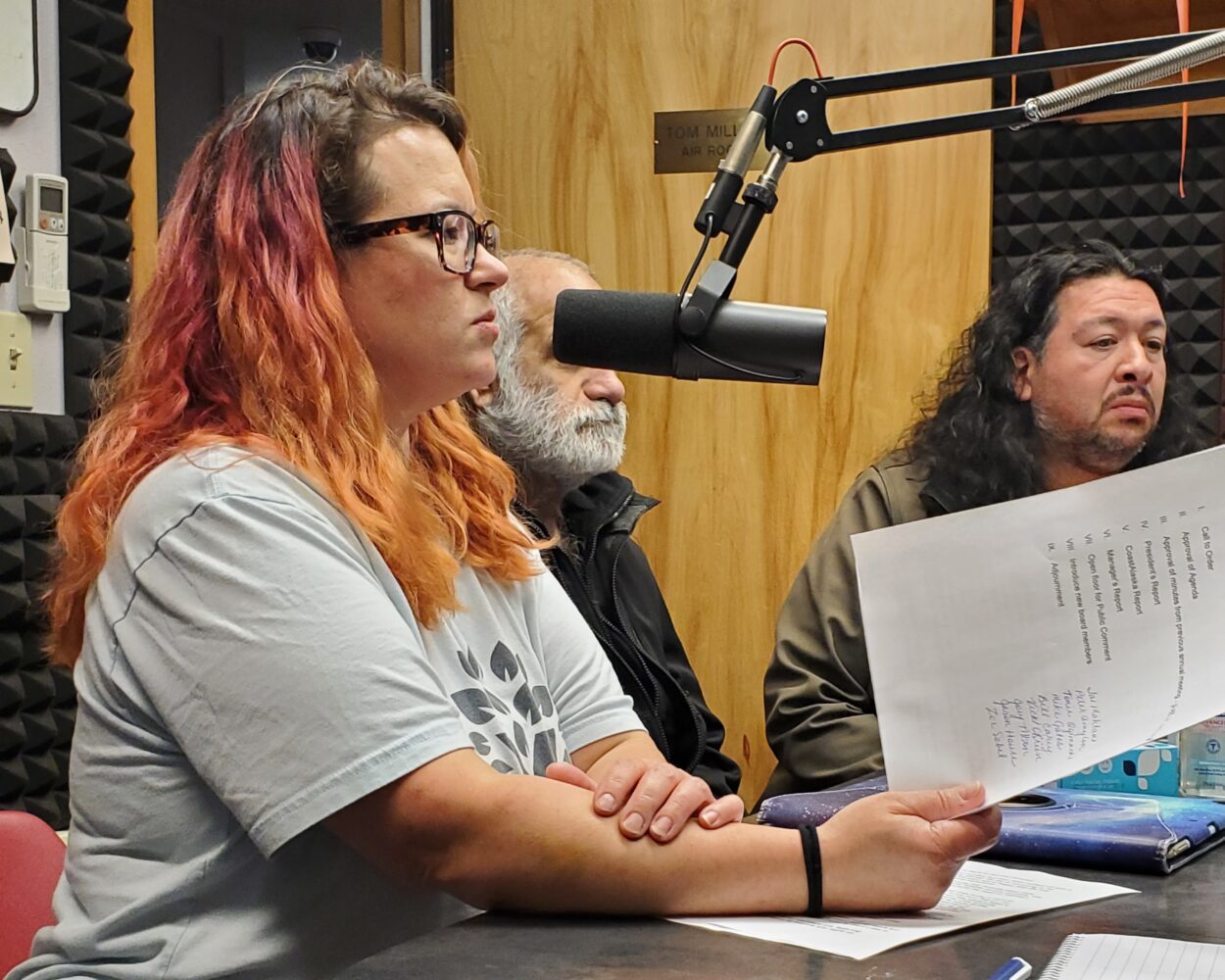 My birthday is in April, and on my birthday this year, Mr. Grant EchoHawk, the sitting KRBD Board president, called me up to wish me a happy day… and he also asked if I would consider returning to the KRBD board.  I didn't have to think long, my answer was quickly yes. When he followed up with an ask for me to take his seat as president, the answer was not as quick but was yes all the same.
The board has undergone a number of personnel changes this year as members have needed to step down for various reasons and I would like to acknowledge and thank each of these individuals for their service to community radio: Katherine Tatsuda, Grant EchoHawk, Glenn Brown, Gail Slentz, Tom Huette, and Bob Kern. Furthermore, at the end of this year, Gene OBrien will be leaving due to term limits. When I recollect the perspectives you have each brought to the table and the time you've dedicated to the station, I am so grateful for every one of you. On behalf of the whole community of KRBD, thank you all very, very much!
Thinking back on the entirety of this year it seems two topics rise to the top: our fiscal future, and diversity and inclusion.
On the financial front, we've grappled with the increased cost of doing business amid a stagnation of resources. The pandemic brought a windfall of one-time funding that helped keep the lights on, but projecting forward into next year and beyond has meant some difficult conversations regarding the need to cut expenses as well as develop new sources of income. Seems like it's a constant refrain – cut costs and increase revenue – but this year seemed to show us that more audacious steps will be needed moving into 2023. Necessity is often the mother of invention and as we prepare for a new year, we do so with a commitment to and plans for continuing KRBD's financial health.
Many organizations, KRBD included, have begun opening meetings and events with a Land Acknowledgment, stating that we recognize and honor the many, many generations of Indigenous people who have come before us. Why do we do this? Well, for KRBD, it is a natural extension of our mission statement and guiding principles, and it keeps in the front of our minds our commitment to diversity and inclusion. Those words – diversity and inclusion – have become popular buzzwords, almost trite in today's society. However, for KRBD and for the board of directors, these concepts are very real, substantial motivations for the work we do. We want to ensure we are giving the opportunity for ALL voices of our listening audience to be heard, from all political, social, economic, and ethnic backgrounds, and that we are being mindfully representative of all segments of our communities.
Though this year has presented challenges, KRBD continues to keep a steady focus on our mission statement: "to inform, engage, enlighten and delight; to make a positive difference in the lives of the people in Southern Southeast Alaska." We will keep these words front of mind as we prepare to launch into 2023.
---
Report from KRBD General Manager Leila Kheiry:
The theme for my 2022 report is Back to Normal (Almost)
We were all so thankful when 2021 ended, but then 2022 kicked off with a "hold my beer" vibe that hasn't really waned. So we're not going to be overly optimistic about 2023 – yet. That said, we're happy that life has mostly gotten back to normal, albeit more expensive.
Here at KRBD, we're hanging on. Fundraising has recently been slow, probably due to the economy hitting our most reliable donors' pockets. We started working on a plan to address that, because we need to maintain this vital service for everyone!
One of our biggest accomplishments this past year was hiring a second full-time reporter. We were approved for matching funds from Report For America, which allowed us to afford the position. News has always been a huge part of what KRBD offers the communities we serve. One full-time reporter, no matter how capable, is not going to be able to cover all the important stories. The RFA position focuses on stories important to Indigenous and Asian members of our listening area, as well as the communities on Prince of Wales Island. Raegan has been churning out stories since she came on board, and we're thrilled with the expanded news coverage!
(I'll add a little fundraising plug now – we are raising money this month for our part of the match toward Raegan's salary. You can help fund this important position at KRBD by going to our website and clicking the "Click Here to Donate Report For America" button.)
A few more highlights from the past year:
KRBD's broadcast license renewal was approved, and is valid through 2030
Our Fourth of July Raffle was the most successful ever.
Our first mostly in-person Live Day in several years was so much fun!
We had a very fun Membership Appreciation Picnic at Ward Lake in July
We launched two newsletters – one for members only featuring station information; and a news digest for anyone who signs up, recapping top news stories.
The CoastAlaska engineer and I went to Prince of Wales Island to do maintenance on our translators in Craig, Klawock, Hydaburg and Thorne Bay.
We had an information and outreach table at the October Fil-Am festival
Everything we do at KRBD is the result of hard work by dedicated staff members. Shoutouts to Maria Dudzak, our Program Director and Jill of all Trades; Stuart Whyte, our Development Director who brings in the revenue needed to keep us on the air; News Director Eric Stone who works long weird hours to keep us all informed; and Reporter Raegan Miller, covering stories for previously under-served communities.
Volunteers are a huge part of keeping KRBD afloat. Members of our Board of Directors put in a lot of unpaid time because they believe in KRBD's mission! Please thank them, and while you're at it maybe buy a raffle ticket or two from them. We are, after all, in the middle of the WinterWinnerland raffle with a top prize of $5,000!
Our many on-air volunteers also deserve praise. KRBD wouldn't be nearly as much fun to listen to without the eclectic mix of genres they provide!
Happy holidays to everyone listening, and thank you for your continued generous support of KRBD Community Radio.
---
Recording of 2022 KRBD Annual Meeting: