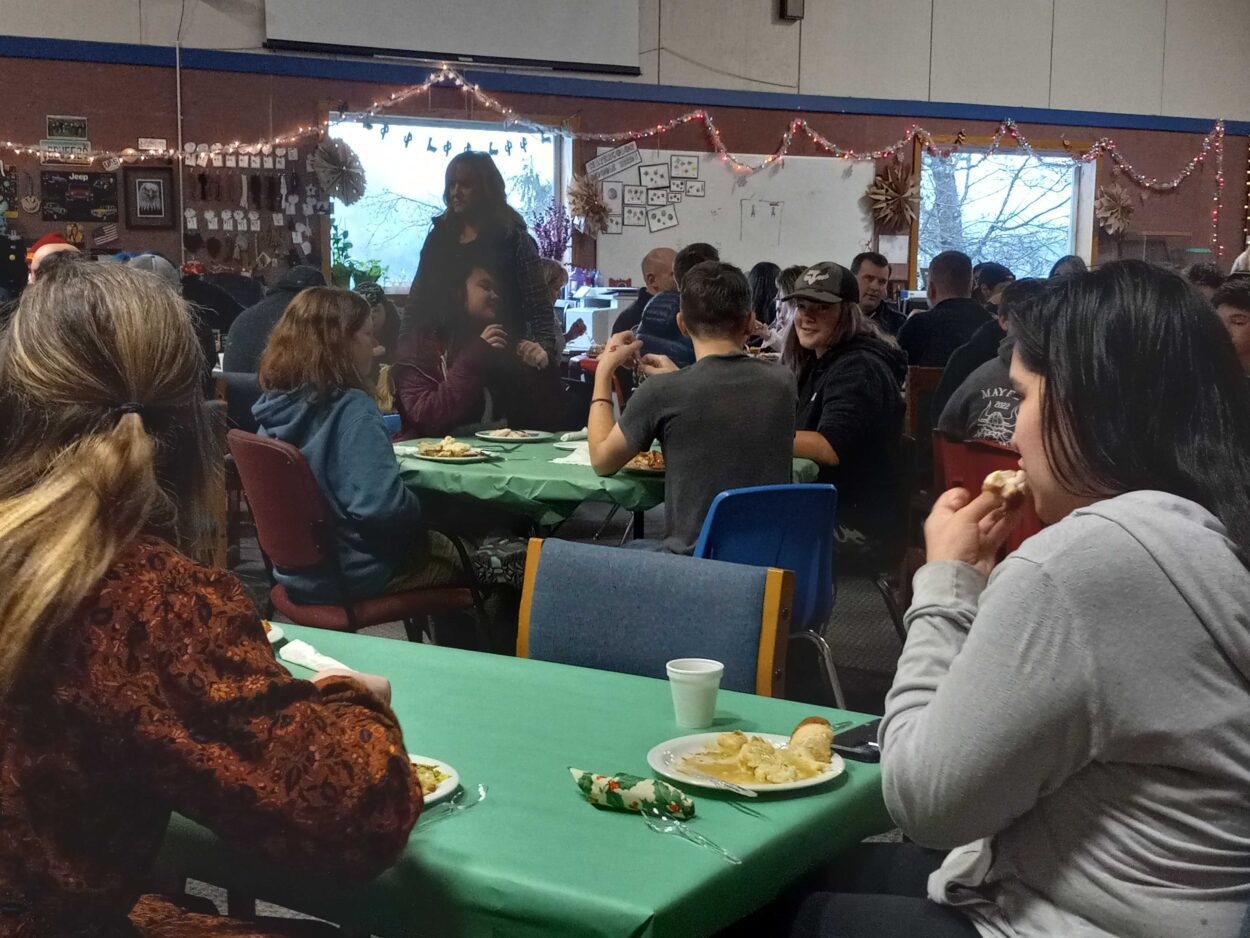 Students recently had the chance to get out of the classroom and into the kitchen at Ketchikan's Revilla Junior Senior High School. It was all hands on deck for the students as they helped cook a holiday meal for their classmates, teachers and community members. KRBD's Raegan Miller stopped by to see how the feast came together.
After days of preparation, the tables were set, the music was playing, and the decorations were sparkling.
Revilla principal Kurt Lindemann gave everyone a few moments to dig into the feast — made entirely by Revilla students — before telling the guests why it was so important they were there.
"You've all been invited here today, those of you who are guests, you guys have all been invited here because you make a difference to kids, and make a difference to our (Revilla's) kids," he said. "So thank you very much — big round of applause."
There were Ketchikan Police Department officers tucking in to turkey, school board members crunching on cookies, and even a member of the Coast Guard chatting with middle schoolers. Other diners included Ketchikan School District Superintendent Michael Robbins and Ketchikan Fire Department Chief Rick Hines.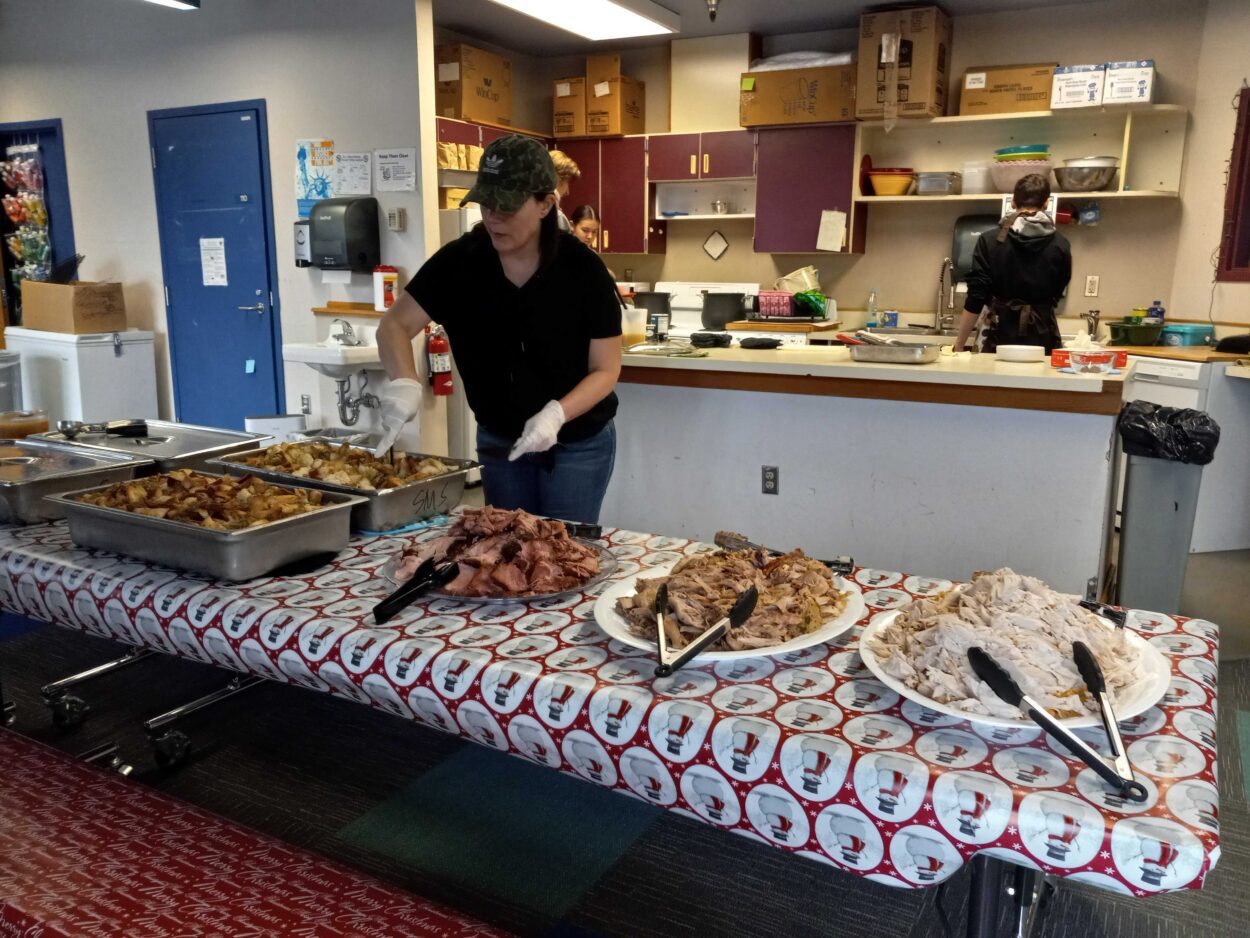 "This is awesome," Hines said while watching the students put the finishing touches on the spread.
The meal was quickly devoured, but it all took a lot of preparation from the students.
Addie Roth is a teacher at Revilla. She said her students have been working on the meal for days all week.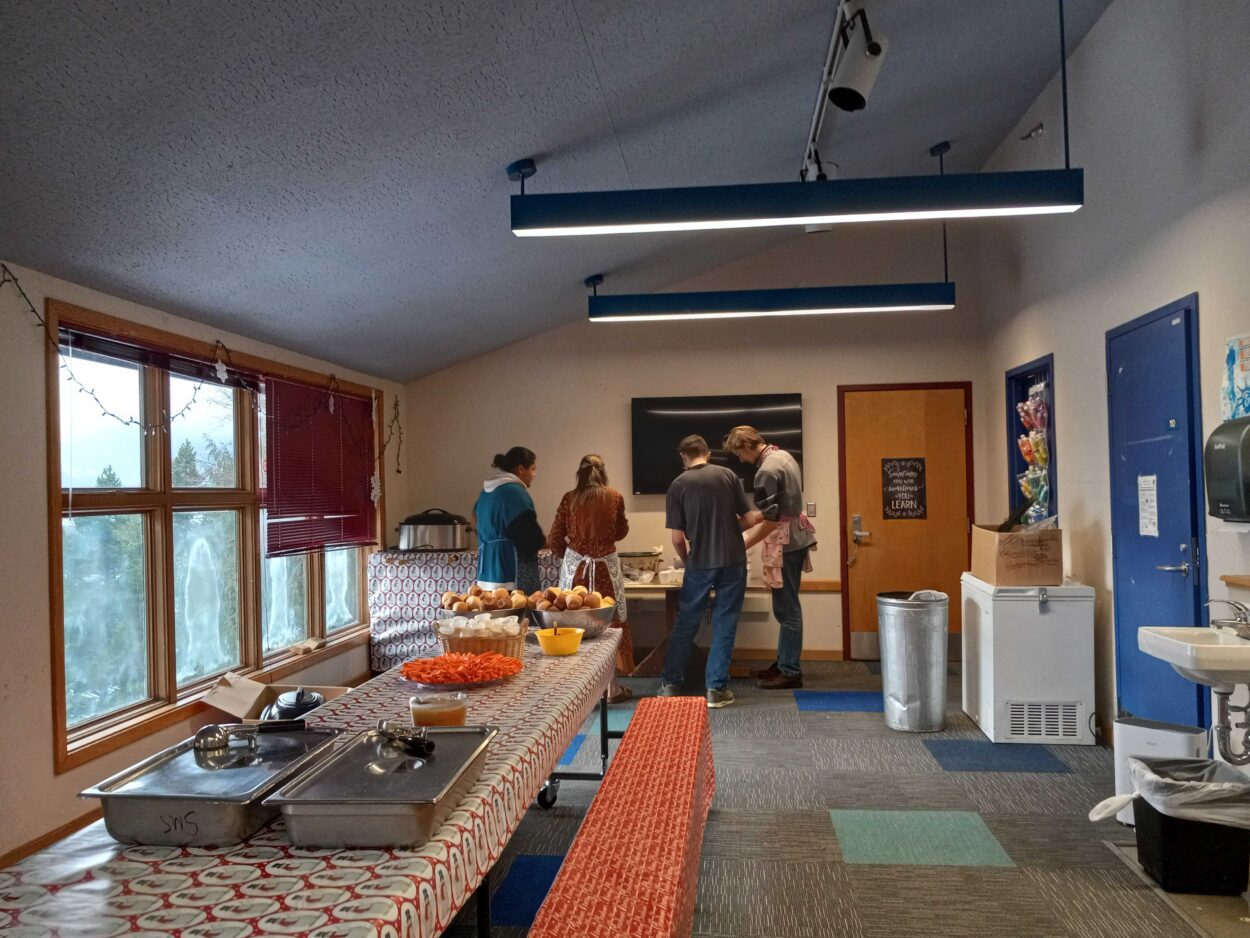 "We have turkey, ham, mashed potatoes, gravy, green bean casserole stuffing, rolls, (and) cranberry sauce," she said.
Roth said the idea started years ago, with a teacher who has since retired from the school. Thursday was the first holiday meal that Revilla students have made since COVID-19 came to Ketchikan.
"It all started with a way to just bring together the staff and students and offer up a holiday meal that we share with our staff and our students, and then we invite some community members to come in and just enjoy it with us," she explained.
Revilla junior Sophie Agoney said she liked baking the desserts best. This year, that meant rice crispy treats. She also helped decorate the building for the occasion.
Her favorite part of the day?
"Probably just all the teamwork that happens," she said.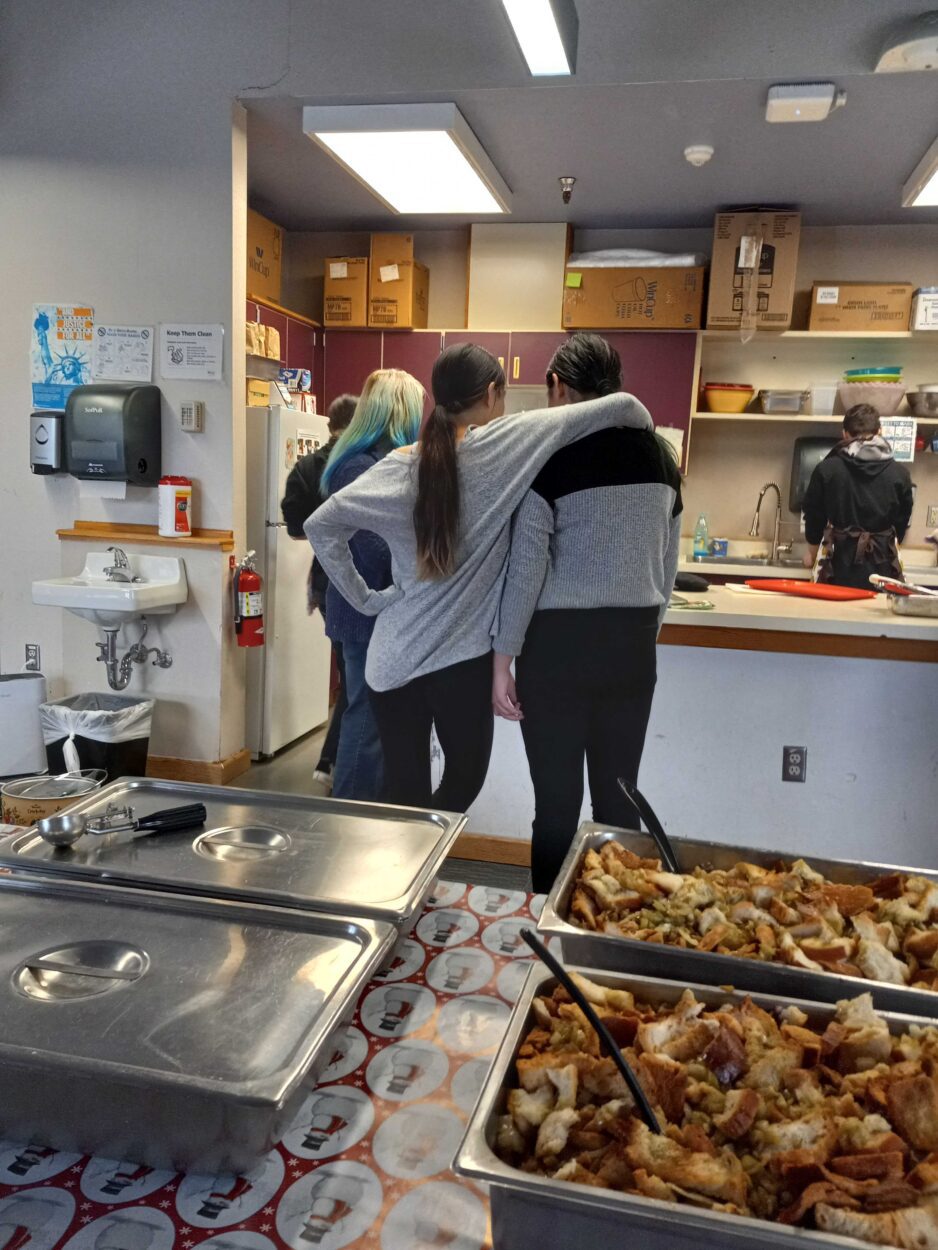 Matthias Williams, another junior, was helping out in the kitchen for the first time. His job was to tear into the turkey — not to eat it, but to get the meat off the bones. The students wore gloves and took to the job with enthusiasm. Once the bones were stripped of meat, the pieces went onto a platter.
"This is my first time being here and helping," he said.
Junior Frances Shaw-Dickson helped cook several of the dishes.
"I helped make the mashed potatoes, I assisted them with the turkeys and I helped prep the hams," she said.
She said she was grateful for the opportunity to work together with her classmates to make the dinner happen.
"I enjoy it, especially the bonds that you can make with the people that you're working with, and I think it helps make friendships better and more connections," Shaw-Dickson said.
Chase Hanis is a senior. His focus was on the turkey as he moved around the kitchen in a frilled, cupcake-print apron.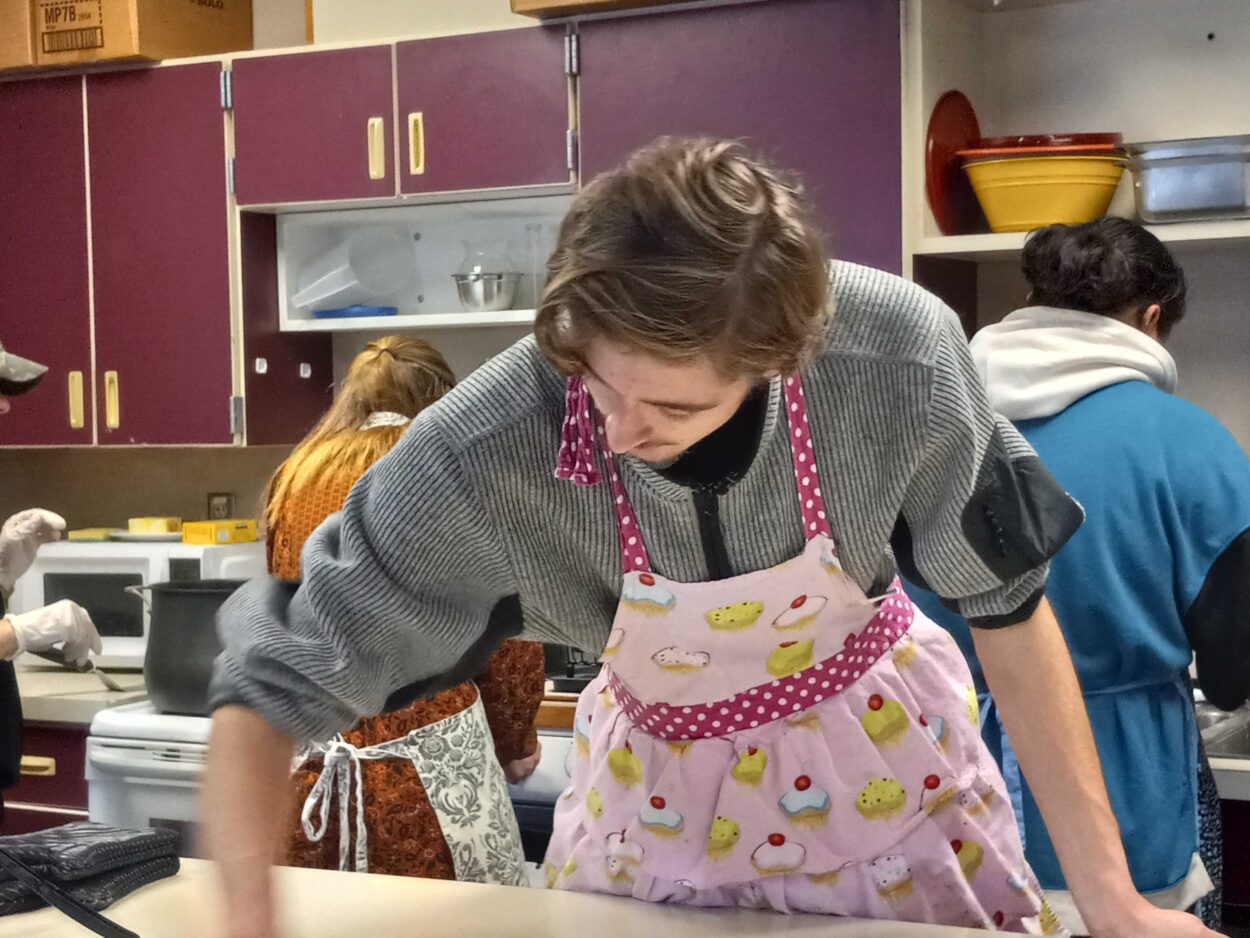 "This will be the first turkey I helped out making," he said. "I think it went pretty good."
And according to their guests, all of the students' hard work paid off.
School board member Diane Gubatayao made herself a plate and sat down to enjoy it with former board member Jordan Tabb.
"It's really cool that the students did all the cooking," she said. "And hey, they made dressing from scratch!"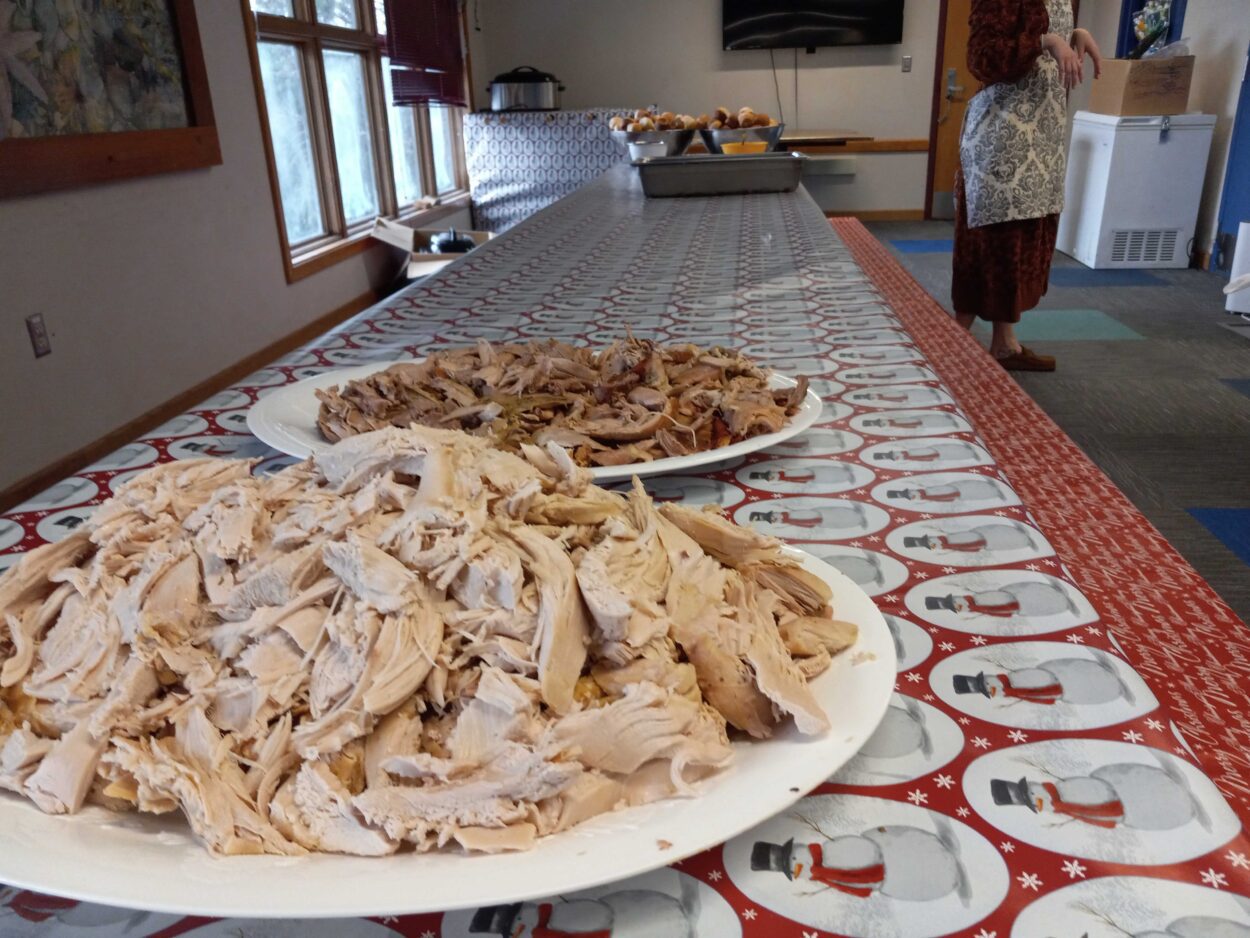 Tabb was enjoying a few Christmas cookies. He echoed the principal, saying the school is built on strong relationships with students.
"This is one of those ways that they maintain those relationships," Tabb commented. "If kids don't feel comfortable with the adults like law enforcement or counselors who come into their school, they're not going to be here."
Gubatayao agreed.
"Yeah, I just think this to me really symbolizes the family kind of relationships that they try and build with students here, a sense of 'We're a family together in our community here,' and this is, like, to me a celebration of that," she said.
Addie Roth said that most of the students who attend Revilla helped in — some small way — to contribute to the meal.
Raegan Miller is a Report for America corps member for KRBD. Your donation to match our RFA grant helps keep her writing stories like this one. Please consider making a tax-deductible contribution at KRBD.org/donate.