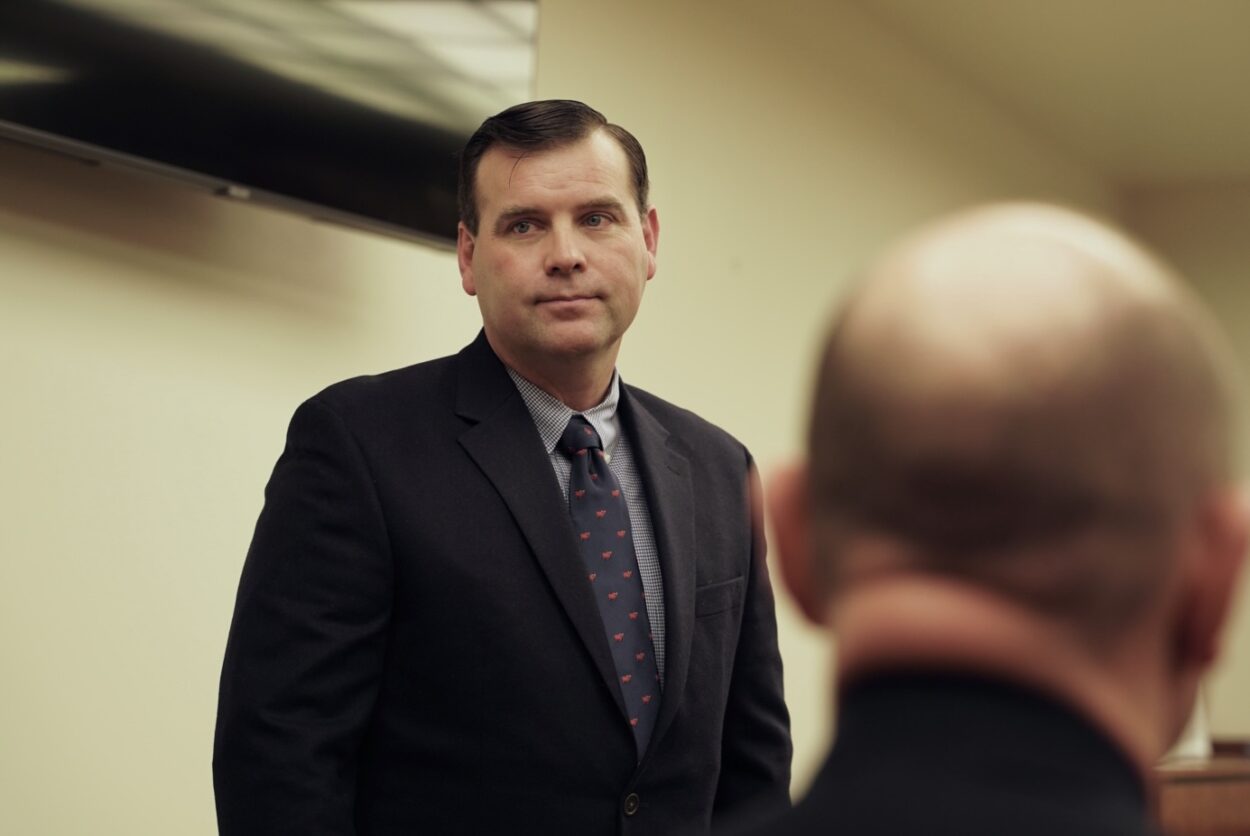 State prosecutors say Ketchikan's police chief, while off duty, shoved a man into a stone wall and held him in a chokehold at a luxury fishing lodge in September. Jeff Walls was indicted for the alleged felony assault on Thursday.
In court documents, prosecutors say the alleged assault took place at the restaurant at Salmon Falls Resort about 16 miles north of downtown Ketchikan. On the night of September 10 a Washington state man at the restaurant was allegedly drunk and causing disturbances.
At some point, according to prosecutors, the man "intentionally" bumped Walls' chair while he and his wife ate dinner at the restaurant's bar. The man then apologized, the two shook hands, and that was that.
But prosecutors say about an hour later, the drunk Washington state man stumbled into the chair of Walls' wife, seated next to him at the bar, while the man was on the way to the bathroom.
At that point, Walls allegedly got up from his seat, "ran after" the man and attacked him, shoving him headfirst into a rock or stone wall. Prosecutors say Walls then placed the man into what witnesses described as a chokehold.
Walls held the man in the chokehold for one to two minutes, according to witnesses cited in court documents. The man's face reportedly turned red and he was unable to speak.
Though the incident itself was not caught on video, surveillance footage obtained by prosecutors reportedly shows "multiple people" pulling Walls away. But even after the two were separated, prosecutors say Walls "attempt(ed) to reengage" the man, forcing those around him to restrain him again.
Alaska State Troopers responded to the incident. They say they found Walls apparently uninjured and the Washington man bleeding from his head with blood on his hands. Cuts on his head required stitches, according to prosecutors.
The Washington man was arrested and initially charged with assault. But prosecutors dropped the case the following month.
Through his lawyer, Walls tells a slightly different story. Defense attorney Jay Hochberg told KRBD in an interview on Thursday that the man's drunken stumble left Walls and his wife bruised and in pain. He says Walls reacted appropriately.
"He, like any citizen of Alaska has a right as a crime victim to use reasonable force to detain an individual who has just committed an assault. That is precisely what he did. He did nothing wrong," Hochberg said.
Hochberg answered the charges on Walls' behalf at a court hearing on Friday. Walls sat at the defense table as a handful of uniformed officers and the assistant chief looked on from the gallery.
"I will say just very briefly to these false and defamatory allegations, we enter a plea of not guilty and demand a jury trial," he told the court by phone.
Assistant Attorney General Mark Clark is prosecuting the charges for the state's Office of Special Prosecutions, which handles high-profile cases. He asked the judge to impose a $1,000 cash bond.
"Mr. Walls has been indicted on a felony assault, and the state believes that similarly charged defendants, even without criminal history, would be required to post some amount of bond," Clark said. "The state believes that Mr. Walsh should be required to do so as well."
Clark also asked for a $10,000 unsecured bond, meaning Walls would only have to pay if he skipped future court hearings. Clark pointed out that Walls only recently moved to Ketchikan after a long career in law enforcement in New Orleans.
"His ties to the community here, I think, are just not strong enough to ensure that he will remain for trial without some sort of guarantee," Clark said.
He also asked the judge to bar Walls from contacting any witnesses except for his wife. But Hochberg, Walls' attorney, said that would be a problem: one of the witnesses is a Ketchikan police officer, one of Walls' subordinates.
"My client is the chief of police of the city of Ketchikan and he maintains that position he is able, willing and capable to continue in his employment. And as of right now, he continues in his employment," he said.
Hochberg opposed the state's request for bail, saying his client was not a flight risk.
"There is absolutely no reason to suspect that he will not come to court. Indeed, he is very interested and anxious to get into court as quickly as reasonably possible to preserve and defend and protect his own reputation and show the community of Ketchikan that he has done absolutely nothing wrong," he said.
Ketchikan Superior Court Judge Katherine Lybrand sided with the defense. She declined to bar Walls from contacting most witnesses, with the lone exception of the victim. She instead ordered Walls not to discuss the case with witnesses. He's also barred from leaving Ketchikan without written permission from the court.
She also declined to impose bail.
"The court doesn't consider what other individuals have been provided in terms of bail, because it's necessarily an individual determination on each case and each person's circumstances," she said.
Whether he'll face consequences at work is unclear. Walls' boss, Ketchikan City Manager Delilah Walsh, said the chief is currently on personal leave for the holidays and has not been suspended or placed on administrative leave. He's due to return to work Tuesday.
"Essentially, our process is, we will have an internal investigation, and then determine if any administrative action is necessary," she said in a phone interview Friday.
She says she expects the city's internal investigation to start next week, though she says she's not sure how long it'll take.
Walls was hired as Ketchikan's police chief in late 2021 after a 24-year career with the New Orleans Police Department. He retired as a commander overseeing the city's central business district, which includes the popular French Quarter. He started work in Ketchikan in early 2022.
Walls is due back in court in February. A trial is scheduled to begin March 13.