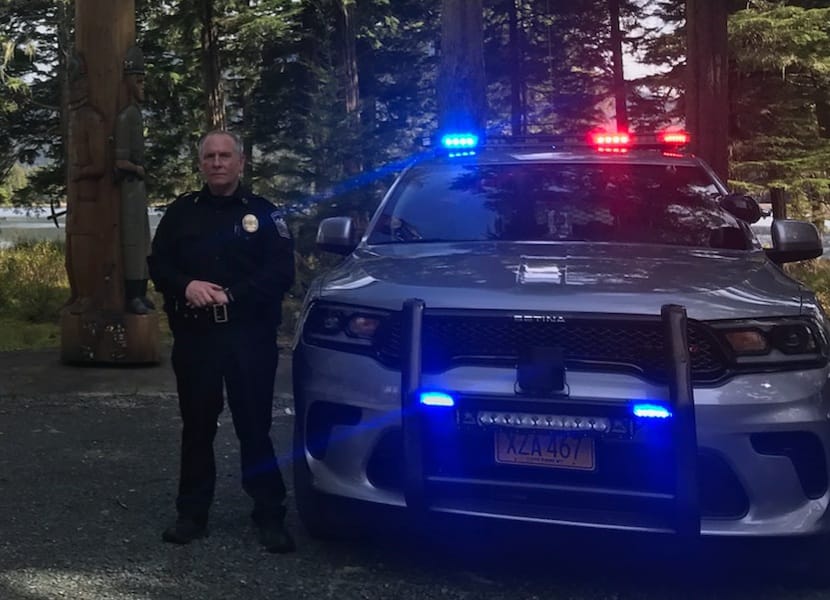 Klawock police chief Terry Stonecipher died unexpectedly Monday morning. He was the only officer at the Klawock Police Department. The City of Klawock announced his death, along with a notice that flags would be flying at half-staff in the Prince of Wales Island community.
Klawock Mayor Nick Nickerson says that ever since the City of Klawock announced Terry Stonecipher's death on social media, he's been getting calls and messages from mourning residents.
"He was a great chief," Nickerson said. "He will definitely be missed by this community. He was kind, caring and very respectful to all community residents."
Stonecipher had held the job since 2005. He also worked with Metlakatla's police department.
Bruce Janes, Metlakatla's current police chief, said Stonecipher was an exceptional public servant.
"As a supervisor, he's probably one of the best police officers I've ever worked with in my 29-year career," Janes said.
Stonecipher was a mentor, and trained Janes on the job in the 90s.
"Terry was one of those guys that he had a job to do," Janes said. "But he always treated people with respect."
Janes lived next door to Stonecipher and his family in Metlakatla. Stonecipher leaves behind his wife Juliet, and four children.
"My kids played with Terry's kids, you know, growing up and you know, until they left," Janes said.
Stonecipher moved to Bethel after four years in Metlakatla and worked with the local police department for more than a decade. Janes said he also worked in probation services before moving back down to Southeast.
With Stonecipher's passing, Nickerson said there's currently no police officers in Klawock.
"We do not have any acting chief," he said. "We don't even have any officers."
Nickerson said Alaska State Troopers will be answering 911 calls for Klawock, and Craig Police Department officers will patrol the town when they are able. The City of Klawock is asking residents to call 911 for emergencies, not the Klawock Police Department phone number.
Nickerson did not answer questions about Stonecipher's cause of death or whether it was regarded as suspicious. Alaska State Troopers are handling the investigation, and Nickerson said his remains will be sent to the state medical examiner's office in Anchorage for an autopsy.
Alaska State Troopers and Craig Police Department officers will drive Stonecipher in a procession to the ferry terminal in Hollis on Tuesday morning. His remains will be in a flag-draped coffin. Members of the public are invited to join the procession or flash their lights in support.
"Any community member who wishes to pay respects to Chief Stonecipher, may either join the procession, or be on the side of the road with flashing lights as he makes his final journey through the City of Klawock," the city wrote in a social media post. "Klawock Fire Dept and EMS will be along side of the road with flashing emergency lights as he journeys through tomorrow morning."
Editor's note: this story has been updated to reflect Stonecipher has four children.
Raegan Miller is a Report for America corps member for KRBD. Your donation to match our RFA grant helps keep her writing stories like this one. Please consider making a tax-deductible contribution at KRBD.org/donate.