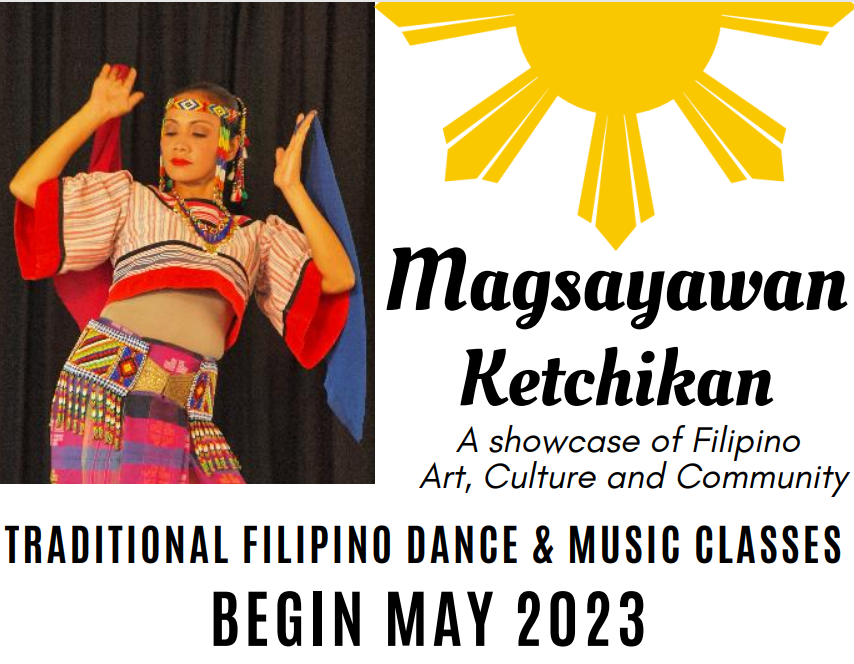 Traditional Filipino folk dance and music classes are returning to Ketchikan this spring.
The classes are part of a Ketchikan Wellness Coalition program aimed at promoting health and cultural heritage in the Filipino community. KRBD's Raegan Miller has more about the program, and the kinds of classes that dancers remember in Ketchikan years ago. 
Growing up in Ketchikan, Lyn Buendia McClendon's parents put her in traditional dance classes when she was around eight years old.
"We did it for festivals, and we did parties, and we did it for the cruise ships," she said.
She remembers tinikling, a dance performed with bamboo sticks. She says the bamboo poles represented herons, and the dancers represented how the birds would walk through nature. 
"There's also a candle dance," she said. " … We all have candles that we hold in our hands. And it was that one was all women. The tinikling was usually co-ed, so it was boys and girls. And it was usually pairs, like brothers dance (together), like cousins dance."
And for the younger dancers, there was the coconut dance.
"They used to do that with coconut shells," she said. "And they always were laughing and having fun."
But right now, there isn't a public place in Ketchikan for adults and kids to learn these types of traditions — the Filipino Community Center closed its doors in 2015. That's why the Ketchikan Wellness Coalition applied for a grant from the Alaska Community Foundation. The grant will allow the organization to start up Magsayawan Ketchikan, a series of traditional folk dance and music classes with dedicated instructors.
The Ketchikan Wellness Coalition's health equity program coordinator, Alma Parker, wrote the grant for the classes. The grant comes from the ACF's healthy communities program. 
 "Although a few individuals occasionally showcase traditional performances, it is not consistent enough to instill the value of Filipino dance and music within the community and to pass on the artistic skill necessary to perform," Parker wrote in the proposal, which she shared with KRBD. "There is a need for dedicated, cross-generational, fully trained dance and musical instructors to work with and teach Ketchikan Filipinos to cultivate this artistry and simultaneously reinvigorate the historical and cultural significance of the Ketchikan Filipino community."
The classes will start this spring for adults and children alike. For the next generation, it's a doubly important step toward connecting with culture.
McClendon lives with her children in California now, and hopes they'll one day be able to learn the same dances she did growing up in Ketchikan.
"I really treasure and like those memories in that we were part of that and now my kids are starting to ask questions and I'm hoping that they'll be able to pick it up and be able to pass it on to their kids," she said.
Gina Kaplan took up traditional Filipino folk dance when she was in elementary school. Her parents moved to Ketchikan from the Philippines and signed her up to learn. 
"My parents had introduced it to us saying, 'Hey, it's really important that you learn, kind of, the cultural dance of  where we came from, and trying to pass along traditional dance,'" she explained. "And you know, as a child, you're like, 'Oh, great. We're being forced into entertaining our parents, of course.'
She now lives in Oregon. But looking back, Kaplan is grateful for the chance. She's still friends with many of the others who took the classes with her over four decades ago.
"And I think about those days on a weekend, when we as a community would gather, and it would always be potluck style. And we would have all kinds of traditional Filipino foods brought on to a point where it was like, an event, a fun event that as kids that we look forward to being able to see each other and convene and celebrate, you know."
Kaplan hopes that the classes will be a way for younger Filipino people in Ketchikan to connect with their roots.
"You've got like, first, second, third generation born in the U.S. who have not really had a connection to, you know, the Philippines and kind of their way of life and tradition and culture," she said.
Ketchikan Wellness Coalition staff expect that the classes will start up in May and run through October, when there will be a final showcase leading up to the community's Fil-Am Festival.
Raegan Miller is a Report for America corps member for KRBD. Your donation to match our RFA grant helps keep her writing stories like this one. Please consider making a tax-deductible contribution at KRBD.org/donate.