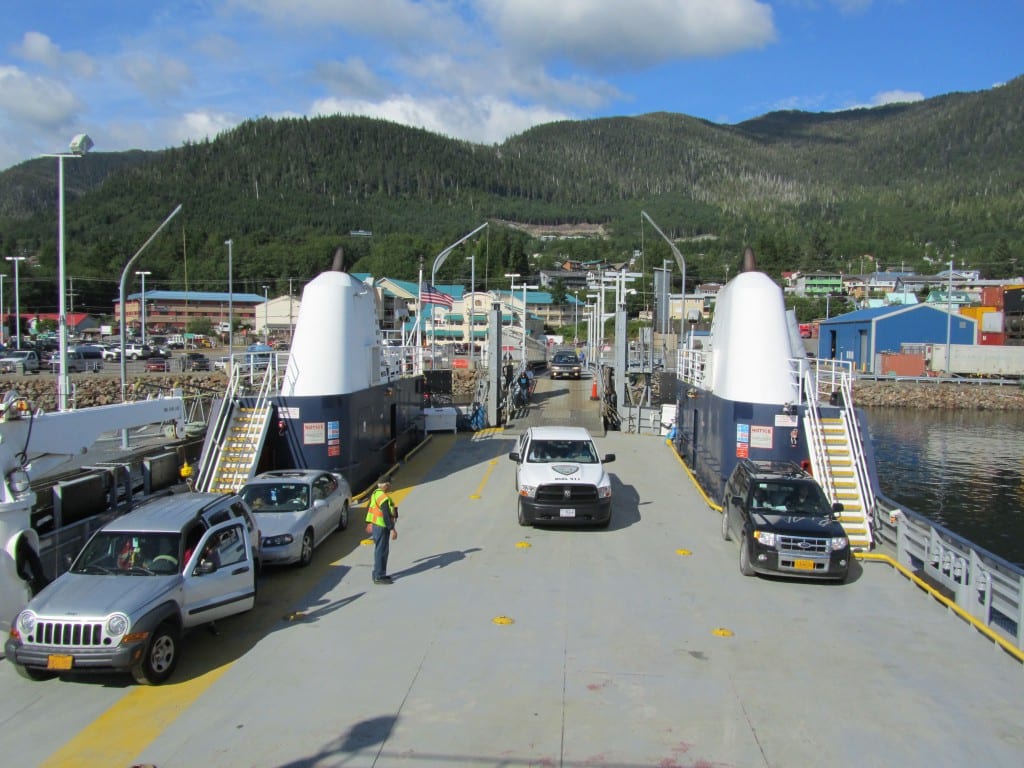 Alaska's ferry system is looking at building a new terminal in the village of Saxman, about three miles south of Ketchikan.
State officials say moving the terminal could allow the ferry system to add a third daily sailing to and from Metlakatla.
Officials are scheduled to discuss the idea at a series of upcoming public hearings.
The Alaska Marine Highway System ferry Lituya shuttles passengers and vehicles to and from Metlakatla twice a day, five days a week.
It's a quick 45-minute trip down the channel, and the Lituya docks at the ferry terminal in Ketchikan's West End. But discussion is brewing about tying up the Lituya at the Saxman Seaport, six road miles south of the current terminal.
Lori Richmond is Saxman's city administrator. She said those six miles could make a big difference.
"Well, Saxman being, like, 83% Native population, and Metlakatla being 100% Native population, there's a lot of family that goes back and forth between the two areas, villages," she said. "So right now the ferry dock is all the way in the middle of Ketchikan. So the families have a hard time getting together, because they have to afford taxis or they have to pay that increased amount to bring their vehicle on the ferry."
The Saxman Seaport is also in the same neighborhood as the future Three Bears Alaska grocery store. Richmond said that proximity is another convenience for travelers.
"Metlakatla is going to have much quicker access to groceries, to hardware, to sporting goods," she said. "They're not going to have to try to find a ride from the ferry dock, you know, in the middle of Ketchikan to three different stores, because we'll have all three of those down at (the) Three Bears."
The Seaport would house both a small boat launch and the terminal. Richmond says there's potential funding available from the Statewide Transportation Improvement Project program. Richmond said, at first, Saxman approached DOT about creating a commercial vessels dock at the seaport.
"And they weren't able to fix any money real quick," she explained. "But then they found enough money to maybe just retrofit the seaport right now."
Shannon McCarthy, a spokesperson for the Alaska Marine Highway System, said the regional economic development group Southeast Conference is leading the initiative.
"We are supporting the Southeast Conference efforts," McCarthy said. "And so the Southeast Conference (is) putting in some funding for a preliminary design, and then we are also putting in about $500,000."
The preliminary design will be done by PND Engineering. McCarthy said representatives from that company will be in Ketchikan next week.
She said a Saxman terminal could allow the ferry system to add an additional daily run to Metlakatla.
"From what I understand … a ferry terminal would allow a ferry to go back and forth from Annette Bay to Saxman, back and forth about three times a day, so cutting off some time," McCarthy said.
Metlakatla Mayor Albert Smith said there are both pros and cons to developing a Saxman terminal for the Lituya.
"If it works out, the idea is that we can have more runs throughout the day and earlier (in the) morning, run one in the later evening, and then run throughout the whole day," Smith explained.
But he said moving the terminal further from hotels and other businesses could create its own issues.
"Just the fact that it's further out of town," Smith said. "Right now where the ferry lands, you could walk right across the street to The Landing (Hotel), or if you needed to, you could actually walk — it's a short walk — over to the airport ferry."
But Smith said if the idea moves forward, it's a problem that could be solved.
"So you know, there's transportation stuff we need to figure out," he said. "And a lot of things, I think that we can work out, but communication will be key."
Representatives from the state Department of Transportation and Southeast Conference will hold a town hall meeting in Saxman to discuss the idea at 5:30 p.m. on Jan. 25. The public meeting in Metlakatla is set for 6 p.m. the following day.
Raegan Miller is a Report for America corps member for KRBD. Your donation to match our RFA grant helps keep her writing stories like this one. Please consider making a tax-deductible contribution at KRBD.org/donate.