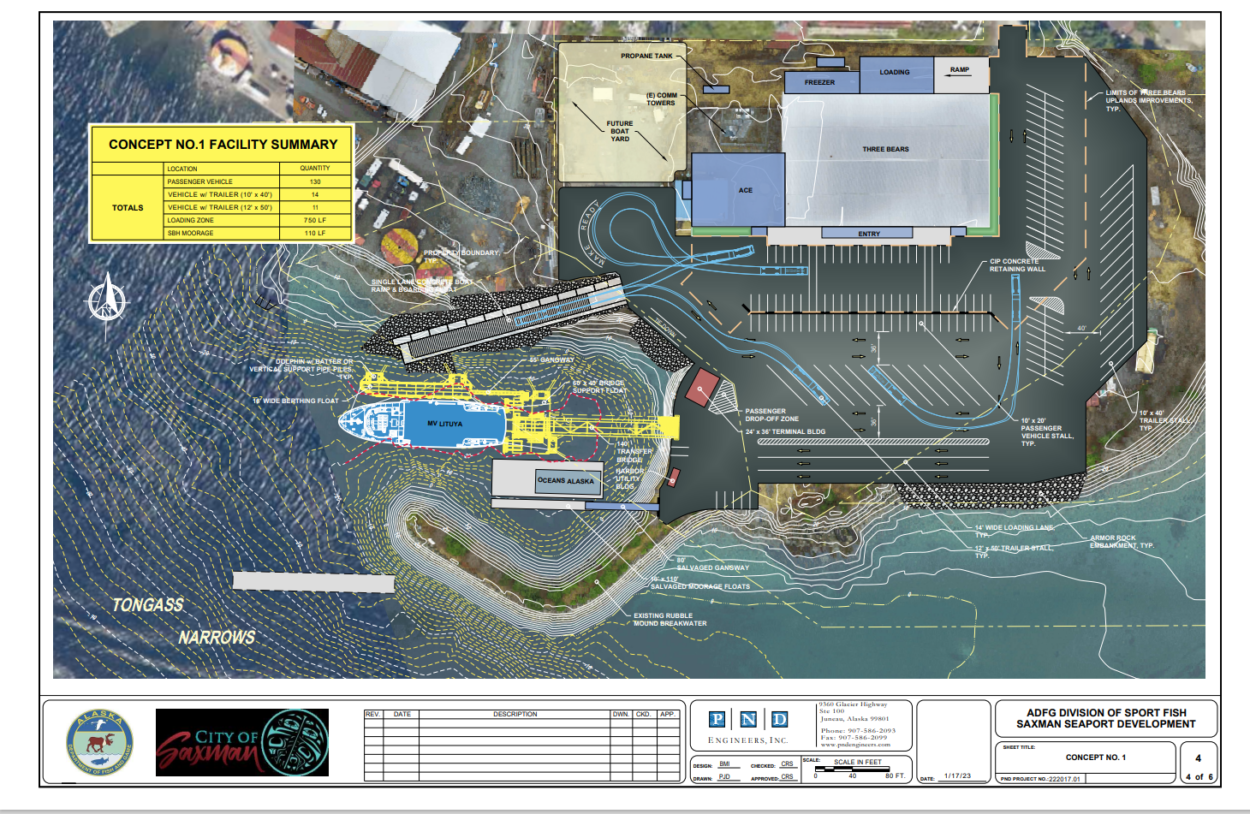 Two public hearings were held earlier this week, to gather input on a proposed state ferry terminal in the village of Saxman, about three miles south of downtown Ketchikan.
The terminal would exclusively serve the state ferry Lituya as it makes its way back and forth between Metlakatla and Revilla Island. Officials say that the new terminal would shave time off the trip.
Representatives from the region's economic development group, Southeast Conference, as well as the state's Department of Transportation, visited both communities to hear residents' ideas on the proposed plans.
Once the dust has settled, the Saxman Seaport will boast a Three Bears grocery store, an Ace Hardware, a boat launch, more than 70 parking spaces, loading lanes and a ferry terminal.
Right now, Ketchikan's ferry terminal is about six land miles from Saxman Seaport, in the heart of the West End. The trip between Ketchikan and Metlakatla takes about 45 minutes. Based on reports made during the public hearings, that time could be shaved to less than 20 minutes with the new seaport terminal.
Trudi Swink knows what it's like to spend a lot of time at a ferry terminal. Her daughter, Crystal, played basketball for Ketchikan High School before graduating about 10 years ago.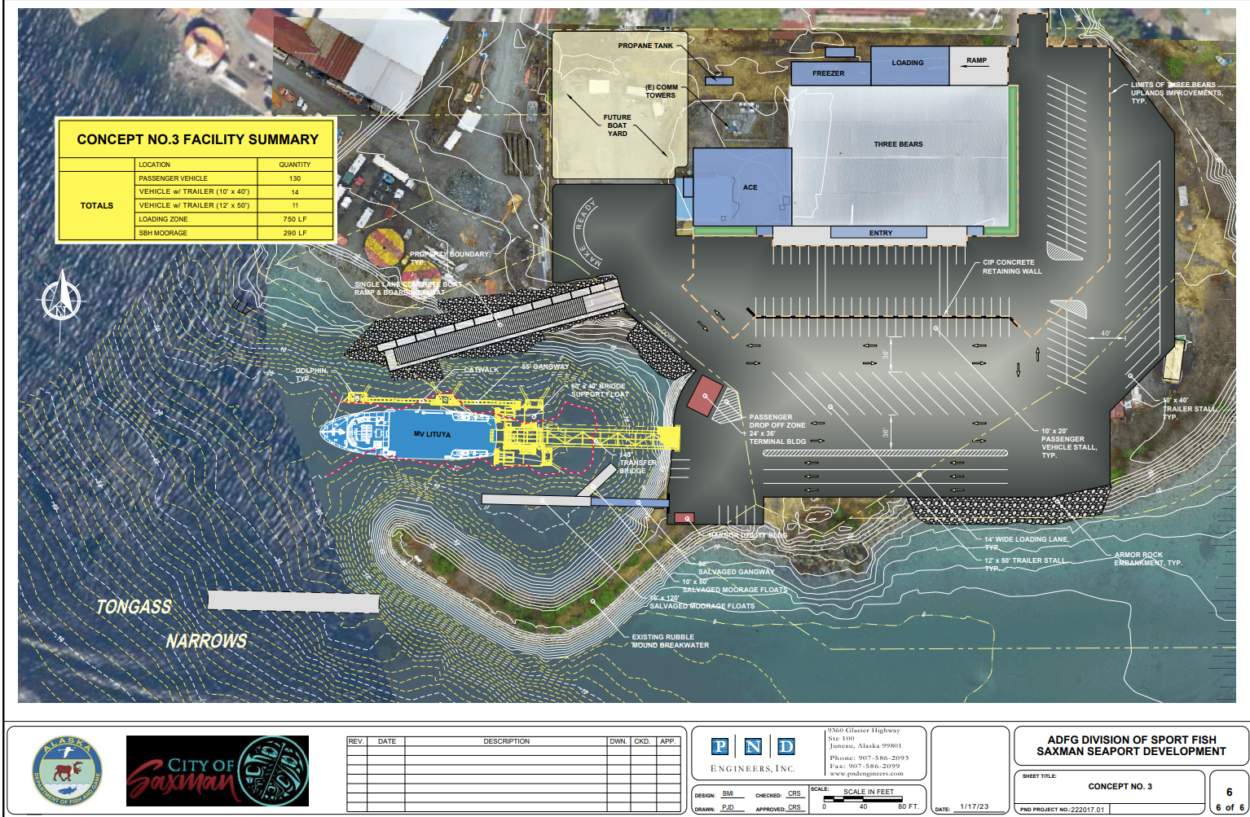 "So it was me going to these terminals to drop off my kids," Swink said. "… Being stuck in them (terminals) in other communities as a parent traveling with my child."
That's why she's worried that the proposed ferry ticketing building won't be big enough to accommodate waiting passengers. Engineers from the contracted firm PND Engineers suggested a terminal that measured 24 by 36 feet. 
"I don't want something that's only going to hold 10 people," she said. "It's not going to do our visitors any good out here."
Attendees also raised concerns about not having enough space for school buses to pull through. Plans are for 126 vehicle parking spots, more than 20 additional spots for vehicles with boat trailers, and 500 feet of loading zone.
Gabriella Blair said she's happy that the idea is going somewhere, after it was voted down a few years back because the city was being asked to sell its land for the development.
"This time, we're actually able to lease it and not sell our land, so our land is still going to the City of Saxman's, which, that part is exciting," Blair said. "But it wasn't an option before."
Blair said it seems like a small space for everything that's planned.
"I was just trying to look at, like, where buses would park, school buses, borough buses, it just seems hard to fit it all in that area," she explained. "And their terminal booth seems really small. Like it didn't seem like it could let people sit in there, but I like the idea of that being a stop to go to Met. Just trying to fit everything in there is a little hard."
Jeremy Bynum, a Ketchikan Borough Assembly member, also attended the meeting. Speaking outside of that role, Bynum said the space is tight, but he doesn't think that's a deal-breaker for any of the designs.
"I don't see that all of those activities are gonna be happening all at once," he said. "So for example, the ferry being there, and then boat launching, and all of that like that. Sometimes it will be at once. But mostly, I think that you'll see that spread out and different times of the day. So I don't, it looks tight on paper, but I think functionally, they'll probably be fine."
Chuck Denny is the vice chair of Cape Fox Corporation and the vice president of the Organized Village of Saxman. He thinks developing the seaport will give the city a much-needed boost.
"And it'll be income for the city, because right now, the city isn't doing too well," he said. "And then with Three Bears that'll be a big plus for our community."
Denny is also a boat owner, so he said he likes that all three designs incorporate a new boat launch.
Metlakatla Mayor Albert Smith said more than 50 people turned out for the public meeting at the David Leask Memorial Town Hall on Thursday.
"I think there was some concern about transportation between Saxman and Ketchikan," he said. "And I think that's stuff that we could work out. There's a lot of discussion about possibilities on how we can get a shuttle running to all the main places in town."
Smith said even more people filled out comment cards at the meeting. Metlakatla residents also were able to talk one-on-one with representatives from the ferry service, Southeast Conference and DOT.
"It was just a really good set up," he said.
The public comment period will be open until Feb. 17.
This story has been updated to correct the name of the engineering company to PND Enginees.
Raegan Miller is a Report for America corps member for KRBD. Your donation to match our RFA grant helps keep her writing stories like this one. Please consider making a tax-deductible contribution at KRBD.org/donate.