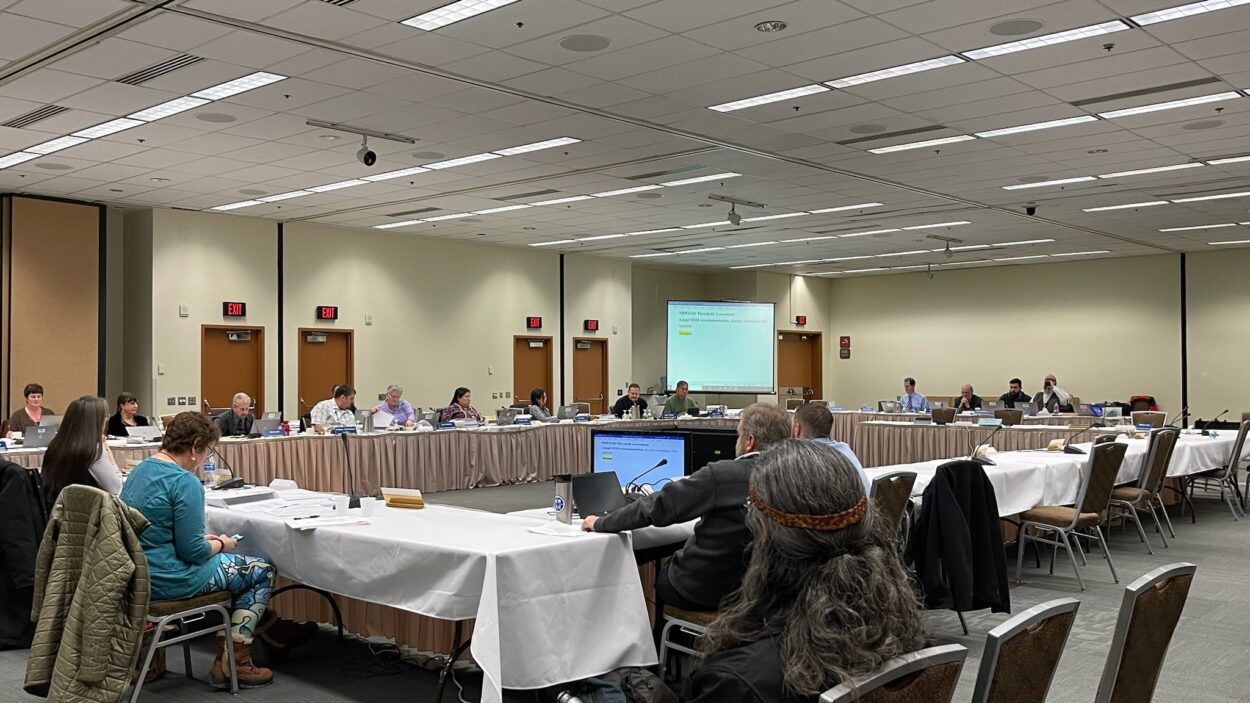 A tribe's push to open federal subsistence hunts and fisheries to Ketchikan residents took a big step on Friday. The Federal Subsistence Board greenlit a closer look at Ketchikan Indian Community's proposal to redesignate Ketchikan as a rural area under federal rules.
If the change goes through, it would greatly expand the ways Ketchikan residents can hunt and fish. The tribe says it's one piece of a fight for an inherent right that's been going on for hundreds of years. But as KRBD's Raegan Miller reports, not everyone is thrilled.
It all hinges on one key question: Is Ketchikan a rural community?
The Federal Subsistence Board voted unanimously earlier this month to conduct a formal study of the question. That means that the board agreed that Ketchikan met four basic guidelines to be considered for a rural designation — namely, that there's information to support the request, and that the community has changed in the years since it was designated as nonrural.
The process started when the Southeast Regional Advisory Committee voted to send the proposal to the federal board, despite an initially lukewarm reaction to the idea. Saxman is considered rural, by a separate decision about 10 years ago.
Now, the board can take a closer look at the proposal's merit.
Anthony Christianson is the board chair.
"They'll just continue to look at the characteristics overall and, you know, certain other resources, transportation," he said. "There's a bunch of criteria, you know, characteristics and uses of the surrounding resources, things like that. So they look more closely at the community itself."
Christianson said he doesn't know what the board will decide, but pointed to Saxman, a smaller community on Ketchikan's road system. The town of about 400 was redesignated as rural in 2016.
"When they went through it with Saxman, you know, obviously, Saxman got its rural status, and it's similar in nature, and even though you know, they were able to distinguish their community as a different community, still, the majority of the characteristics are similar in nature," he said. "But based off of that, that's what they'll be looking for is if they meet a similar criteria like Saxman did."
Trixie Bennett, the Ketchikan Indian Community's past president and a Tribal Council member, was one of a handful of tribe representatives who testified at the meeting. She said this is a hopeful step forward.
"My great, great, great, great grandfather was fighting for hunting and fishing rights way back in 1890," she said. "… And here we are 130 years later, finally making some progress for the people of Ketchikan or the Native people of Ketchikan."
Bennett said much of the work has involved the state's Department of Fish and Game, the Department of the Interior and the Office of Subsistence Management. 
Bennett also thanked the board for their consideration, as well as those who came before her.
"I want to thank my ancestors, they've been fighting a long time standing up and mostly we want to thank them for making sure we know who we are and that we belong here," she said. "We belong to this land."]
But despite a sense of hope among many in Ketchikan, others worry the change will open up new problems when it comes to resource management.
On nearby Prince of Wales Island, at least one key subsistence resource is already stressed. Clinton Cook is the president of the Craig Tribal Association, the tribe based in Prince of Wales Island's largest community.
"When you start allowing cities rural status, it will take resources from members in our communities that have rural status," Cook said.
For years, residents have worried over declining deer populations. Cook said that more hunters coming to the island would mean less chances for locals to fill their freezers. Hunters from rural communities get to start deer season a month early, in July. Rural hunters also can hunt in more areas than non-rural hunters. 
"You're inviting two to 3,000 more people to come and take a resource that's already strained," he said.
Cook also mentioned Saxman's rural status. But he said Saxman and Ketchikan are different places, despite the fact that they're connected to the same road system on the same island.
"It took Saxman many years, many attempts, to become rural," Cook said. "Saxman is a different community than Ketchikan."
Cook said his tribe will be drafting a resolution against a rural designation for Ketchikan. He said he's working to rally opposition from tribes across the island. 
"If Ketchikan becomes rural, who says Juneau can't apply to be rural status, and/or Anchorage?" Cook said. "And then the whole state might as well be considered a rural area."
It's not clear how widespread opposition is on Prince of Wales Island. Federally recognized tribes in Hydaburg, Klawock and Kasaan did not return requests for comment on the proposal. And as it happens, Christianson, the Federal Subsistence Board chair who voted to advance the proposal, is the mayor of the city of Hydaburg.
Cook said that Ketchikan's tribe should have come to the island and met with local tribes before pushing for the redesignation.
Bennett, from Ketchikan's tribe, said there was some outreach, but not enough. 
"We know we need to reach out to the tribes over there on Prince of Wales, we are looking forward to that work," she said.
She said it's a priority going forward, and Kasaan and Hydaburg have already invited Ketchikan's tribe to visit. 
Bennett said that the groups will be looking into ways to protect local hunters on Prince of Wales Island. She pointed to regulations that could prohibit Ketchikan hunters from harvesting on the island if the population got too low.
"We'll be looking into those things and supporting Prince of Wales in any way we can," she said.
A final decision on Ketchikan's status isn't expected until 2025.
Raegan Miller is a Report for America corps member for KRBD. Your donation to match our RFA grant helps keep her writing stories like this one. Please consider making a tax-deductible contribution at KRBD.org/donate.