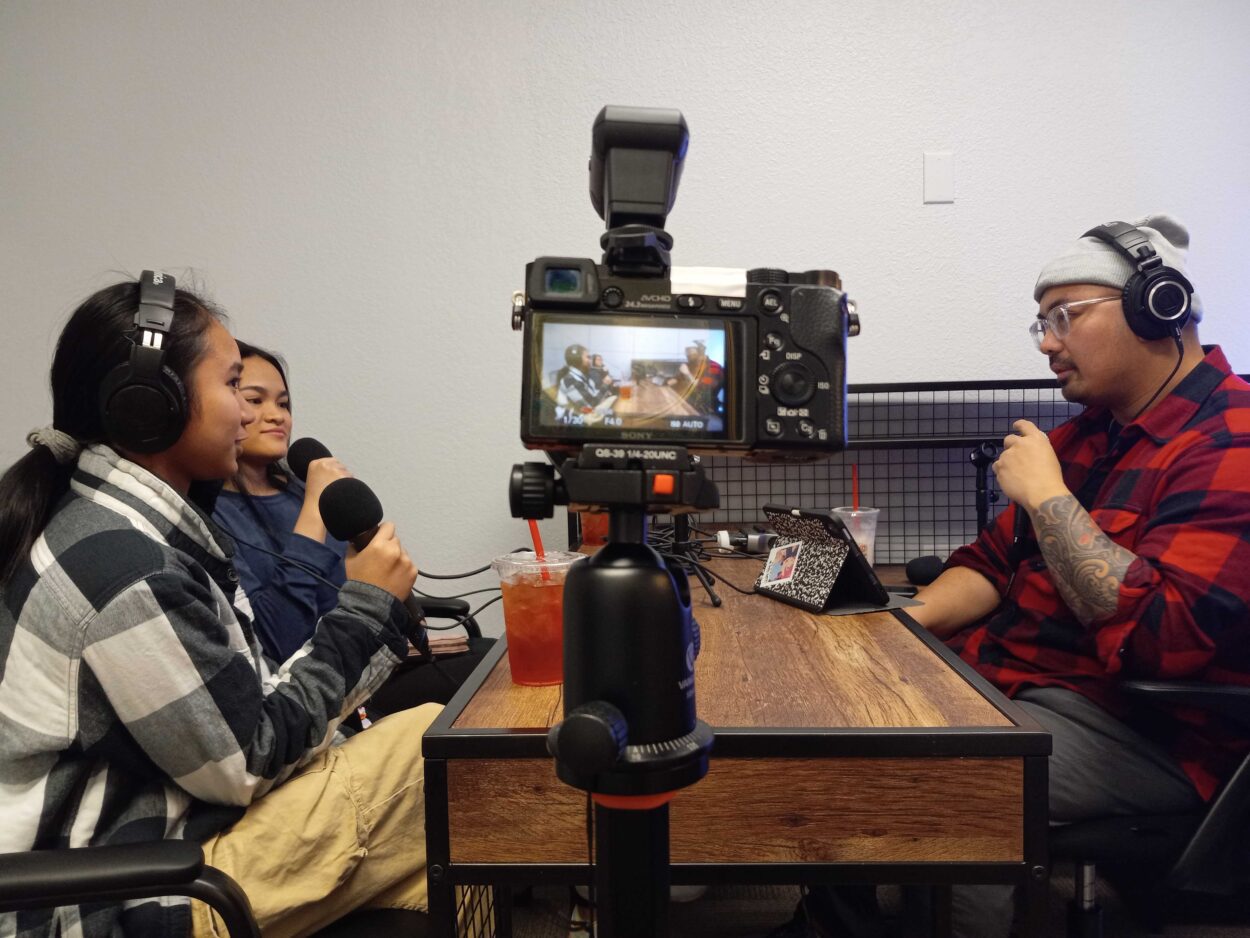 A Ketchikan podcaster is breaking down all things Filipino culture. Halo-Halo Mix-Mix started up last summer, and launched a revival this year. KRBD's Raegan Miller stopped by a recent recording session to learn more.
Halo-halo — a Filipino crushed ice dessert — is a refreshing, cool treat on a warm day. And that's what Archie Inoncillo wants his podcast, Halo-Halo Mix-Mix, to be like for Filipino listeners.
"I love halo-halo, and it's one of my favorite desserts," Inoncillo said during a recent recording session at Pilothouse Coffee. "But here is the debate. Is it an edible dessert? Or is it a drink? What do you think?"
The question was his playful opener to an upcoming episode that tackles a wide variety of topics — ranging from language barriers and education to superstitions and Filipino representation in pop culture.
Inoncillo had two guests, Czarina Cabillo and Ellyn Alva, members of the high school's Fil-Am Club. The two students both moved to the United States from the Philippines — Cabillo when she was 14, and Alva, when she was 10.
So, is halo-halo a drink or dessert?
"Oh, good question," Alva said.
"I would say edible, because of the ice cream, there's a lot of stuff in there," Cabillo chimed in.
Halo-halo was just one of the topics they took up with Inoncillo. The trio chatted with their host about topics big and small — including what it feels like to find community in Ketchikan as a Filipino person.
For Alva, Ketchikan High School's Fil-Am Club was a gateway to the Filipino community. Before joining, she didn't hang out with many of the other Filipino students.
"So that was the start that I started hanging out with Filipinos — it was really scary to speak Tagalog, too," she said.
Through the course of the podcast, the trio unpacks shared experiences. That includes a frank discussion of the different pressures they all feel when it comes to speaking Tagalog, the national language of the Philippines.
Cabillo shared she still gets nervous speaking English, her second language.
"I talk with adults, and it's fine," she explained. "But if I talk to the people my age, they just, I don't understand the slang and stuff. And they would say like, 'Oh, that's wrong. Did you mean this? And I'm like, sorry. I'm sorry. I'm Asian.'"
And it goes both ways. Host Inoncillo was born in Ketchikan to Filipino parents and said he struggles with Tagalog. He said he practices plenty, but he still braces himself for jokes about his language skills.
"It doesn't feel like a joke," he said. "It feels like I'm not being authentic enough as a Filipino because I don't know that. I can't speak the language."
The podcast episode — which is still in production — will also touch on conversations about Filipino traditions.
Cabillo mentioned someone jumping with coins in their pockets when the clock strikes midnight on New Year's Eve.
"I think they have to jump five times so they could get taller for that next year," she said. "It never worked."
"I think I stopped jumping after a while," Inoncillo joked.
They also talked about the darker side of Filipino superstition — like stories of monsters that prey on pregnant women and other vampire-like creatures.
"My favorite one is the Manananggal," Cabillo said.
"Oh man, where it's like — I had dreams," Inoncillo responded.
"It's an Aswang, but his lower body is separated and he flies away," Cabillo said about the monster.
The conversation touched on the growing number of Filipino people represented in mainstream TV and movies.
"It's like there's a whole lot more Filipino stuff in the media now though," Inoncillo said. "Like in the mainstream media."
"It's so cool," Cabillo responded. "I think it's because there's a lot of people here and Jo Koy (actor) has been doing a great job promoting Filipino culture."
Reflecting, Cabillo said the Filipino community in Ketchikan is one that tries to make you feel like you're in the Philippines. But she wants the community to stretch out in Ketchikan, and invite more people in.
"Why wouldn't we do it in a bigger place so everybody could feel it?" she said.
The Halo-Halo Mix-Mix podcast is a project of the Ketchikan Wellness Coalition's "Strengthening Cultural Unity" task force.
Raegan Miller is a Report for America corps member for KRBD. Your donation to match our RFA grant helps keep her writing stories like this one. Please consider making a tax-deductible contribution at KRBD.org/donate.