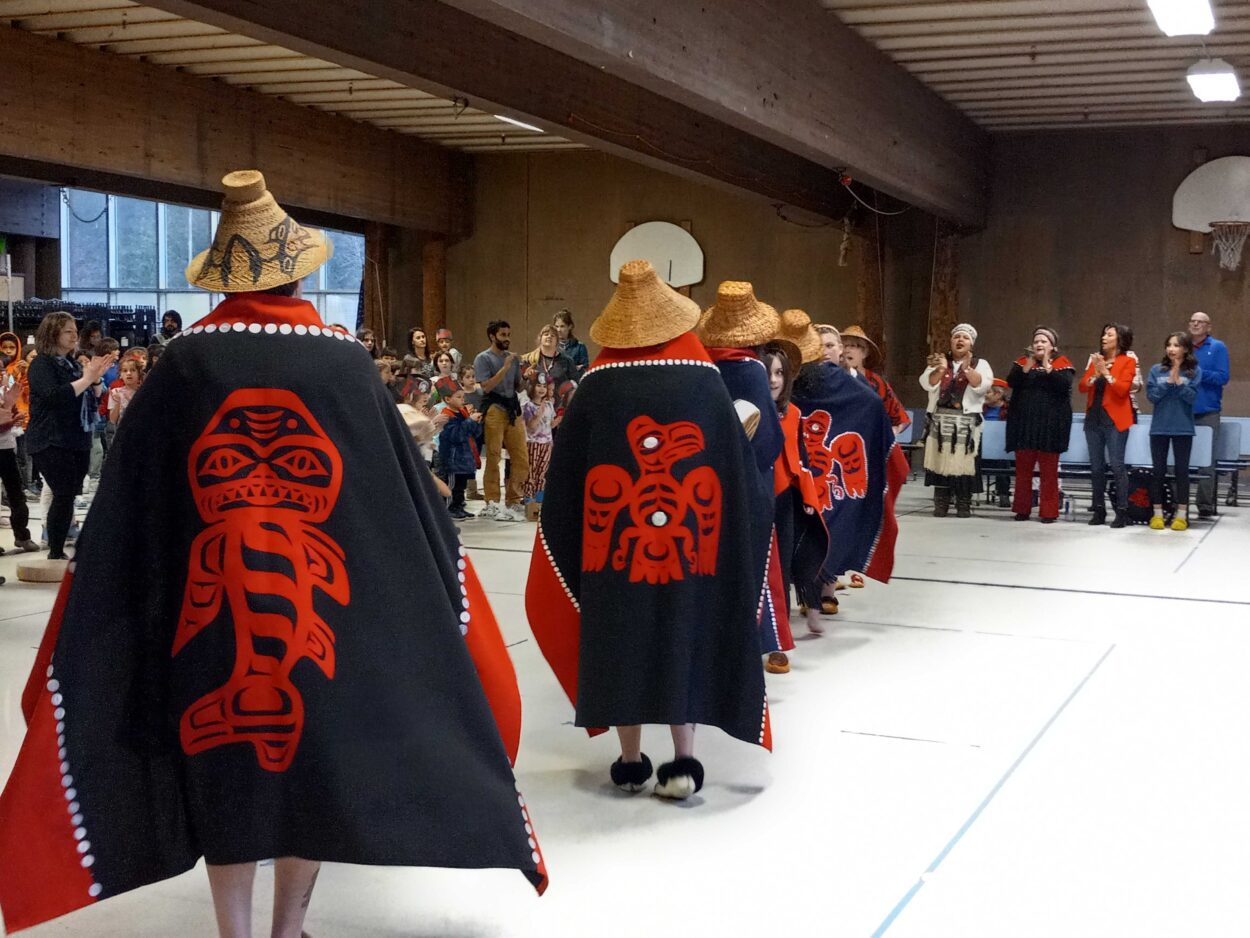 A crowd turned out at the Tongass School of Arts and Sciences on Tuesday to mark Elizabeth Peratrovich Day with songs, dancing, gifts and speeches.
Elizabeth Peratrovich's years-long fight for civil rights for Alaska Native people resulted in the passage of a groundbreaking anti-discrimination law in 1945, the first anti-discrimination law in a U.S. state or territory. She was born Elizabeth Wanamaker in Petersburg, graduated from Ketchikan High School, and married her husband Roy Peratrovich in Klawock. Her achievements are celebrated every Feb. 16.
Students from every grade at the Ketchikan elementary school gave a performance to honor the Tlingit civil rights leader. That included a sweet song by preschoolers and kindergarteners.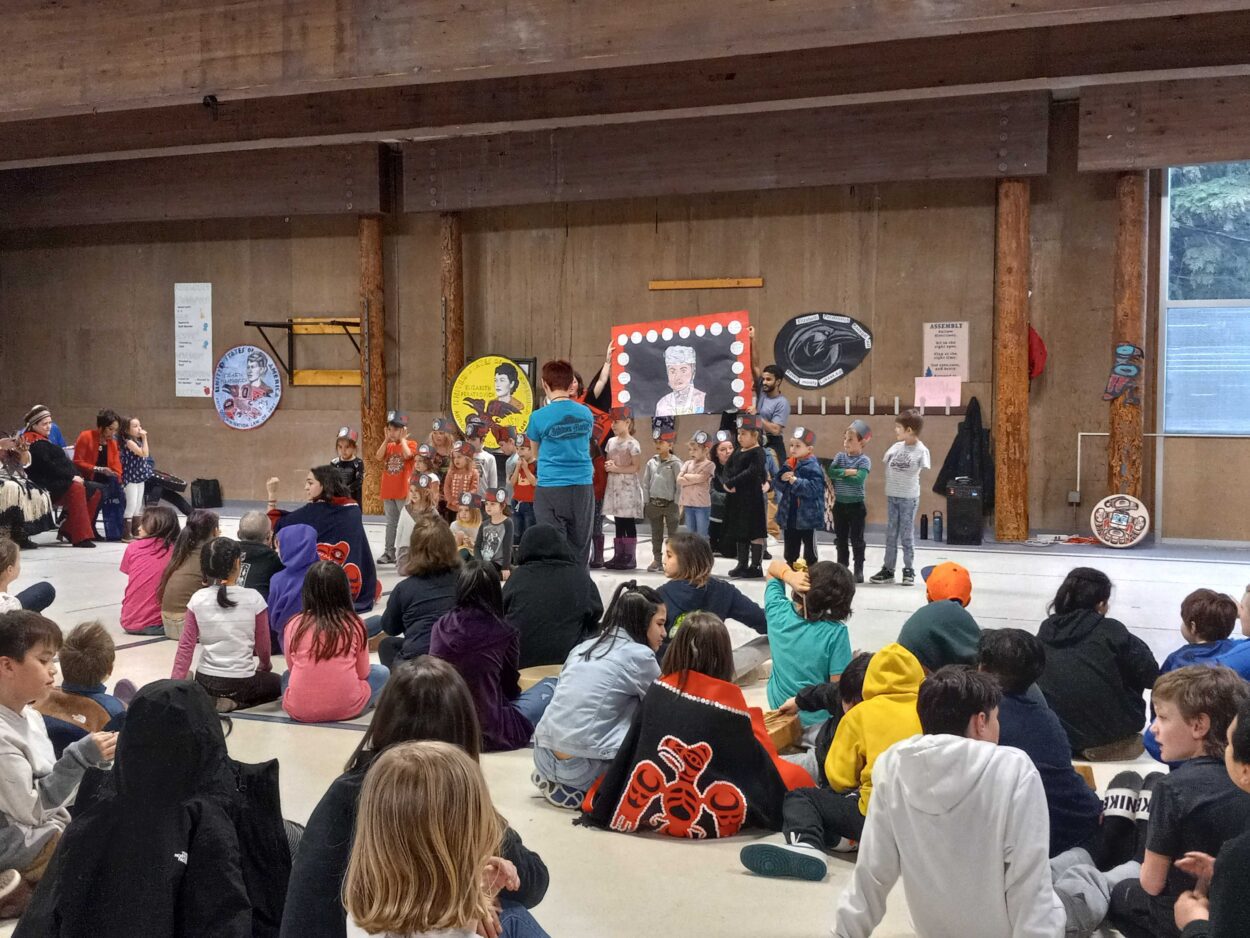 Many guests came together to honor Peratrovich on her day. Harvey Holter of Hydaburg led a group of students in drumming an "announcement song," unique to Hydaburg. Kevin Clevenger, who does cultural work with students, also led them in a song. The school district's cultural coordinator, Teresa Varnell, gave a speech.
There were dances by the Descendants of the Killer Whale Lady dance group, which included a dance honoring women and girls. Teacher Clint Schultz and his son Noah danced in the group.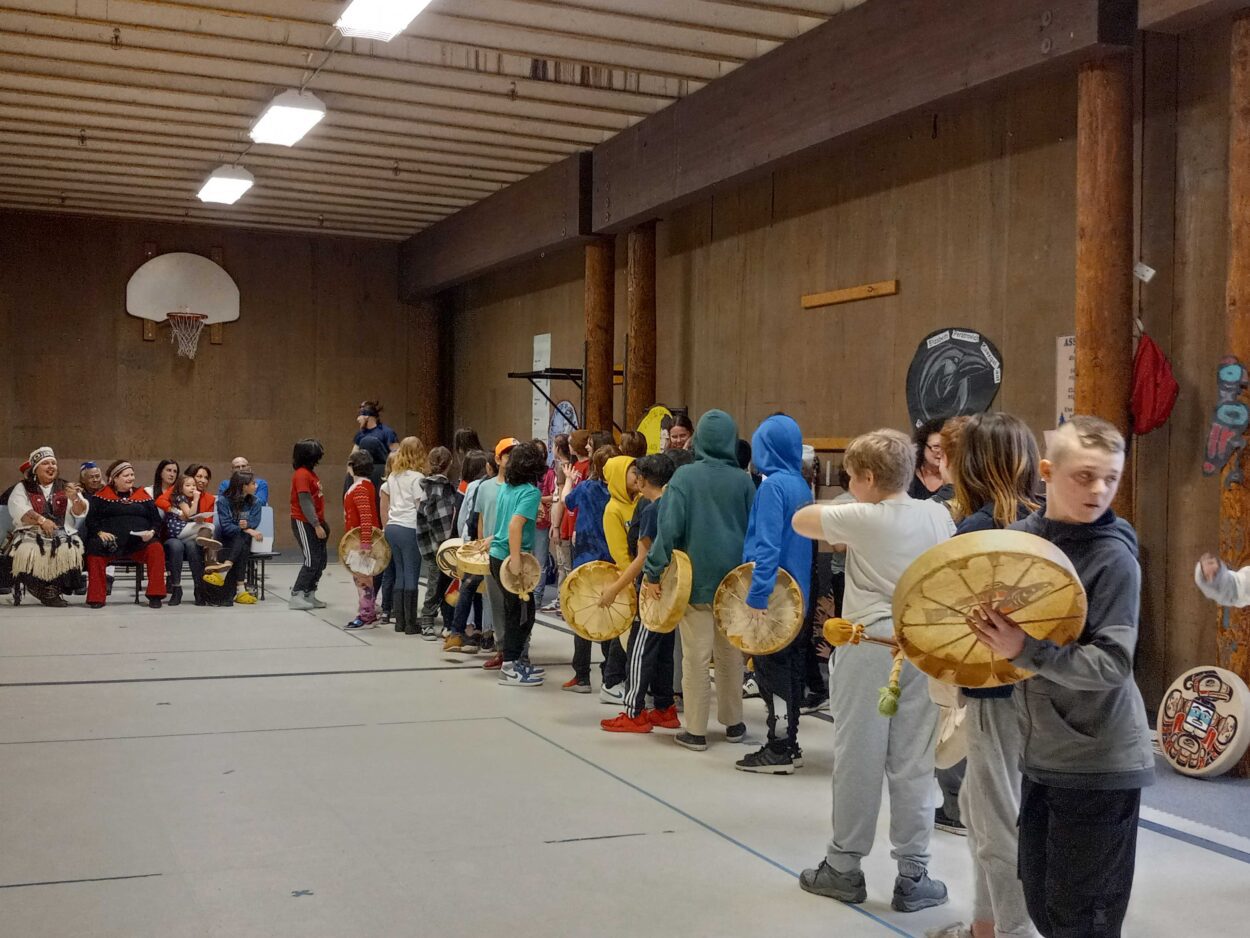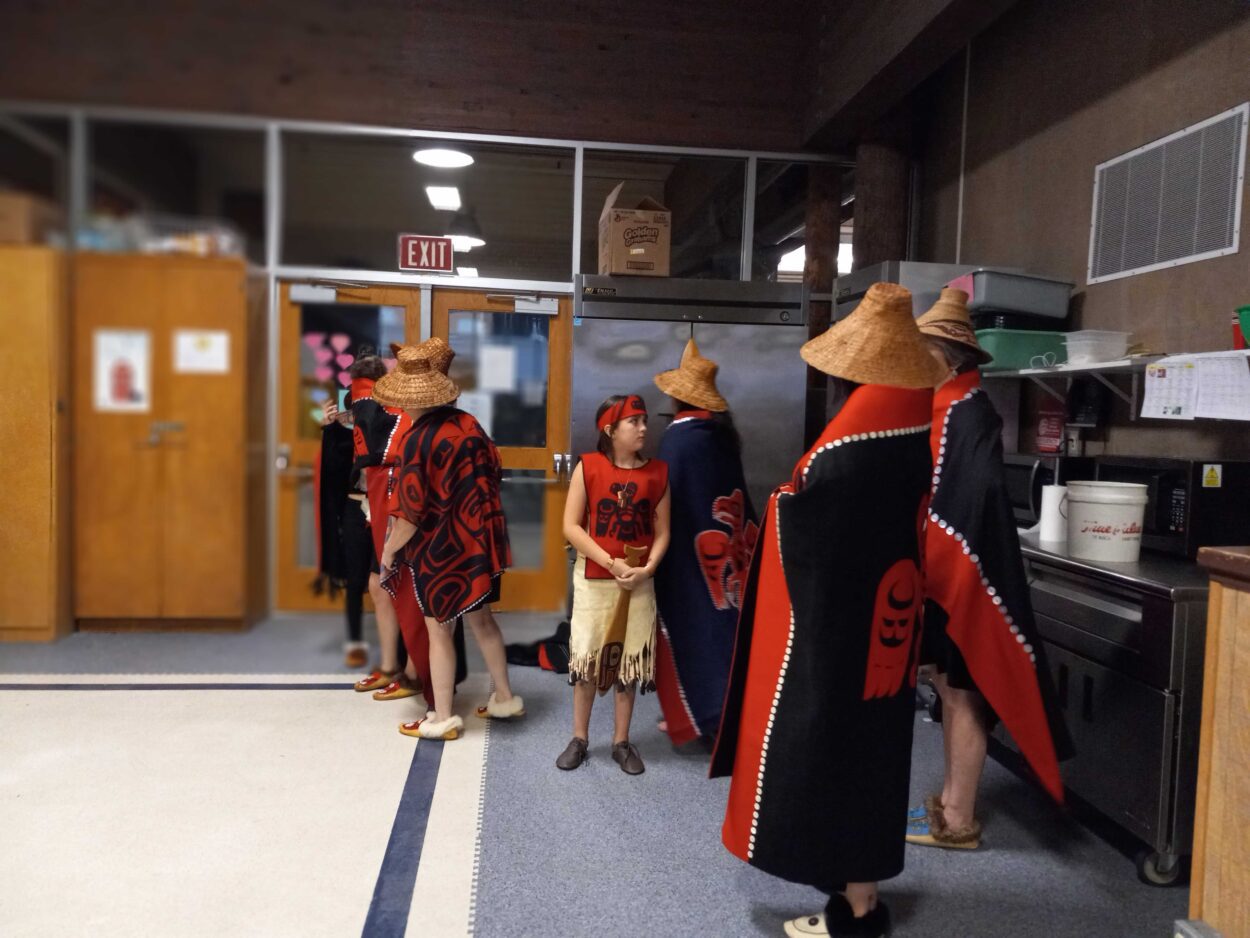 They also drummed a song for men and boys, representing those men who helped Peratrovich in her fight for civil rights. Tongass School of Arts and Sciences principal Scott Huff joined in on the dancing, alongside Ketchikan Gateway Borough School District Superintendent Michael Robbins. Ketchikan Indian Community's Gloria Burns and Gianna Saangua Willard, and assistant superintendent Melissa Johnson, danced alongside the young girls.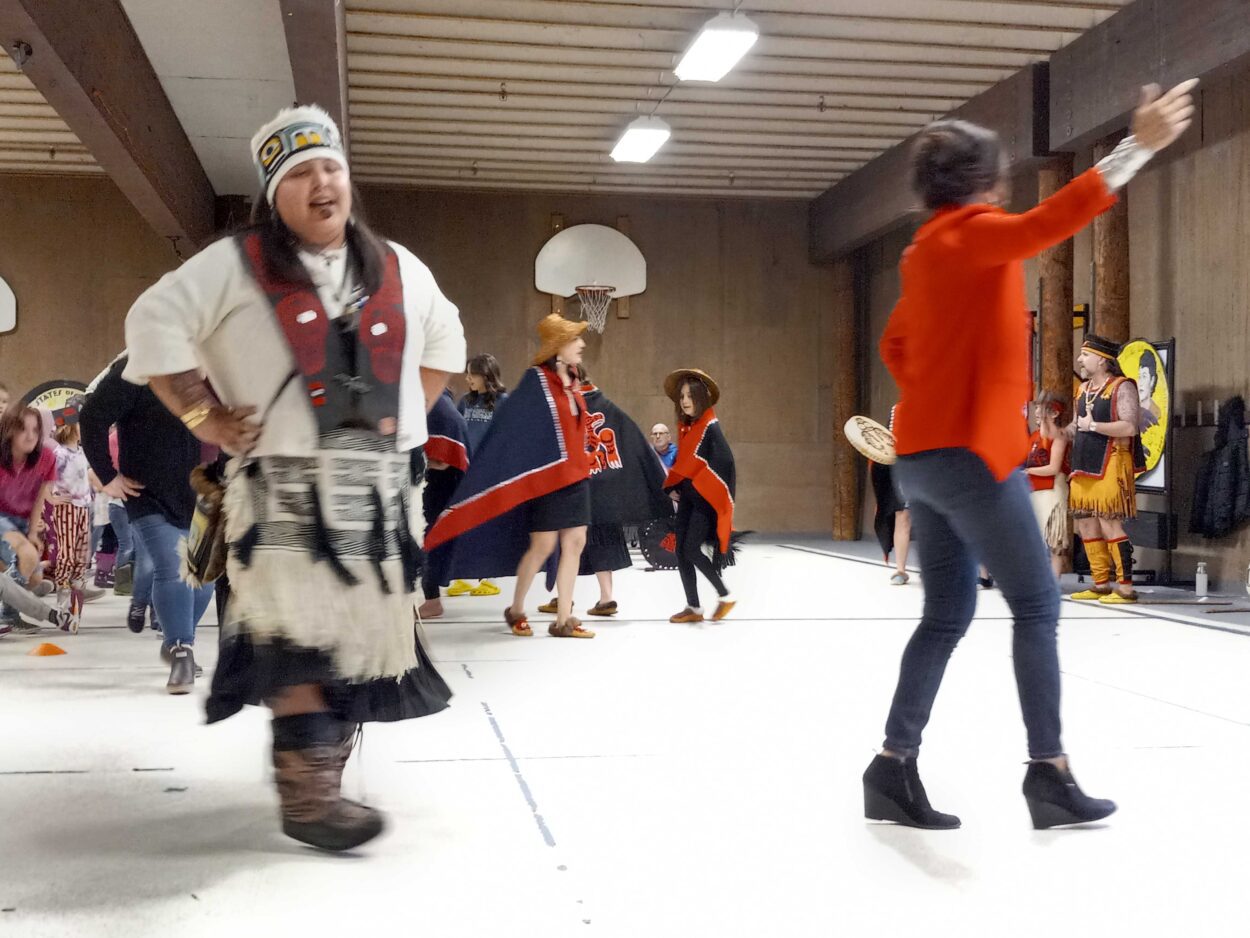 Near the end of the celebration, Ketchikan's superintendent, Michael Robbins, reminded the students that they have the power to change the world for good, too — just like Elizabeth Peratrovich.
"Elizabeth Peratrovich had an opportunity to make a difference," he said. "And she did. And every single one of you has an opportunity to make a difference every single day. If you see that, then injustice is going on. Or if you see that somebody's being bullied, or if you see somebody's being treated unfairly, you can make a difference."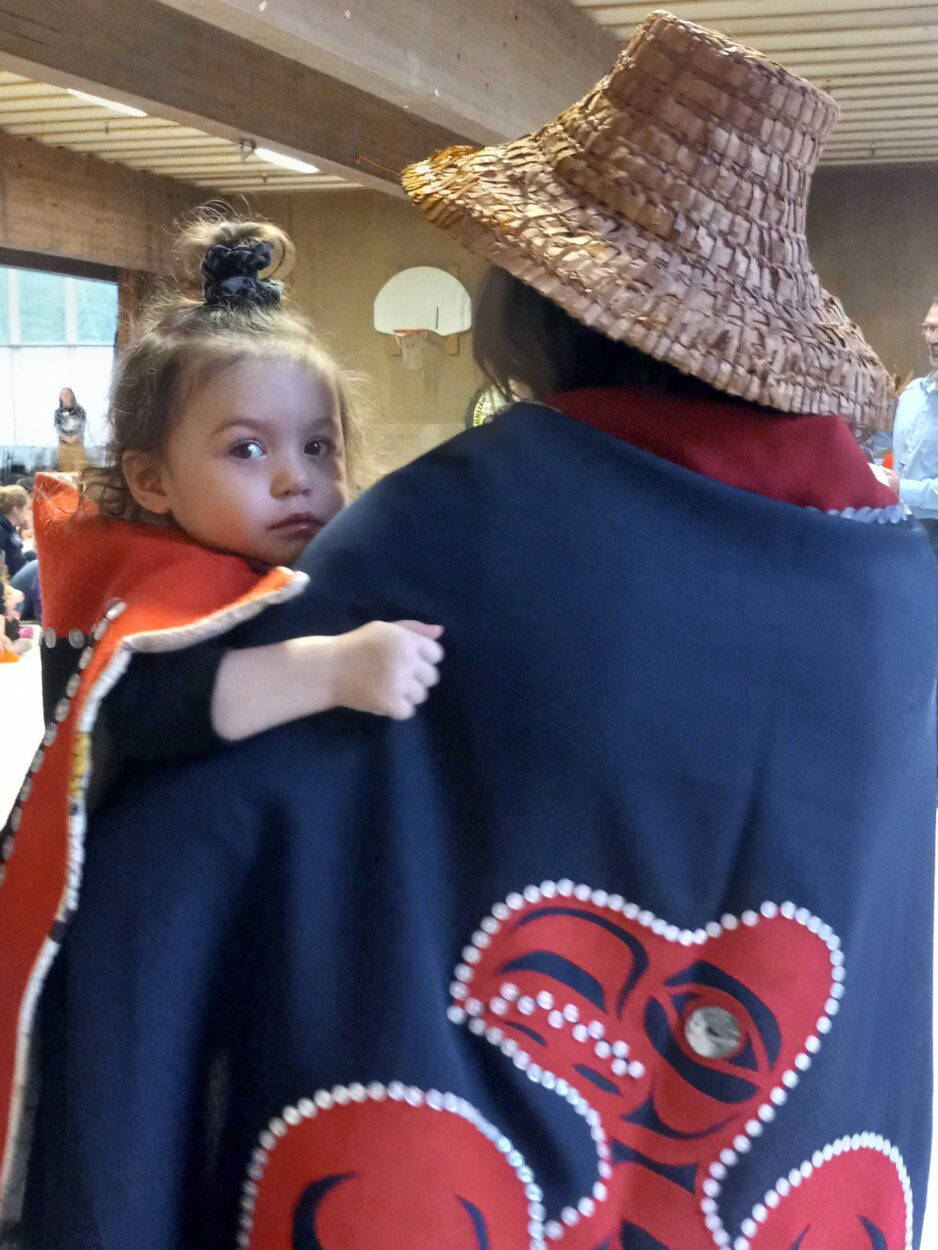 Celebrations are continuing with a proclamation signing and herring egg feast in the Ketchikan High School commons. The event runs through 7 p.m.
Editor's note: this story has been updated to reflect that Peratrovich worked to pass the U.S.'s first state or territorial anti-discrimination law.
Raegan Miller is a Report for America corps member for KRBD. Your donation to match our RFA grant helps keep her writing stories like this one. Please consider making a tax-deductible contribution at KRBD.org/donate.