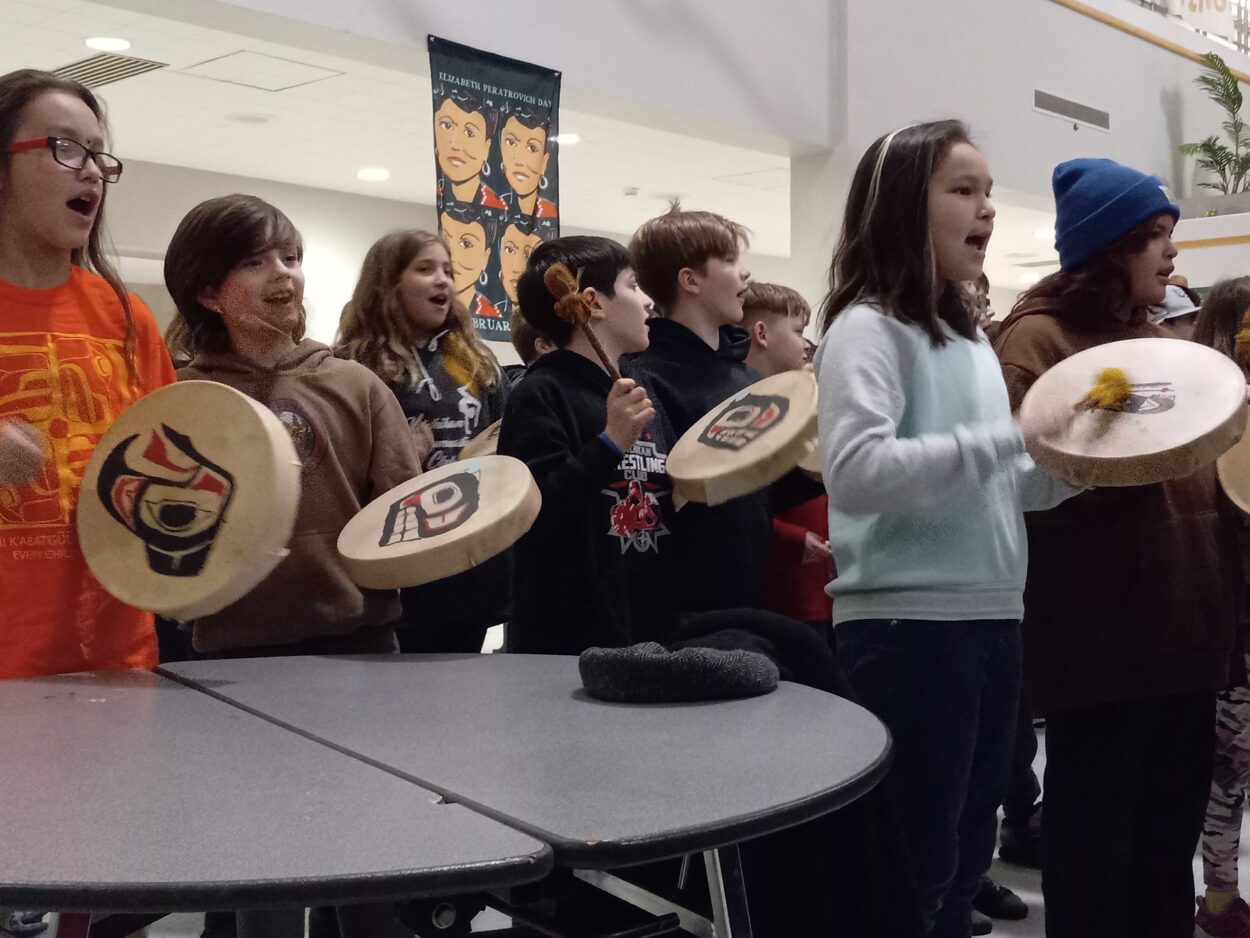 Ketchikan turned out to show support for the Lingít civil rights leader Elizabeth Peratrovich on Thursday. KRBD stopped by a community feast at Peratrovich's alma mater, Ketchikan High School.
Elizabeth Peratrovich graduated from Ketchikan High School in 1931, and her influence was clear during an event honoring her in the school's commons.
Yeil atoowu Ginger McCormick is the vice president of Alaska Native Brotherhood Camp 14, who helped put the event together. She said it was something of a homecoming.
"It's not meant to be so formal and educational as it is really to celebrate welcoming Elizabeth back home as alumni," she said.
Ketchikan High School's commons were packed with people gathered for a herring egg feast and proclamation signing in honor of Peratrovich. Children dressed in regalia ran through the school pounding on drums, members of the Alaska Native Sisterhood and Alaska Native Brotherhood danced, and everyone enjoyed herring eggs. The event was co-hosted by Camp 14 of the Alaska Native Brotherhood and Alaska Native Sisterhood and the cultural coordinator for Ketchikan's school district, Teresa Varnell.
Officials from local tribes and municipalities came together to sign a joint proclamation in her honor. Borough Mayor Rodney Dial gave a short speech.
"Every century or so, if a place is truly blessed, we get a person who rises to that special level of being a transformational change that impacts society forever," Dial said. "… Elizabeth Peratrovich was one of those people."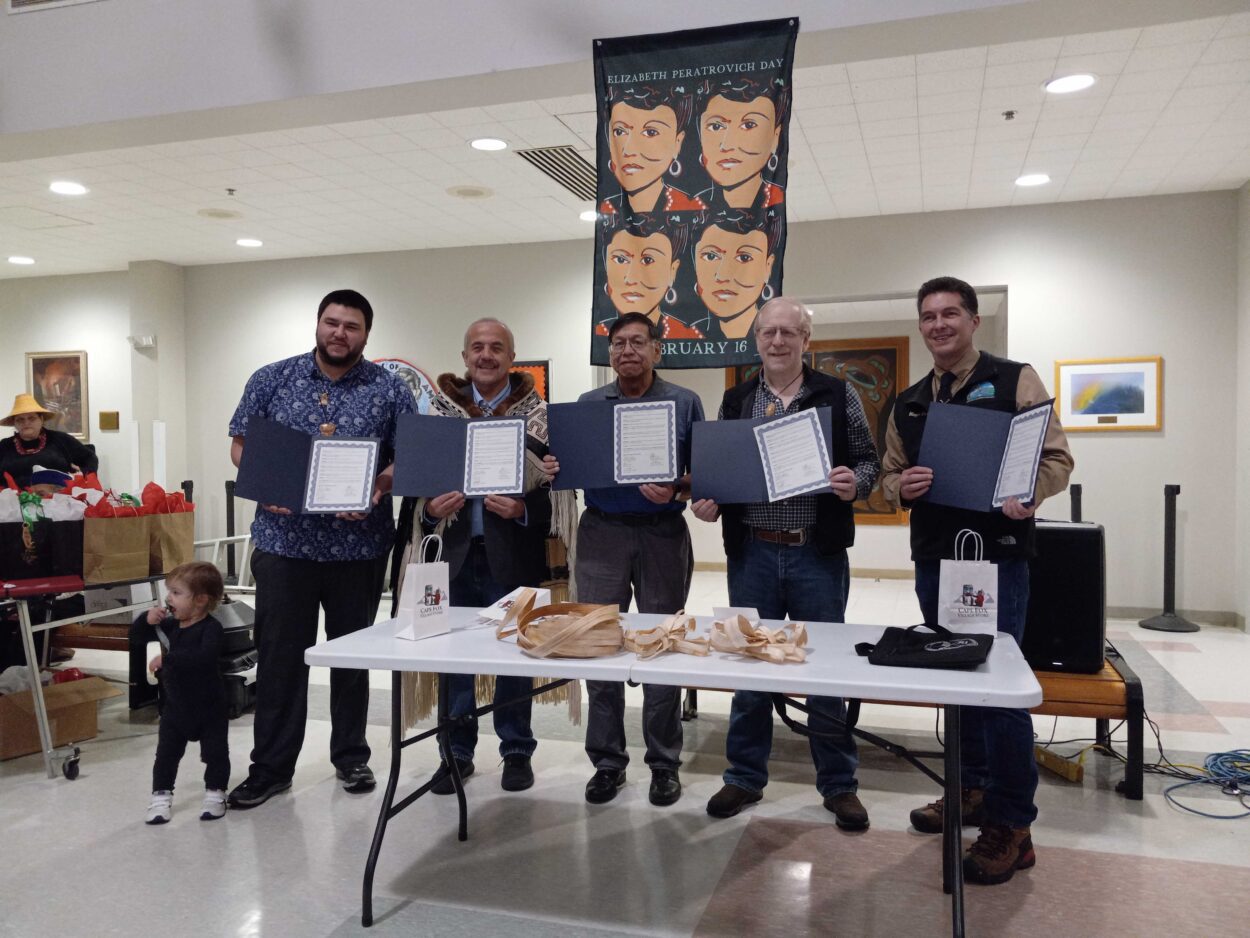 There were guest speakers, like master carver Nathan Jackson, who is from the same clan as Peratrovich. He played his harmonica in her memory.
The event also featured the reveal of an approximately 20-foot-wide banner commemorating important events in the fight for civil rights. It'll hang from the second floor of the school's commons.
Peter Stanton, a Ketchikan High School history teacher, also spoke about the importance of the event, and how big of an impact Peratrovich had on history. Stanton is on sabbatical this year, writing a book about Lingít history.
"She is the most famous fighter for social justice of her generation, and deservedly so," Stanton said. "But she was not the only fighter before or since. Let's remember today, all of the struggles for justice that so many people on this land have been, are, and will be fighting for past, present and future."
And to a hearty chorus of applause, kids from several local elementary schools drummed and sang, guided by Varnell.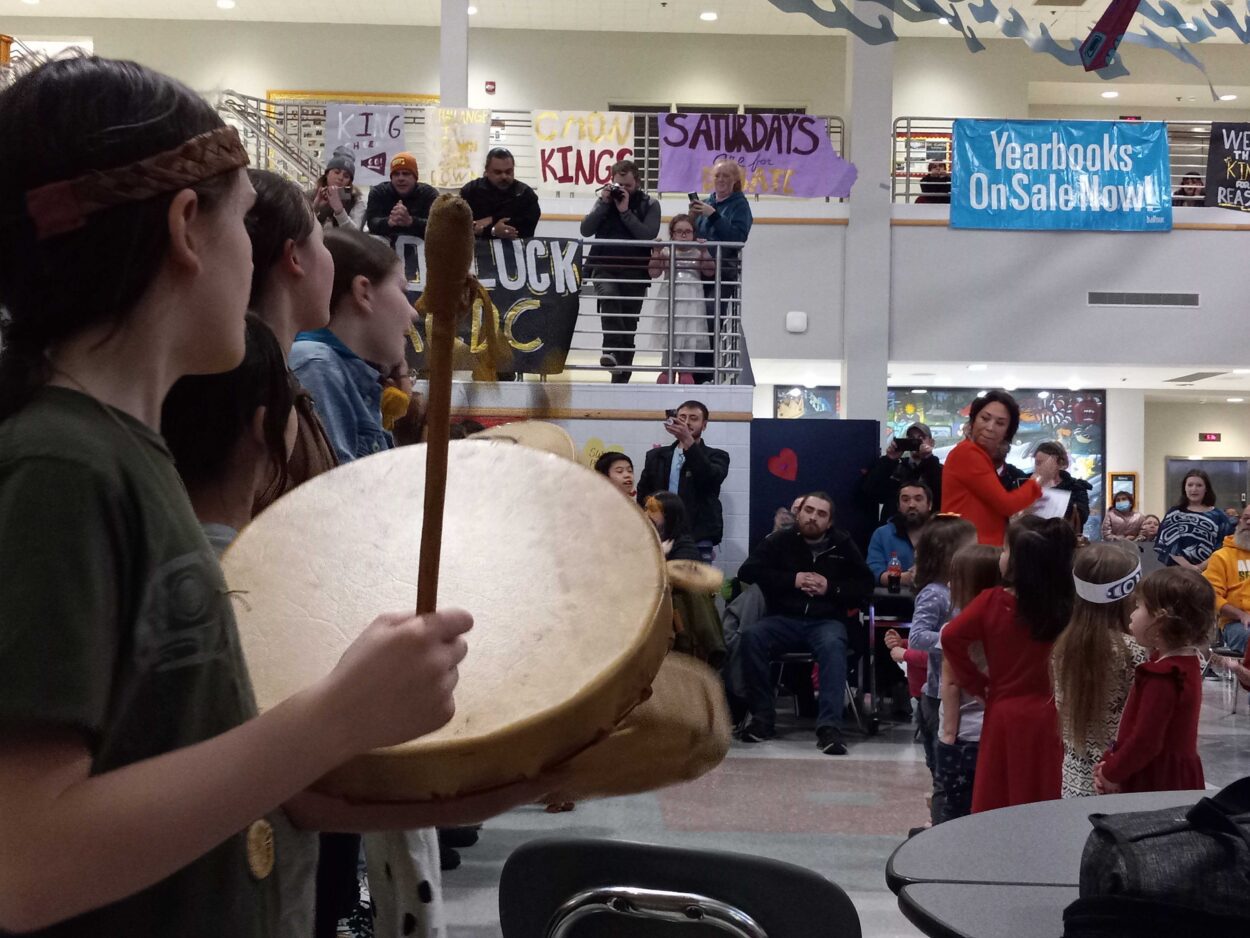 Cynthia Llanos, the treasurer for Alaska Native Sisterhood Camp 14, said it was special to see kids honor Peratrovich through music and dance.
"The fact that they were proud that they were doing it," she said. "You know, it was their drums, it was their singing and to have these little preschool, kindergarten kids come out, makes me smile when I see all these little guys out there just doing their thing."
Llanos said it's important for the next generation to know about Peratrovich's fight. She said if the story of the civil rights movement isn't taught, history might repeat itself.
Payton McElwain goes to Ketchikan Charter School, and she played the drums during the celebration. She said she's been learning words in the Haida language, Xaad Kil, with her class.
"There's a few words I learned in their Haida language or their Tsimshian language. Ama huup'l means 'good night,'" she said.
When asked what brought them to the event, Nina Hopps and her daughters said it was twofold — a love of herring eggs, and a love for Elizabeth Peratrovich. She homeschools her daughters, and wants them to learn about the trailblazers that she didn't as a student.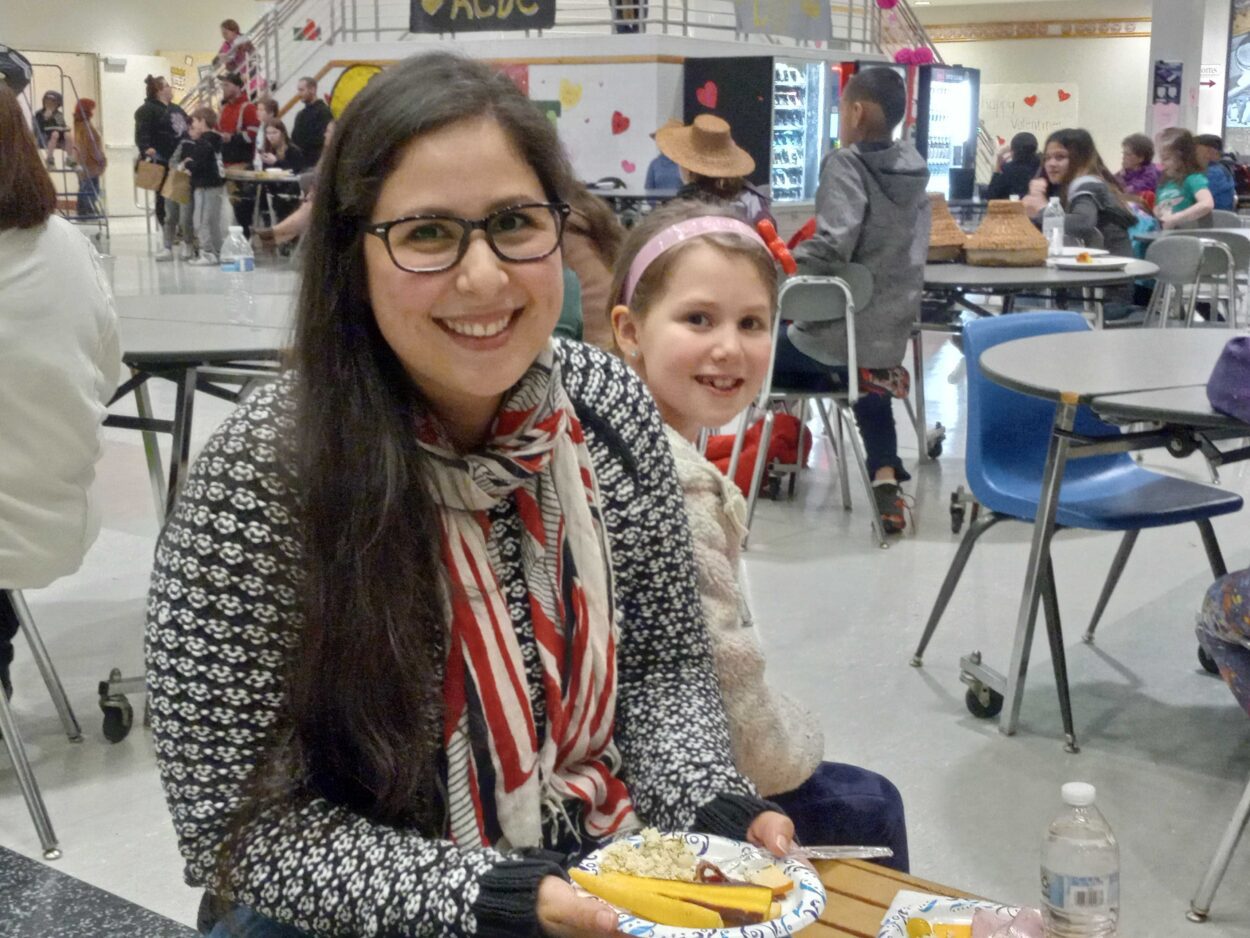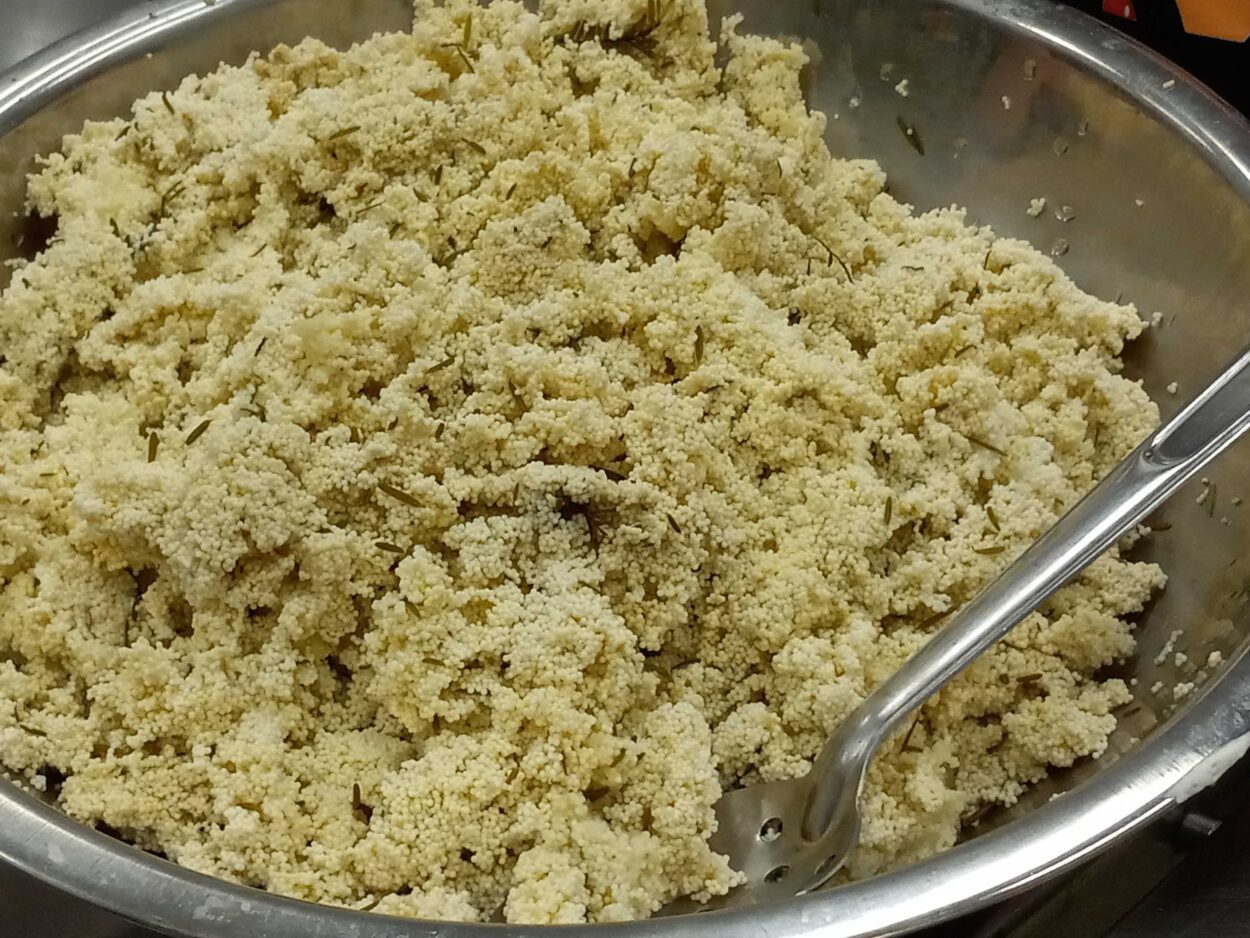 "I'm learning right along with them," Nina Hopps said. "And all the parts of our history and all the parts of Alaska that I didn't know about and that was not part of my education, we're making an effort to be part of their education."
Judy Leask Guthrie, a Ketchikan Indian Community Tribal Council member, said she spent the day talking to her grandchildren about what they learned about Peratrovich.
"I got to hear about what they got to do in their classes," she said. "And so that was really neat."
And at the end of the day, Guthrie said Peratrovich was a true inspiration — for everyone.
"We look at Elizabeth Peratrovich as being one of us, but one who fought for us," she said. "When no one else would, she was there. And we're all just so grateful for what she has done for the Indian communities in Alaska, but also for the non-Indian people who live here and who get to learn about what she's done."
It's a legacy that's alive and well in Ketchikan.
Raegan Miller is a Report for America corps member for KRBD. Your donation to match our RFA grant helps keep her writing stories like this one. Please consider making a tax-deductible contribution at KRBD.org/donate.