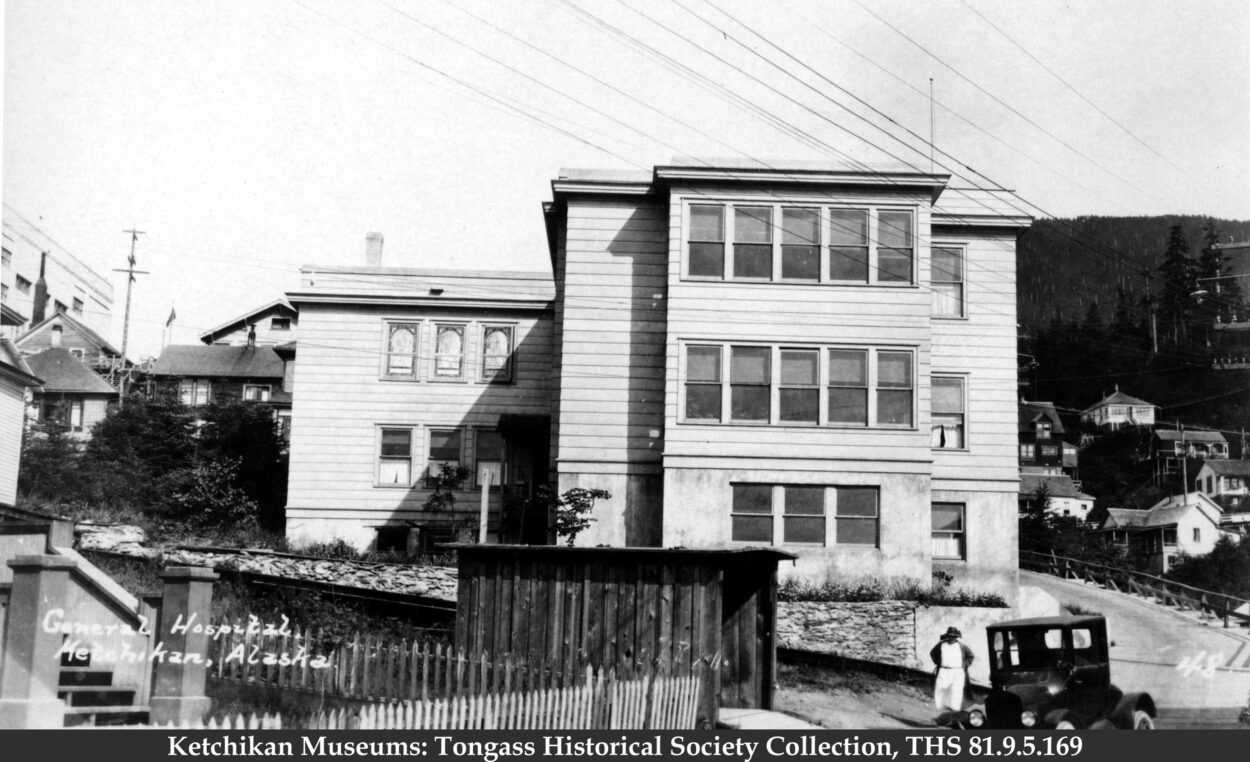 Wednesday marked 100 years since three Catholic nuns came to Ketchikan and started the predecessor to PeaceHealth Ketchikan Medical Center, the community's only hospital. The hospital celebrated the occasion with a gala showcasing the hospital's history.
There was no PeaceHealth Ketchikan Medical Center in 1923. The five-plus acre facility in Ketchikan's West End, built by the city of Ketchikan and leased to PeaceHealth, wouldn't come for decades. Instead, there was a wooden building downtown on Bawden Street called Little Flower Hospital.
And on February 22, 1923, it was blessed by a bishop from the Sisters of St. Joseph of Peace, a Catholic order founded in the late 19th century with a mission of promoting social justice as peace across the U.S. and Europe.
Hospital leaders celebrated the centennial with an event at Ketchikan's Ted Ferry Civic Center. The event opened with a welcome dance by the Haida Descendants Dance group.
Sister Andrea Nenzel, the congregation leader at the Sisters of St. Joseph of Peace, said the event was a way to honor the legacy of the three nuns who came from Europe and the Lower 48 to found the Little Flower Hospital. She said many in the St. Joseph congregation didn't want to travel to Alaska, as there were previous hospitals in the Seward area that had been flooded and destroyed. They were asked to come to Alaska by Bishop Joseph Crimont, who also blessed Little Flower Hospital.
"In 1923, your hospital was known as Little Flower, and was in a wooden building downtown," Nenzel said. "Today, you have a hospital any small city would envy because of the collaboration of your city and PeaceHealth. As a centenary is a time of remembering, a time of giving thanks, and a time of grasping life anew."
Angela Salazar is a longtime member of the PeaceHealth Ketchikan Medical Center Foundation, a nonprofit that provides charitable support to the hospital. She also spoke about the impact that the sisters had on what would become PeaceHealth.
"Tonight we celebrate that history, acknowledging the deep commitment the sisters had to the region, and how the community support sustained — then and now — the necessary technology and training to make our hospital and community thrive," she said.
Everyone invited to the celebration had a connection to the hospital. That included Delores Churchill and Clara Diaz. They both worked at the hospital decades ago.
Churchill, a Haida master weaver, started work at the hospital in 1947, making 50 cents an hour. She said the sisters encouraged her to take courses at what was then Ketchikan Community College so she could be promoted. She worked as a maid and a nurse's aide.
"Which, I would never have had a chance, especially a Native American, to get a job in an office at that time," Churchill said. "So they really encouraged me and made me feel that I was worth hiring."
Churchill remembered the hospital as an institution run with compassion.
"They used to, in fact, when people couldn't afford to pay for their stay, sometimes when the nuns would if their husband was a fisherman, they could bring a load of fish, which would be used at the hospital," she explained. "And so there were so many things that they did for the community."
Diaz — of Diaz Café fame — was an operating room manager, often tasked with overseeing the labor and delivery department, solo.
"The doctors really depended on her advice when it came to surgery," Churchill said about Diaz. The two women appear side-by-side in a nine-minute documentary about PeaceHealth that was shown for the first time at the event.
"During the night, you got the whole floor — you got kids, you got delivery, you got nursery, pre-labor, all post-surgery. … I did enjoy my experience," she said.
Diaz went on to study at Johns Hopkins University and later took over the family business, Ketchikan's Diaz Cafe.
Father James Wallace is a priest at Holy Name Catholic Church in Ketchikan, which was established around the same time as Little Flower Hospital.
"It's fascinating that the sisters really do have a remarkable history," Wallace said. "Very intrepid from day one. They absolutely wanted to serve the poorest and those most in need."
Judy Leask Guthrie is a member of the Ketchikan Indian Community Tribal Council. She praised PeaceHealth for what it does to help all residents.
"Considering the island has about 13,000 residents, there is really no way that this community could be without a hospital," she said. "And so the hospital supplies a very important need."
During the event, staff debuted a new logo for the hospital, which is part of a Vancouver, Washington-based Catholic health system with locations in Oregon and Washington. They also showed for the first time a documentary featuring many local leaders and caregivers.
The event ended with remarks from the hospital's chief administrator and a traditional Filipino candle dance, performed by Filipino caregivers and community members. Salazar, the member of the hospital's foundation, said they chose the dance to remind the hospital staff and partners in attendance that they are beacons of light and hope in the community.
Raegan Miller is a Report for America corps member for KRBD. Your donation to match our RFA grant helps keep her writing stories like this one. Please consider making a tax-deductible contribution at KRBD.org/donate.