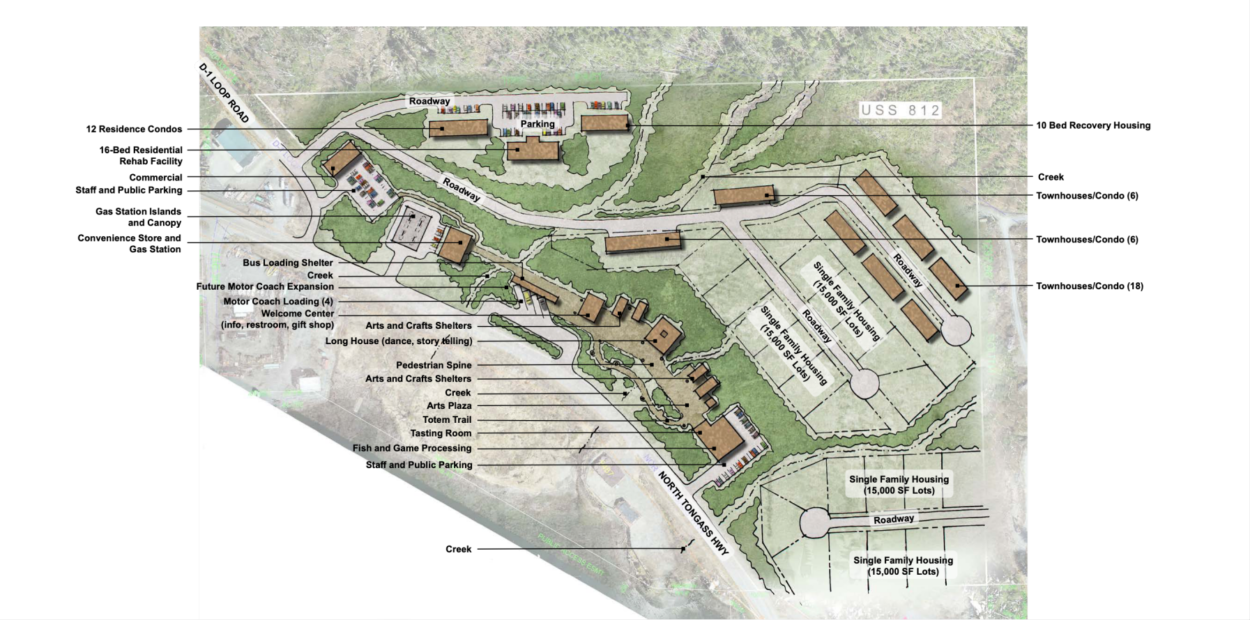 Ketchikan's tribe is planning to build a substance abuse treatment center in the coming years. It's the first major project for Ketchikan Indian Community's new business arm. The tribe hopes to boost the region's treatment capacity as the community struggles with the ongoing opioid epidemic.
Ketchikan Indian Community owns a swath of land about 10 miles north of downtown, in the Mud Bight area. It's been set aside for years, and the tribe's new business arm is working to turn it into something big: what it calls a "healing center" for community members — Native or not — with substance abuse issues.
Ketchikan — and Southeast Alaska as a whole — has seen a steep rise in opioid-related deaths in the last few years. State health officials tallied 23 opioid-related deaths in Southeast in 2021 — the last year that data is available — and eight were in Ketchikan, with two in nearby communities.
Advocates have long rallied for more treatment options for the island. Ketchikan Indian Community President Norman Skan says that's the problem the tribe hopes to address.
"About two years ago, we just saw the trend of opioid use just getting out of control — in not only in our community, but outlying communities," Skan said. "And we felt like we needed to do our part to help the individuals out."
It'll be the first major project for the Ketchikan Tribal Business Corporation, essentially the business arm of the tribe. The corporation is a so-called IRA Section 17 Corporation, named for the section of the Indian Reorganization Act that sets out the rules governing it. It's wholly owned by the tribe but operates separately. An online statement says that the corporation's mission is "to develop Ketchikan Tribal Business Corporation into a stronger, healthier, and more prosperous organization that continues to reach higher levels of economic competitiveness."
Camille Booth is the corporation's operations manager.
"It gives us the benefits of being tribal with also being able to build revenue in other streams and other areas," she explained. "So it's very much our economic development arm."
Booth said the corporation is "somewhat comparable" to regional and village corporations set up by the Alaska Native Claims Settlement Act. But instead of distributing profits to shareholders, dividends could potentially go to Ketchikan Indian Community members.
"Just like with any corporation, then, once the company is profitable, … dividends are likely, but the company has to be profitable before dividends are offered," she said.
The corporation has three divisions — commercial, real estate, and government contracting.
Booth said the real estate division will focus on leveraging the tribe's existing properties. The government contracting division could provide a variety of services.
"That could be an IT areas, it can be environmental services, it can be in procurement, there's all sorts of areas of government contracting," she said. "There's all sorts of contracting that fit our type of effort."
The healing center is part of a larger initiative dubbed "the 10-mile project," from the corporation's commercial division. The corporation hopes to develop the property with alternative housing for people in recovery, single-family homes, trails, and even tourist attractions and art installations.
"It's very much the big vision. … In phases, of course," Booth explained. "So the first phase would be the healing center and actually the substance use disorder center with housing for that sort of a transitional type housing, and then the next then it would build into the business area and then into additional housing out there because it is a very large property, too."
John Brown is the corporation's vice chair.
He said work is still in the beginning stages and the 16-bed inpatient treatment center — let alone everything else sketched out for the property — won't open its doors for at least three years.
"They purchased the property and came up with, you know, and again, this was a long standing thing that he wanted to try to accomplish," Brown said. "And so we are, we are part of that process. And so we're in the process of, again, we're putting ourselves in place, so we can do stuff. And then the next phase is 'OK, how much funding do we need, who do we need to contact' — those types of things."
Details of the project are a bit hazy in this early phase of the project. But Booth said she hopes the project will support community members in every stage of their recovery.
Raegan Miller is a Report for America corps member for KRBD. Your donation to match our RFA grant helps keep her writing stories like this one. Please consider making a tax-deductible contribution at KRBD.org/donate.