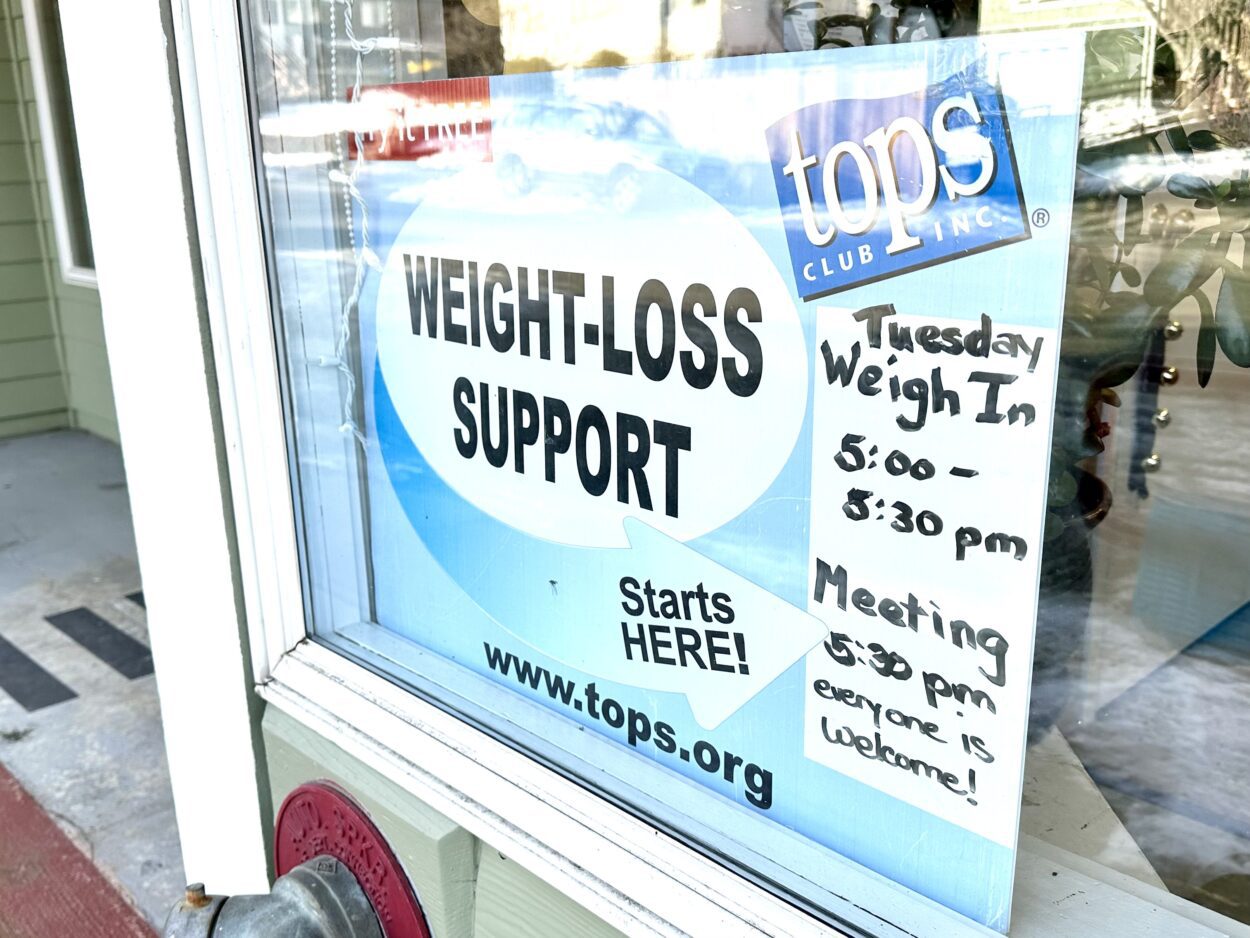 A weight loss group with chapters all over Alaska and the U.S. is celebrating its 75th anniversary this year. The nonprofit Take Off Pounds Sensibly holds weekly meetings to encourage sustainable, long-lasting weight loss.
Roughly one in three Alaskans is obese and another third is overweight, according to data from the Centers for Disease Control and Prevention. And losing weight is hard. Take it from this reporter, who falls firmly into one of those categories.
Amanda Roussel is a member of the Ketchikan chapter of Take Off Pounds Sensibly, and she says, like many things, it's easier when you have people cheering you on.
"The philosophy they've always had is, first it's based on friendship. So as members, we support each other and encourage each other," she said.
The group, better known as TOPS, is celebrating its 75th anniversary — and its 30th anniversary in Ketchikan. Roussel says she joined the group last August after struggling to tackle the city's steep streets.
"I was walking up these hills in Ketchikan and it was hurting," she said. "And I've lost this same percentage of weight more times than I'd like to mention. I'm like, I have to do something different."
She says she's had success losing weight before — like during the pandemic, when it became clear that obesity was a risk factor for severe COVID-19.
"And so at that time, I made this very serious effort to lose weight. I lost 50 pounds in three months," she said. "I gained all of that back and then some."
So she started looking for something different.
"This time, I have to change my mindset, I have to know what my 'why' is. And it can't just be something I do through a fad. It's not something I can do alone. It's not something I can do by beating myself up," she said.
TOPS is different from some other weight loss groups that promote specific diets or exercise regimens. Instead, Roussel says members see their doctor to get an idea of what a healthy weight is, and then start to take small, achievable steps towards that goal.
"Sustainable and slow changes over time in lifestyle," Roussel said. "So whether or not someone's choosing to do intermittent fasting, or keto, or vegan, or vegetarian, or portion control or moderation, that's up to them. It's just, what are the sensible choices they need to make?"
Dawn Lesterson, the group's state coordinator for Alaska, puts it this way.
"Basically, TOPS promotes the exchange system, where you would keep track of how many macronutrients you eat — protein, carbs, fat, et cetera. But they also promote exercise," she said. "When you go to a meeting, there's a program that is given by some of the people in the group. And the programs are vetted by TOPS members and the board and other other health advisors. So … they're proven, and they're effective."
She says members lean on each other for encouragement and ideas for a healthy lifestyle. Most meetings start with optional weigh-ins to keep members on track.
"That accountability on the scale is a big one," she said. "And then the support from the other members in that group is also tremendous."
TOPS has 17 chapters spread all over Alaska, and Lesterson says that across the state, members shed more than half a ton of weight last year. That's about the weight of a grand piano. But that's not the end.
"TOPS stands for Take Off Pounds Sensibly. And when these people get to their goal weight, they are called KOPS. They are now keeping off pounds sensibly," she said.
Lesterson says she lost 30 pounds after joining the group in 1995, and has successfully kept it off with the support of fellow TOPS members.
There is a fee — $49 for the year, plus monthly dues averaging $5 that pay for things like awards and donations to the organizations that host the meetings. Lesterson says there are two chapters in Southeast — Ketchikan and Juneau — but all it takes to start a new one is four members, a place to meet, and a scale.
"We'd like TOPS to grow, but we like the members to shrink," she said.
The first meeting is free. Roussel, from the Ketchikan chapter, says anyone curious should drop by .
"Just come and see. Don't be embarrassed. Don't feel like there's going to be any pressure on you," she said. "Come and see it and know that you are going to be loved and supported and have a common purpose with other people who are just trying to struggle through it together."
She says there's no wrong time to start pursuing a healthier lifestyle.
Ketchikan's TOPS group meets at 5 p.m. every Tuesday at Rendezvous Senior Day Services at 2441 First Ave.
Correction: This story has been updated to correct Amanda Roussel's affiliation with TOPS. She is a member of the Ketchikan chapter.