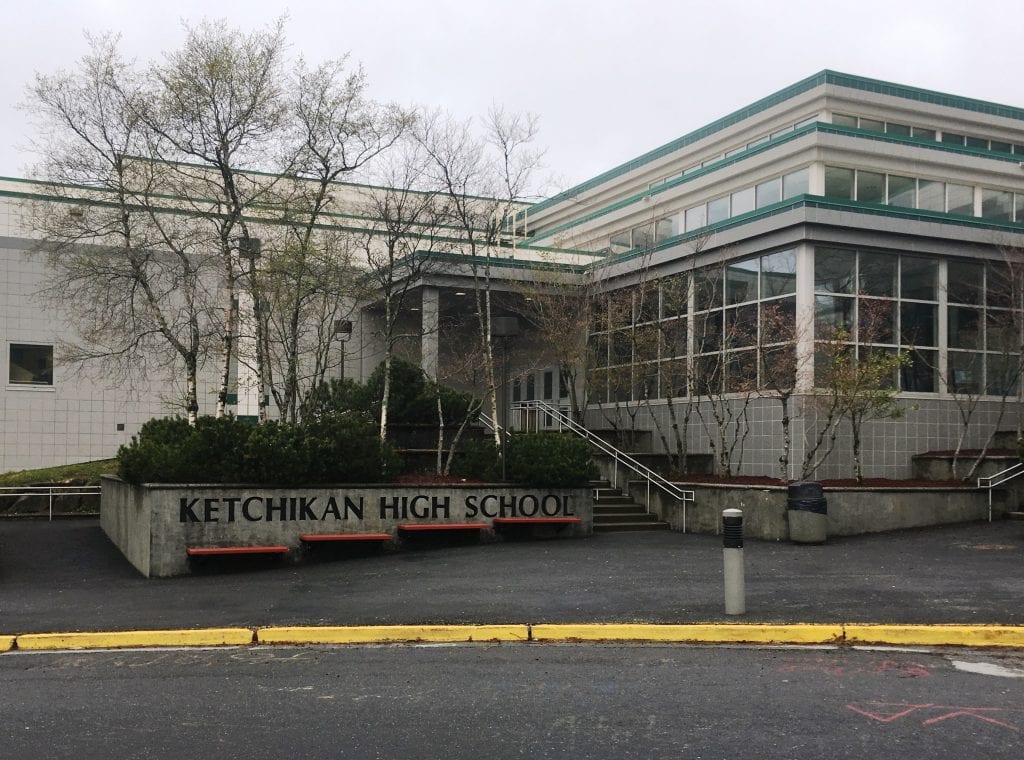 The No. 2 administrator at Ketchikan's school district is calling for a school board member to resign. Assistant Superintendent Melissa Johnson is accusing school board member Diane Gubatayao of improperly interfering with the renewal of her contract.
The complaint centers on the school board's Feb. 22 meeting. During that meeting, school board member Diane Gubatayao asked to separate the assistant superintendent's renewal from a package of 14 administrators' contracts that was up for a vote.
In the complaint filed earlier this month, Assistant Superintendent Melissa Johnson says Gubatayao went into the meeting with "a personal vendetta" to eliminate the post.
The new contract, which the board approved unanimously on March 8, changes Johnson's title to deputy superintendent. Johnson says Gubatayao "false(ly)" represented the deputy superintendent position as an entirely new job. Ketchikan's school board created the assistant superintendent post in 2022 after hiring a new top administrator.
Gubatayao's request to separate Johnson's contract from the others passed 4-3. But the board's president, Stephen Bradford, quickly moved to defer the vote on Johnson's contract to the board's next meeting.
Superintendent Michael Robbins has expressed strong support for Johnson's position in recent meetings, calling it "tremendously important." In a statement, Johnson says she intends to sign her contract and has no plans to withdraw her complaint.
"I love Ketchikan and love working in the KGBSD," she said via email.
Johnson accuses school board member Gubatayao of violating five school district policies, saying she "took it upon herself to lay off an employee in a public meeting without following district procedures and provisions in the employee contract."
Johnson also accuses Gubatayao of improperly coordinating with other members ahead of the vote through emails.
In one email attached to the complaint, Gubatayao asks fellow board member Paul Robbins Jr. for his thoughts on the assistant superintendent post. She told Robbins that she was "frustrated given our budget situation" and said she wanted to consult Robbins about the position. Ketchikan's school district has floated potential across-the-board layoffs as a way to address a looming $3 million budget deficit.
In another email to Superintendent Michael Robbins and board President Bradford, Gubatayao requests copies of the job descriptions for two positions: superintendent and deputy superintendent.
Replying to Gubatayao, Bradford cautions Gubatayao that the board would be unable to discuss any individual contract in a public setting and would be required to give the subject the chance to ask that the discussion be held in public. Bradford tells Gubatayao that the proper time to question whether the position is necessary is during subsequent budget discussions.
Johnson asserts that the communications violate Alaska's Open Meetings Act, saying Gubatayao sought to "ensure pre-determined (bloc) voting in a public meeting."
With few exceptions, the law requires that deliberations and actions of government bodies be conducted in public view. But it does not prohibit individual board members from exchanging views on an issue, assuming the discussions do not involve a majority of the board, according to a 2002 analysis of the law posted on the state's website.
Johnson is calling on Gubatayao to resign from the board and for the school board to censure her. She's also asking that Gubatayao be removed from all school board committees, and that Gubatayao "immediately stop all forms of harassment and discrimination against me as an employee of KGBSD."
"The significance of bringing an official complaint is to make change in the future, for future employees. The School Board has one employee, which is the Superintendent. Supporting the Superintendent when he makes decisions in personnel is essential," Johnson said in an email.
"Ms. Gubatayao should have addressed any of the positions that she does not support during the budget process, not in a school board meeting, which she was advised by the school board president. Any KGBSD employee would have been concerned if their contract was pulled out of all of the approved certified contracts," she added.
Gubatayao did not respond to emails seeking comment but apologized for what she described as a "misunderstanding" during the board's March 8 meeting. She said her concerns were purely budgetary.
Bradford, the board president said it would not be appropriate for him to discuss the issues prior to a discussion by the board.
"As a board we need to decide what will be our procedure in handling these matters since our board by-laws and policies give us no guidance. Ultimately it is up to the voters to decide whether any action is merited," Bradford said in an email.
The delay in approving Johnson's contract also led to a rare rebuke from Ketchikan's federally recognized tribe, where Johnson serves as a Tribal Council member. Johnson became the first Alaska Native person to lead Ketchikan's school district when she served as interim superintendent in 2021 and 2022.
The board is expected to discuss the complaint at its next meeting later this month.
This story has been updated.