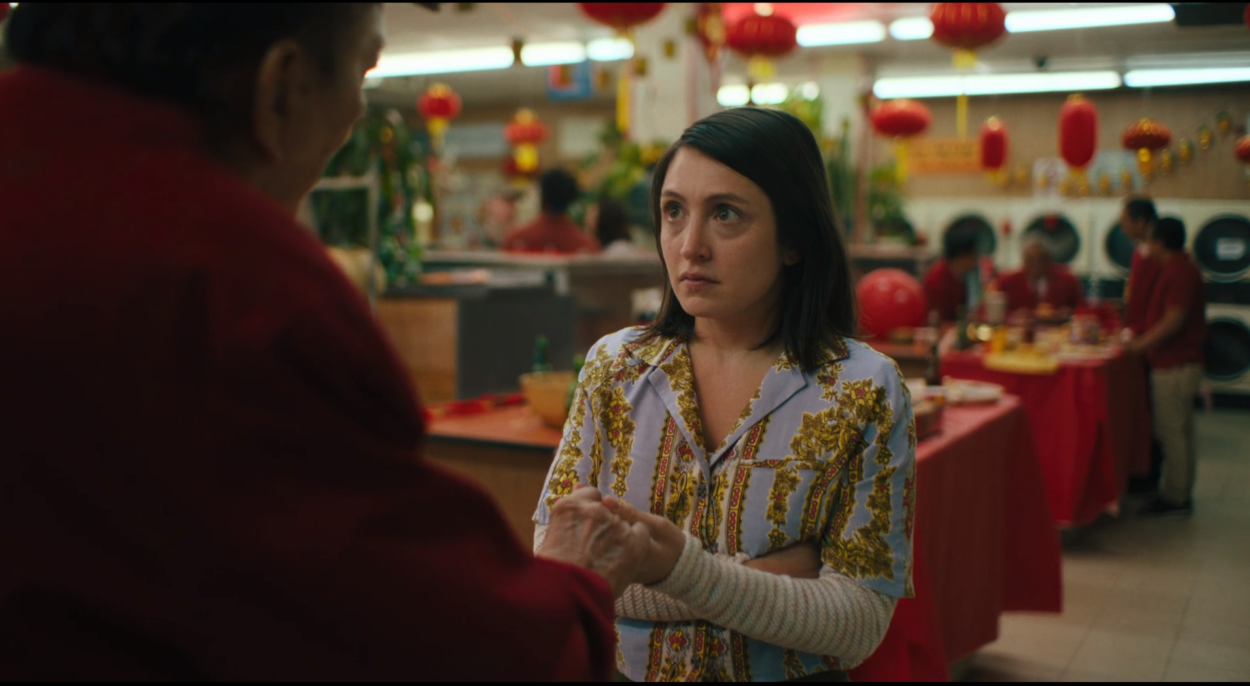 Some Alaskans recognized a familiar face on stage at the 95th annual Academy Awards on Sunday night. An actor born and raised in Ketchikan was celebrating their movie's big win.
Tallie Medel co-starred in "Everything Everywhere All at Once," which took home a total of seven Oscars, including best picture. KRBD caught up with the actor.
Even before Oscar night, "Everything Everywhere All at Once" had already won a bevy of awards — like an outstanding cast award from the Screen Actors Guild, two Golden Globes and a Writers Guild of America award. According to IGN, even before the Oscars, it had already claimed the title of most-awarded movie ever.
So, co-star Tallie Medel was hopeful the streak would continue on Oscar night.
The movie had already racked up six awards by the time Harrison Ford came out on stage to present the award for best picture. After all, their co-star Ke Huy Quan, who some might remember as Data from "The Goonies," had acted alongside Ford in an Indiana Jones movie decades ago, and Medel took it as a sign.
"We, at that point, had already won so many awards — besides the Oscars, too," Medel said. "So leading up to the best picture announcement, it seemed clear that we were poised to win."
And they did. "Everything Everywhere All at Once," an A24 film that premiered at the South by Southwest Film Festival last year, won best picture. It beat out competition like "Top Gun: Maverick," "Avatar: the Way of the Water," and "Elvis." In total, the movie earned seven Oscars.
Lead actress Michelle Yeoh became the first Asian person to win an Oscar for best actress. The film also collected awards for best supporting actress (Jamie Lee Curtis), best supporting actor (Ke Huy Quan), best director (Daniel Scheinert and Daniel Kwan), best editing, and best original screenplay. It is the second-most decorated film to come out of an Academy Awards, after "Moonlight."
Medel said it was overwhelming to look out from the stage as the producer, Jonathan Wang, accepted the best picture Oscar.
"I didn't look at the audience much because I think I might have, you know, collapsed from seeing … the faces of artists that I've always looked up to and admired," Medel said.
But Medel said the win just "felt right."
They played the part of Becky, girlfriend to the character Joy Wang (Stephanie Hsu).
Medel's character struggles to be accepted by her girlfriend's parents, who immigrated from China, and her traditional grandfather who Joy's parents don't want to know they're dating. It's one of the struggles that contributes to Joy's character being taken over by a force from another universe and kind of going off the deep end and creating an everything bagel that could wreak havoc.
The movie is a fast-paced sci-fi that follows Joy's mother as she jumps through bizarre and absurd universes, trying to reconcile the things that could have been if her life had been different. In some worlds, she's a martial arts pro, in others, a movie star. In some, she divorces her husband or never moves to America.
Medel explained it like this:
"I think a message that we can roll in for this time that's from the film is nothing matters," Medel explained. "But that also means that we can do anything we want. You know, it's ours to create and to heal. And collaborating with other people, catching the words that you're experiencing, you know, floating over your head, being able to grab them and write them down. Anything that you feel compelled to create, just make it and the judgments not going to serve you."
Between Oscar night and the various after-parties, Medel says it's been a whirlwind.
They mingled with stars like Brendan Fraser (Oscar winner of best actor for "The Whale"), Alison Brie ("Community," "GLOW"), Jenny Slate, Paul Mescal (Oscar presenter, ("Aftersun"), Paul Dano, Kyle MacLachlan, Sally Field, ("80 for Brady," "Steel Magnolias"), Michelle Williams, and others.
"It's been absolutely surreal," they said. "I'm so happy for everybody. And I'm so honored."
Medel plans to stay in Los Angeles for the next month before jumping into more projects. Medel also teaches "clowning" theater classes and is the founding member of the three-person dance group "Cocoon Central Dance Team." They are working on a screenplay about Ketchikan, which still holds a special place in their heart.
"I just am really grateful to everybody in Ketchikan for being so supportive and so kind," Medel said.
Medel remembers taking classes at the Ketchikan Theatre Ballet and performing with First City Players. Medel said they owe a lot to this town of nearly 14,000.
"And Alaska has just so many amazing artists," they said. "Aren't we so lucky?"
They hope to visit again soon — they were in town last summer, teaching classes with First City Players.
Elizabeth Nelson, First City Players' executive director, hopes to see Medel again soon.
"I think really what I would say about Tallie is she is one of the kindest, most open people I know," Nelson said. "And how she is able to just take what is such a gorgeous sense of play, and performance and make other people feel that they can do exactly what she does. But there's just such an open kindness about her, I am thrilled for her."
And it's safe to say that Medel is thrilled, too.
Editor's note: This story has been updated to correct Kyle MacLachlan's and Sally Field's names.
Raegan Miller is a Report for America corps member for KRBD. Your donation to match our RFA grant helps keep her writing stories like this one. Please consider making a tax-deductible contribution at KRBD.org/donate.