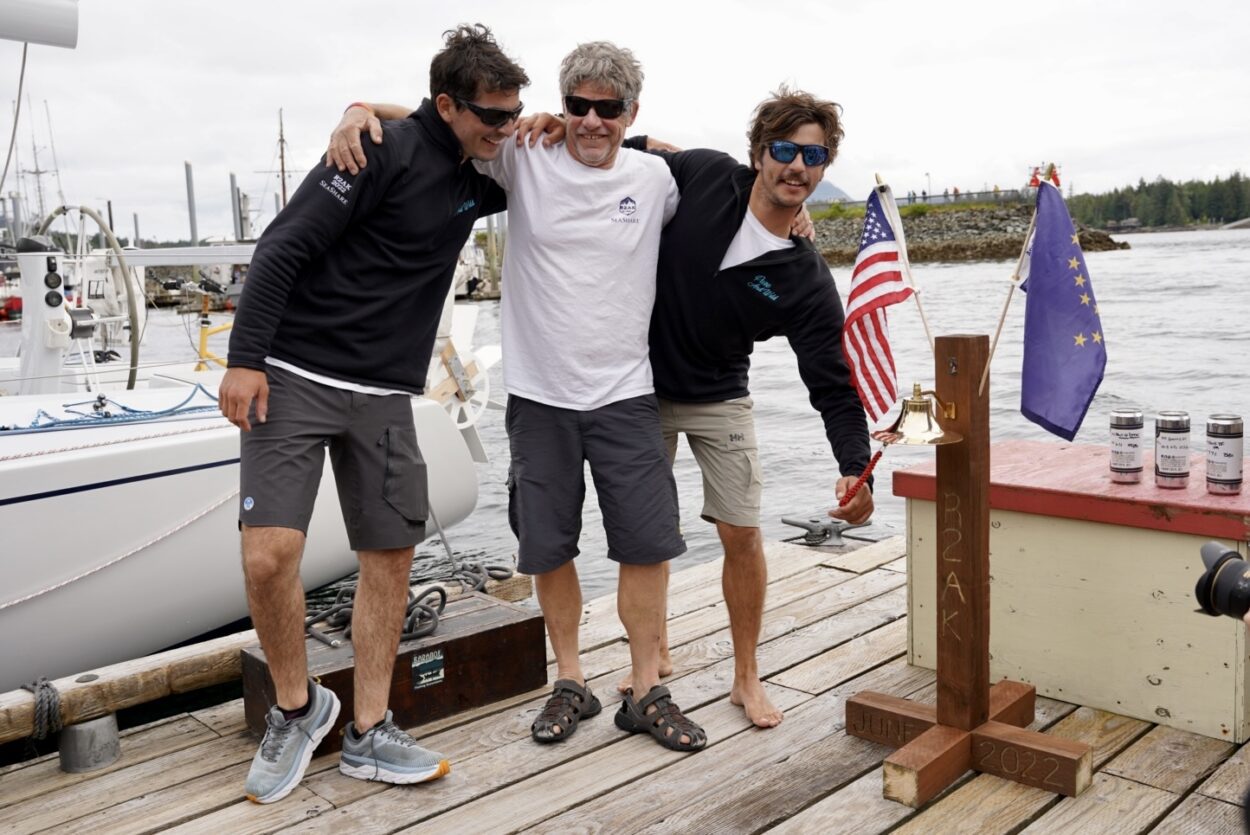 The world's wildest, weirdest boat race will be back for another year this summer.
The Race to Alaska is an unpowered, unsupported race from Port Townsend, Washington to Ketchikan. It takes place every summer, barring global pandemics or dinosaur-extinguishing comets, to paraphrase the race's website.
"It's an engineless on-the-water race, very unique in its way because it pits everybody against each other," said R2AK Race Boss Jesse Wiegel. "We have kayaks versus custom-built $100,000 trimarans, and they're all going the same direction trying to get to the same place."
The race starts with the "Proving Ground" as participants attempt a 25-mile crossing of the Strait of Juan de Fuca on their way to Victoria, British Columbia.
"It is truly a proving ground, because on day one you have to do just about as difficult a crossing as you're going to have to do anywhere along the whole race route. In fact, last year, it was … extra intense, I'll say," Wiegel said. "We had a couple of capsizes, a couple of rescues. A lot of the human-powered folks wandered on down the way and found themselves posted up at a lighthouse where the lighthouse keepers took them in and fed them dinner in exchange for a little gardening work."
From there, racers have a choice. They can take the traditional Inside Passage route east of Vancouver Island or roll the dice on the open ocean off the west coast of the island. That's a new option added last year. And while last year's top two finishers chose the outside route, Wiegel says it's a big gamble.
"You might be heading out into a doldrum where there's no wind and you're gonna be stuck out there for four days while the first finishers make it into Ketchikan and are having a burger somewhere," he said. "Last year, there was a huge logjam on the Inside Passage. And so the fast boats that decided to go on the inside — the real contenders for first place, they got knocked out in the first couple of days by logs in the middle of the night. So this year, there's still a real puzzle as to which route could take it."
After Victoria, there's just one waypoint, in Bella Bella, BC.
But no matter what, racers are in for some exceptional scenery.
"This stretch of water is incredible. From here down to Port Townsend, it is true wilderness," he said. "Leaving Victoria, you're just right in the midst of thousands of islands and waterways with currents and whirlpools and incredible views."
Fans all over the world can follow the racers online at the event's website, r2ak.com. Wiegel says they'll post updates, photos and video from the teams throughout the race. And anyone in Ketchikan following along is welcome to greet the finishers in Thomas Basin on a dock behind the Alaska Fish House.
"This race is for everybody. It's not just for the people on the water," Wiegel said.
The free-for-all format means that there are a wide variety of entrants, from catamarans to kayaks. But the race's winners, so far, have all been sailboats. First place gets $10,000. Second place gets a set of steak knives. Third place gets absolutely nothing. Maybe a beer and a solid pat on the back.
But new this year is an award just for the paddlers: the Blister Prize, courtesy of Team Oracle.
"The first human-powered team to reach Ketchikan gets $1,000," Wiegel said. "Of course, that's $1,000 Canadian dollars, because Team Oracle is Canadian. So I think that's currently somewhere around $700 American — I believe, in a bag of Canadian $1 coins."
Applications for racers are open through April 15. The Race to Alaska's starting gun goes off on June 5.