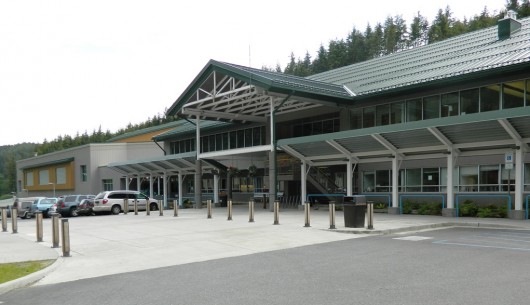 The summer camp run by Ketchikan's Parks and Recreation department is expanding this year, due to high demand and long wait lists for young campers. The program could also soon become certified through a nationwide summer camp program, which would open doors to further growth.
Every summer, Ketchikan kids have the chance to enroll in the summer camp put on by the Ketchikan Gateway Borough's Parks and Recreation Department. The camp lasts anywhere from nine to 13 weeks. But you can't always get in. The wait list has grown to record highs, according to Kalea Allen, the department's recreation programmer. 
"'I've never seen a waitlist, so long before," Allen said. "It was between 20 and 30 kids a week. So we knew that it was a growing program, and it was a want, and it was a need for a lot of families."
Wendy Miller, the department's recreation director, told Ketchikan's borough assembly during a March 20 meeting that the camp has an agreement with Ketchikan Charter School this year. Camp will be headquartered in the school when campers aren't swimming, hiking, roller skating or taking nature walks. Previously, the camp was run out of the Gateway Recreation Center, which is next to the charter school. The new venue will give the camp more space.
"We always try to get more and more creative every single summer," Allen said.
But expanding the size of camp isn't the only improvement coming down the pipe. Allen said that she's also working on preparing for a visit from the American Camp Association. 
"Usually, places take about a year to two years to fully get ready for their visit," she explained. "And we're kind of cramming it in three to four months. But it's something that I've become very passionate in, it's something that I want to do, because I know it will improve the quality for everyone. "
The national association will decide if Ketchikan's camp can become accredited. A certification would allow camp directors to advertise their jobs on the association's website, plus access to more resources. Allen said that the certification also would help "streamline" safety policies. 
"There's a lot of perks out there, we can start posting our jobs, through their websites and through their work resources," she said. "So there could be more opportunities as far as getting more college students or college graduates are people in the education field, not just here, but there as well."
Right now, Ketchikan's camp is staffed almost completely by locals. Staffers range from high school students to career teachers. So far, there's 17 counselors signed up to help this year. Miller, the recreation director, said that they still need two more counselors. 
At the end of the day, Allen said it's all about making the opportunity available to as many kids and families as possible.
Raegan Miller is a Report for America corps member for KRBD. Your donation to match our RFA grant helps keep her writing stories like this one. Please consider making a tax-deductible contribution at KRBD.org/donate.