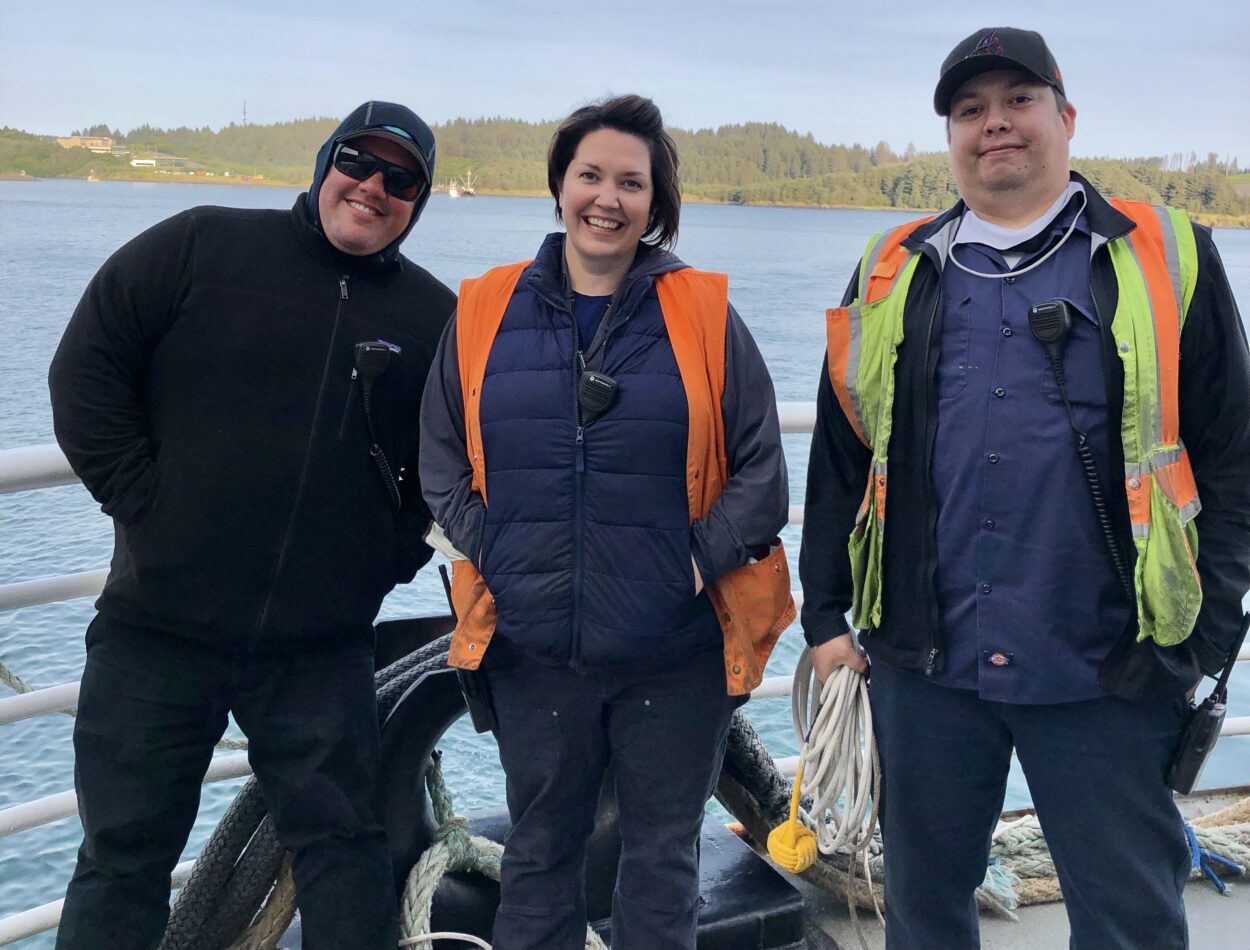 The Alaska Marine Highway System doesn't have enough crew to man all of its ferries this summer. The system needs about 150 more workers –both on water and on land. More than 200 workers have applied for ferry jobs in the last year but the state has only managed to hire a few. As CoastAlaska's Angela Denning reports, the state is making changes to its hiring systems, but it may be months or even years before the ferry system is running smoothly again.
Mika Hasbrouk has worked for the Alaska Marine Highway service for 17 years.
"I've had permanent jobs on the Malaspina, the Taku, the Leconte, and I think I've been on the Kennicott now since 2017," she said.
She's an able bodied seaman meaning she mans the wheel or does other on board jobs reserved for more experienced workers. She loves the work but says in recent years, the job has been challenging. Long-time staff like herself have had problems keeping their paychecks year-round when the 50 and 60-year old ships get tied up for maintenance.
Other times, she can't get days off. Hasbrouk says workers cover extra shifts because of short staffing and then they're told they can't take vacation because of short staffing.
"I always think, 'Oh, it can't get worse'. And then it does, but yet, the system's still somewhat there," she said. "It's just, it's mind blowing."
Earling Walli, regional director of the Inlandboatmen's Union of the Pacific, the largest of Alaska's ferry unions says, "there's a huge payroll issue going on right now."
He says paychecks don't always include all of the hours workers turn in. He doesn't blame payroll workers because they're short staffed too.
"We're not pointing it out that it's this person's fault," Walli said. "It's that whole payroll issue — they need to recruit people in there. And we understand that, but we still need to get our members paid in a timely manner."
The shortage of maritime workers is worldwide. The pandemic didn't help. But Walli says Alaska has specific problems.
A report released in January by a state contractor shows that people are applying for ferry jobs – the state received 241 applicants over the past year. Even though most were qualified, only four were hired.
"Many applicants were lost due to a lack of timely communication," the report states. "The process flow is creating a bottle-neck in the delivery of information to applicants."
Sam Dapcevich is a spokesperson for the state Department of Transportation. He says the applicants got lost in the mix.
"There was no single coordinator that was dealing with recruiting and onboarding," Dapcevich said.
Plus, sometimes the waiting period was too long. Applicants didn't want to wait months for required credentials from the U.S. Coast Guard and the state.
Dapcevich says that's being addressed. They now have a position dedicated to recruiting and have a team meeting regularly. They've created a program where new workers can get on the job training so they'll get paid while earning credentials. And they've beefed up advertising.
He says they're recruiting on social media, in papers throughout the state and in Washington, and they're hitting job fairs.
"Believe it or not this coming week, we have. . . seven career fairs," Dapcevich said. "We're hitting two of them out of state at maritime communities."
But that isn't likely to help in time for this summer. One of the state's main marine highways connects communities from Yakutat in northern Southeast to Bellingham, Washington. Two of the state's largest ferries –the Columbia and Kennicott— were scheduled to run that route. But the DOT announced there's only enough staff to man one of them.
"If we were to try to run both of those ships, it was going to result in cancellations; burnout of the crew that we do have," Dapcevich said.
Dapcevich also addressed the payroll issues the union has complained about. He says those are partly because payroll was moved under the Department of Administration. He says they plan to move payroll back to within the ferry system because of the system's specific needs.
Walli says despite all the problems right now, the marine highway system is worth fighting for. He says working on ferries can be rewarding. You create a family on board and you meet interesting people.
"This is a good job. This is one of the best jobs I ever had," Walli said. "But you need to get paid and need guaranteed work. So, I think at this point, the Marine Highway can only go up. We hit rock bottom."
Robert Venables is the executive director for the Southeast Conference, a regional nonprofit that advocates for economic development. Venables says the marine highway system is in a "perfect storm" but it has been a long time coming starting with a very old fleet. But he says the state has identified new solutions and his outlook is very positive.
"There is a much brighter future ahead," Venables said, "but it's going to take a couple of years to get there."
Venables says it's clear the ferry system is critical to Southeast. It's a lot cheaper than taking a plane and has more flexibility moving cargo such as vehicles.
This year, the organization is planning to get updated information about the impact the ferry system has on communities in the region.