Young athletes from across the state flocked to Juneau earlier this month to compete in the 2023 Traditional Games. Ketchikan's Native Youth Olympics team brought home medals in four traditional events, but for the athletes, it was a weekend more focused on connection and self-improvement.
Team Ketchikan hadn't made the trip to the Traditional Games since 2020, due to COVID-19 and the cost of travel. But this year was a good one for the six-person team to come back.
Kyle Worl, a Native Youth Olympics coach and event coordinator in Juneau, said this month's competition was one of the biggest ever — with more than 200 athletes. Teams from Metlakatla, Prince of Wales Island, Sitka, Anchorage, Fairbanks, Homer, Chickaloon, Seward, Kenai, Whitehorse and even New Mexico made the trip.
"So it continues to grow every year," he said. "We continue to see more teams every year."
Petersburg's team finished the competition as the first-place middle school team. Mount Edgecumbe High School was the overall first place high school team. Molly Evans of Homer and Natha Blake of Juneau won sportsmanship awards.
Over the two-day event, held April 1 and 2 at Thunder Mountain High School, Team Ketchikan pulled in two first place finishes, a third place finish, and two fourth place spots.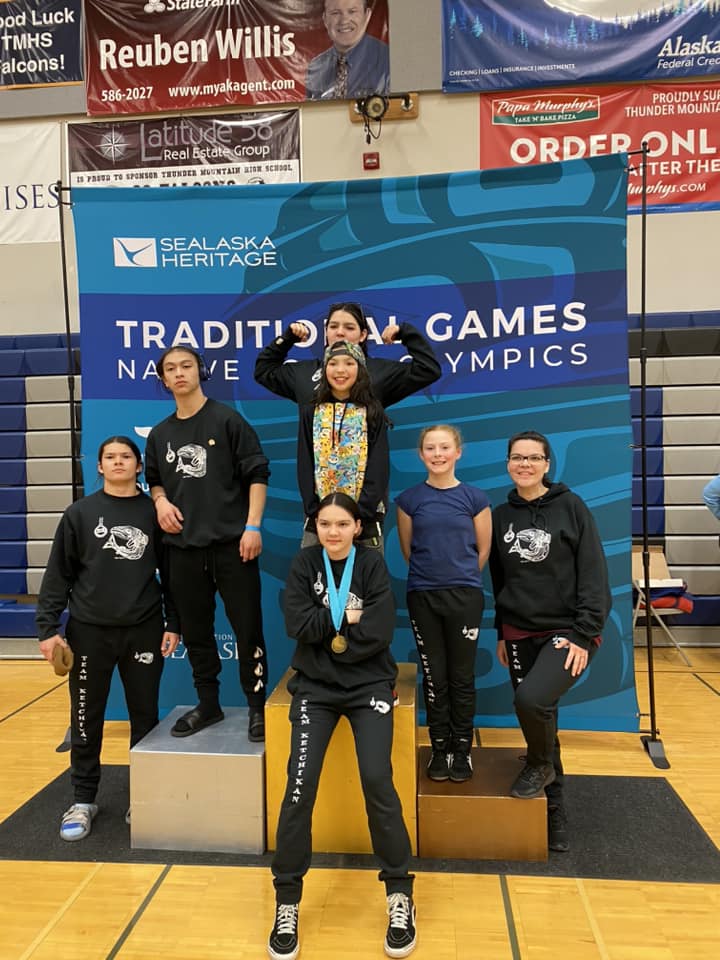 Worl said he's gotten to know the Team Ketchikan athletes over the years.
"It was really great to see Ketchikan at the event this year and they did really awesome," Worl said. "Their results were really great."
The Traditional Games included a handful of events modeled after traditional Alaska Native skills. The one-hand reach calls for athletes to put all their weight on one wrist as they balance and touch a seal-skin ball. In the wrist carry, an athlete hangs from a pole by one wrist as they're carried as far as they can hang on.
Ketchikan's Sampson Oliver took first place for the wrist carry in the high school boys' division, and Sophielynda Agoney took first for the high school girls' one-hand reach. Henry Agoney earned third place for the middle school boys' one-hand reach and fourth for the wrist carry. Kendall Hamilton earned fourth place in the middle school girls' archery division and the middle school girls' seal hop.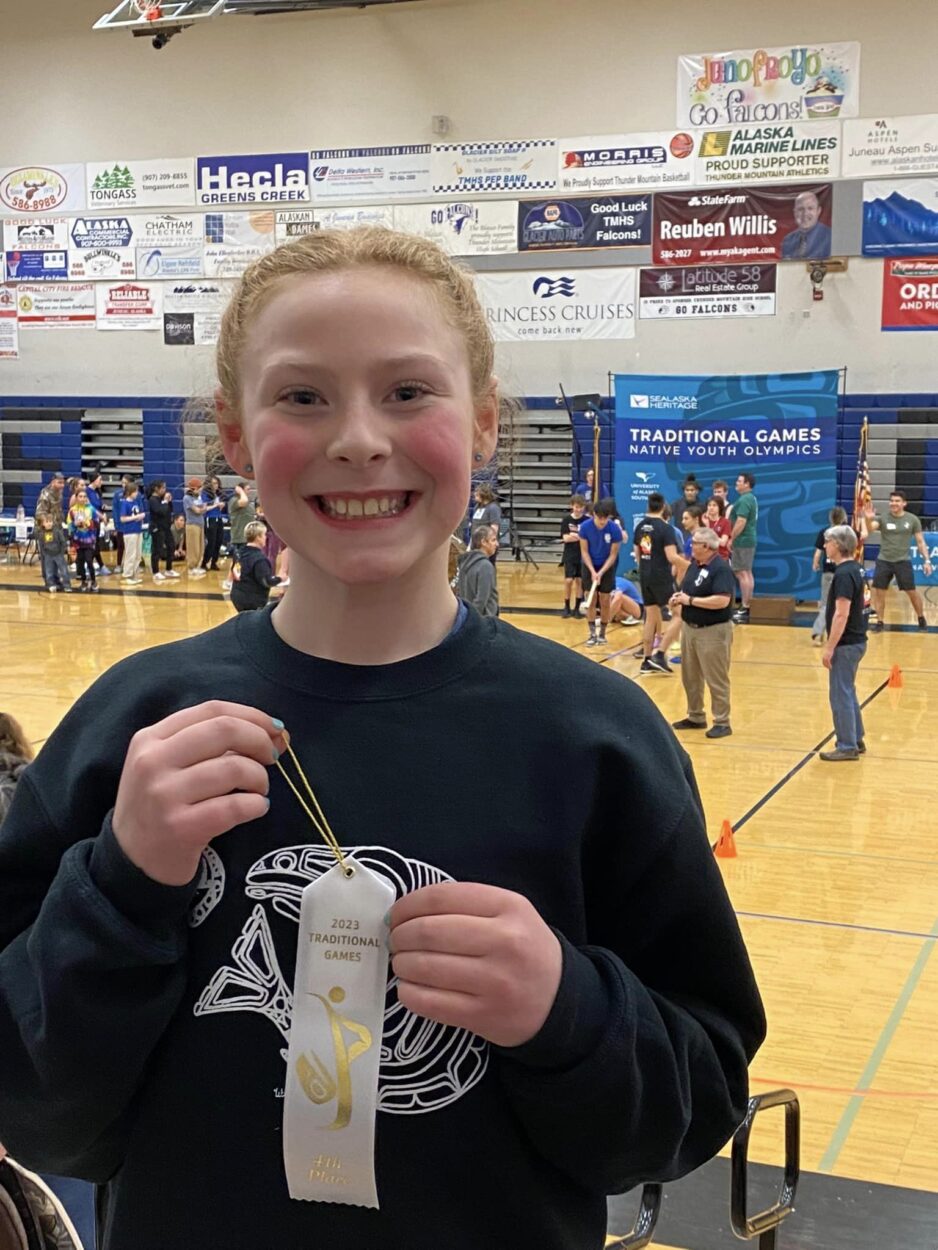 Even with those impressive scores, Worl said that there's more to the competition than clinching a medal or setting a record.
"It's all about learning because you're going to be on the floor with the other athletes and they're going to give you advice and encouragement and you're going to come out better than than before," Worl explained.
That's the mentality that Ketchikan's team took to Juneau. Starla Agoney is the team's coach.
"The energy was like no other energy," Agoney explained. "Positive, very encouraging, a lot of support in the gyms."
Agoney said that all of Ketchikan's athletes set new personal records. Ketchikan's Sampson Oliver even set a new wrist carry record — he hung on in the event for more than 200 feet.
The games place a heavy emphasis on support, camaraderie and culture. Agoney's youngest son, Henry Agoney, got to experience that first-hand when he was chosen for the blanket toss as he celebrated his 12th birthday. Depending on their experience level, an athlete might flip or bounce on a walrus skin pulled taut and shaken by their community. It's traditionally a celebration for after a successful whale hunt, and Agoney said it was an honor to watch her son sail through the air.
"Only about 12 athletes were chosen to do the blanket toss over the two day span," he said. "So he was chosen. He was the first athlete to be able to do the blanket toss, which is a great experience in itself."
Kyle Worl, the NYO coach in Juneau, was watching, too.
"It's a, hopefully, really memorable experience for Henry to go on the blanket toss," Worl said. "It's kind of an adrenaline rush to be thrown up by a group of people. And it's always exciting to watch so I'm glad we got somebody from Ketchikan on the blanket."
There will be a state competition later this month in Anchorage, but Team Ketchikan won't be making the trip — they need to fundraise to get there.
Whether through what coach Agoney is calling a "kick-a-thon" or a good old-fashioned bake sale, the team hopes to get to state next year.
And, as always, Agoney hopes that anyone interested in joining the supportive group will try it out.
"We love to share the cultural aspect, the sportsmanship, the love and support, encouragement and helping others to choose to be the best that they can be," she said. "And encouraging that we can always do better, celebrating our differences and our uniqueness."
She says that's what it's all about.
Editor's note: this story has been updated to clarify that Starla Agoney is the team's sole coach, and Kendall Hamilton also won fourth place in the middle school girls' seal hop event.
Raegan Miller is a Report for America corps member for KRBD. Your donation to match our RFA grant helps keep her writing stories like this one. Please consider making a tax-deductible contribution at KRBD.org/donate.