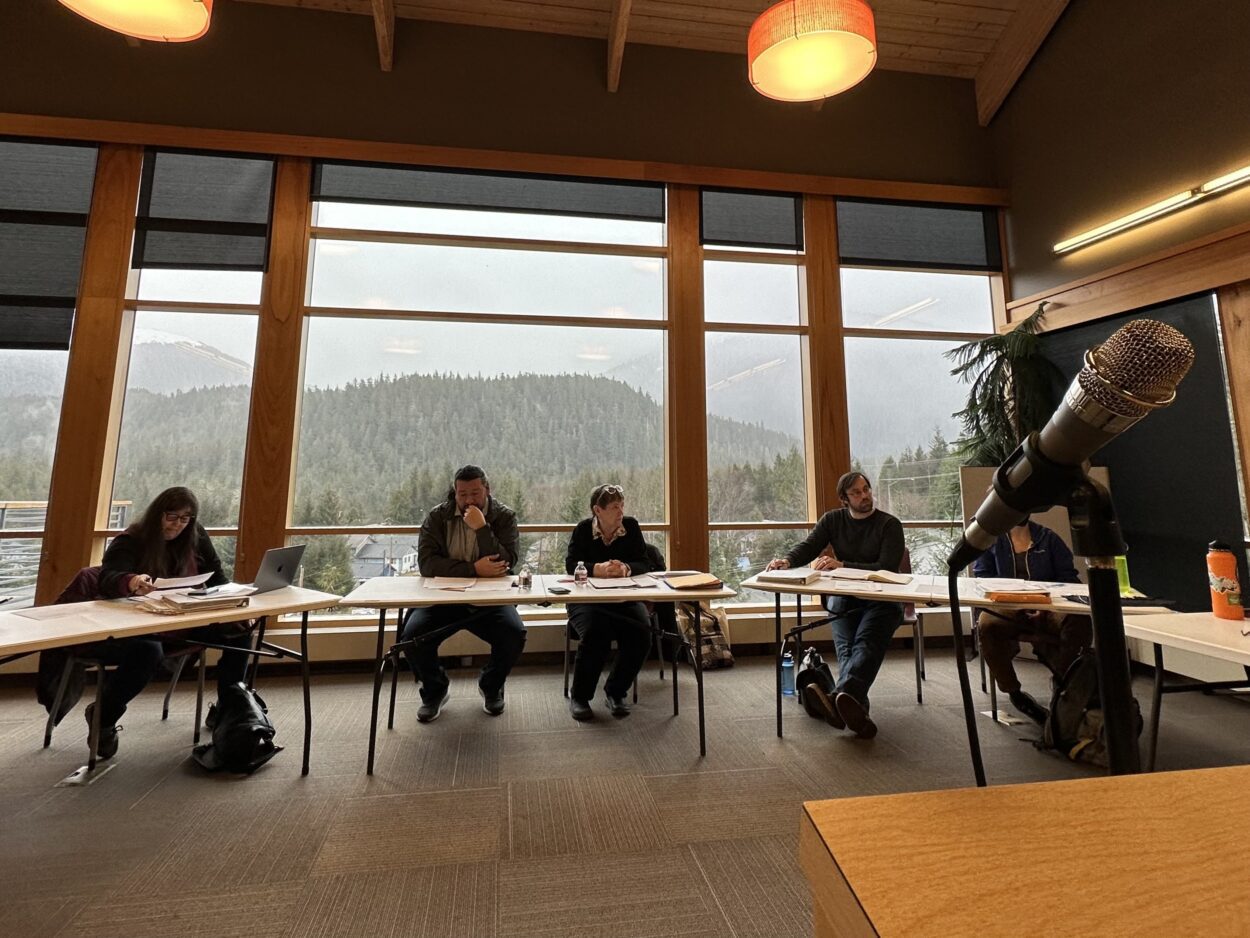 An advisory board endorsed librarians' placement of a book on relationships and sexuality within the Ketchikan Public Library's teen section on Wednesday.
The book, titled "Let's Talk About It: The Teen's Guide to Sex, Relationships, and Being a Human" by Erika Moen and Matthew Nolan, faced a challenge from resident Tanya Hedlind. The library's director, Pat Tully, said it was the first time a book had been challenged in at least a decade.
In Hedlind's initial request dated Feb. 10, she asked the library to remove the book from its shelves. She later revised her request to ask librarians to move the book to the adult section from its current home in the teen room.
Hedlind was one of more than two dozen residents who spoke at a public hearing in front of the library's advisory board on Wednesday.
"I am not asking for this book to be banned. I agree that we have the right to read whatever we want. And with that being said, it is our job as adults and parents to protect children from content which is inappropriate," she said. "After reading the book three times, I see alarming issues like sexting and searching (for) pornography."
The public hearing followed the children's librarian and library director's earlier decisions to deny Hedlind's request to move the book. The library does not restrict access to its books, and children and teens are able to check out books from the adult section.
Testimony at the hearing was split roughly evenly between those who wanted to move the book and those who said they preferred it stay where it is.
Some people who asked for the book to be moved, including Cindy Taylor, objected to a section of the book that discusses sexting.
"I started reading some of the stuff, and when you talk about sexting and hiding your face and doing photos of yourself, the thing that I particularly don't like about that is that once you post something on the internet, it stays. It never goes away," she said. "So what we're promoting is it's okay to do some of these things."
Proponents of the book's presence in the teen section said it was a valuable, comprehensive resource covering all kinds of complex situations, from abusive relationships to safe sex.
High school freshman Braidyn Young was one of two teens who addressed the advisory board.
"I think that we need this book," she said. "I think that there are so many people in my grade that don't have the information that will make, maybe, an uninformed decision that will get them in a dangerous or scary situation that could have been avoided by reading a book that informed them in a way that they felt safe with."
She pointed in particular to the section on sexting.
"We know that kids do this. I think that if they knew to do this safely, and in a way that couldn't be, maybe, used against them, or used in a way that could embarrass them with identifiable parts of themselves in the photos, I think that that could help a lot of kids keep themselves safe, and maybe feel more comfortable and make better decisions," Young said.
Ketchikan's city attorney, Mitch Seaver, issued a memo ahead of the meeting citing a wide range of court cases indicating that libraries cannot restrict minors' access to materials unless they are "obscene". That's a word with special meaning in the legal system — one key element is that to be obscene, a book must be "utterly without redeeming social importance to minors."
The attorney's memo also cited cases indicating that simply moving the book to the library's adult section based on officials' view of its content could also violate the First Amendment.
Teen Conor Pearson spoke to those points.
"You talk about how it's your right to protect our kids from these images, but have you ever thought about our own children's rights?" he said. "As children and teens, we have the right to read what we want, when we want — the same way you do, according to the First Amendment."
Ketchikan City Council member Jack Finnegan, who sits on the library advisory board, commended Young and Pearson for speaking out. He supported keeping the book in the teen section.
"The library staff's duty to safeguard the public is limited to running interference against disruptive or dangerous behavior with the help of outside sources like the police department, if necessary. It is a library's role to house ideas, not to shield people from ideas they may find objectionable," he said. "That is one of the costs that is associated with enjoying our freedom of speech."
The other elected official on the advisory board, Ketchikan Gateway Borough Assembly member Grant EchoHawk, also supported the book.
"Even though I disagree with some of the content, when I look at it as a whole, it provides instruction, it provides knowledge," he said.
The board voted 6-1 to recommend that the library keep the book in the teen section. The lone dissenting vote came from Deborah Simon, representing residents outside Ketchikan and Saxman city limits.
"I find that this book is inconsistent with the (library's) selection criteria … and therefore requires adult supervision. I believe that the book should be moved from the teens' section to the adult section," she said.
The board's vote to keep the book in the teen section is nonbinding — it's advice to the library director and her superior, Ketchikan City Manager Delilah Walsh. Walsh said at the meeting that the decision to keep the book in the teen section could be appealed to the Ketchikan City Council.
Correction: A previous version of this story misspelled Braidyn Young's first name.