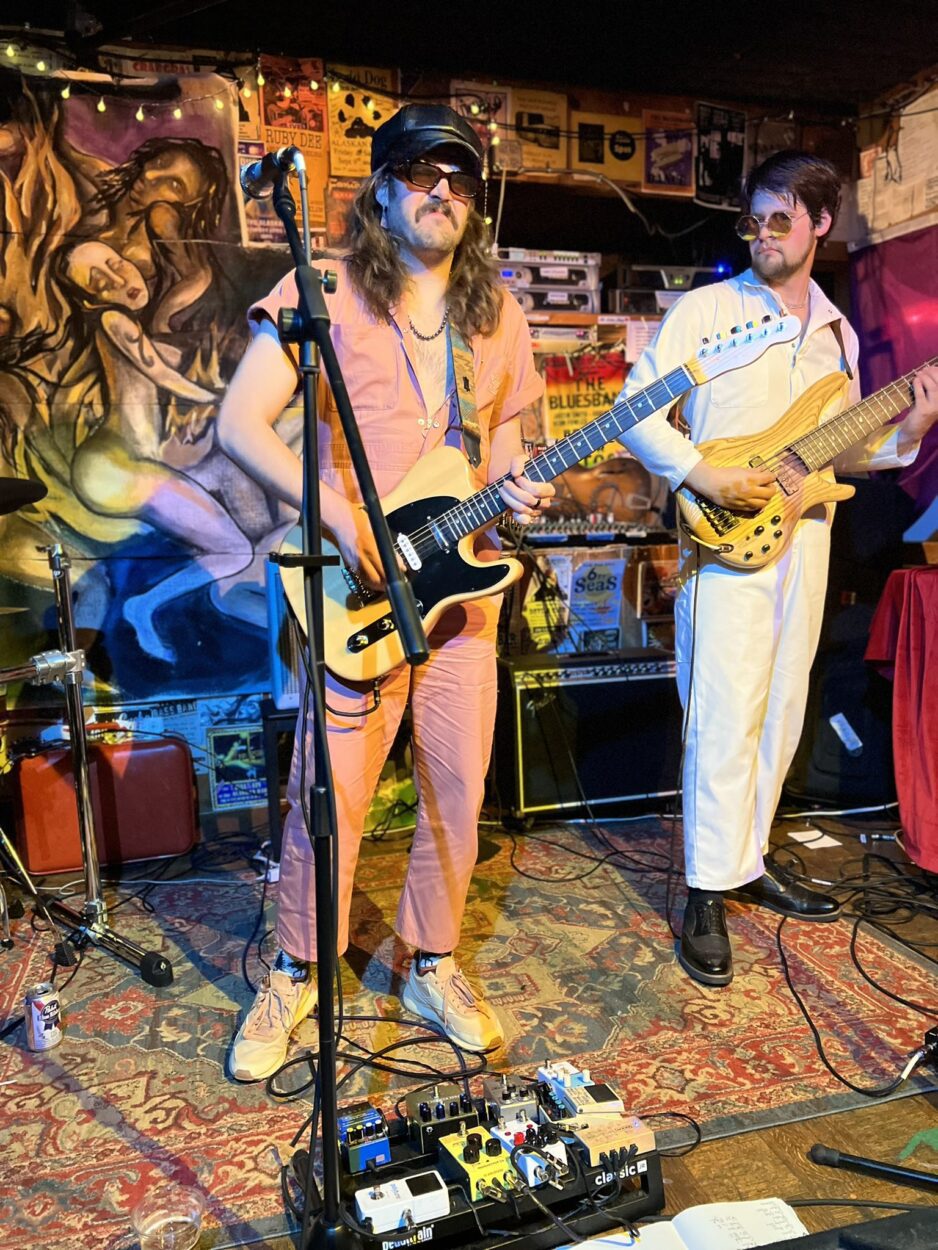 The Alaska Folk Festival wrapped up last weekend in Juneau, drawing artists from across the state and the country.
KRBD sat down with the Ketchikan-based psychedelic rock trio Dude Mtn, who played four shows around Juneau during the weeklong festival.
Some bands are hard to describe. Not Dude Mtn, says frontman and guitarist Cullen McCormick.
"Psychadelic, jam, rock band, blues – and three cool dudes," McCormick said in an interview.
The band officially got its start in McCormick's garage in 2020, but two of the members had been playing together for years in Ketchikan's interconnected music scene.
McCormick and bassist Chazz Gist first got together in the late 2010s in the Ratfish Wranglers, a "subaquatic rock" band led by Ketchikan artist Ray Troll. Then the pair joined up with drummer Kalijah LeCornu as the backing band for open mic nights in Ketchikan.
Gist says that experience gives them a wide range.
"We have different sets for all these different sorts of venues," Gist said.
Before long, they were gigging all over Ketchikan. At first they were called the Dude Mountain Boys.
"It sounded a little too 'O Brother Where Art Thou,' and it didn't really represent us," McCormick said. "Dude Mtn really sounds like a psychedelic rock band, you know?"
The band's name is an homage to a mountain with a popular hiking trail north of downtown Ketchikan. McCormick says it's a way of bringing a little of Ketchikan with them anywhere they play.
McCormick says he started playing guitar after mastering the Guitar Hero games as a child. He remembers showing off to his dad after nailing a song on the game's hardest difficulty.
"He was like, 'Why don't you put down that piece of plastic and just pick up a real one?'" he recalled. "So they got me a guitar, and it kind of just became an obsession."
Dude Mtn played four shows on a swing through Juneau during the Alaska Folk Festival, culminating in a Saturday night show at the Alaskan Hotel and Bar on April 15. McCormick says the gig at the Alaskan was special — they played for upwards of four hours straight with no breaks.
"We just kept playing and kept playing because it was so packed in there — you couldn't just leave that," he said. "Didn't even look at a clock. We just let it rip."
Bar manager Morgan Gaither says it was the biggest night in terms of sales she's ever seen in her three years at the Alaskan, and maybe the biggest in the hotel's 110-year history.
"The crowd didn't take a break. Everybody was just totally enthralled the entire time, which is very impressive," she said via phone.
And the show featured a new addition to LeCornu's drum set found at Juneau's Salvation Army thrift store: an old fire alarm.
"Nobody's ever seen a fire alarm solo? Who can say honestly, they've ever seen a fire alarm solo?" McCormick said.
Dude Mtn also played Juneau's Crystal Saloon and the Sandbar and Grill in their swing through the Capital City, plus a pop-up show at the iconic downtown dumpling shop Pel'meni.
"It was on a kind of 'if you know, you know' basis," he said. "And that place is already small, but it was packed shoulder-to-shoulder. We were playing all acoustic."
It was Dude Mtn's second trip to Juneau, after a Crystal Saloon show last Octoer that was billed as a "Ketchikan takeover." McCormick and his bandmates say it was a special trip up the Inside Passage.
"We feel the love here in Ketchikan, but to go somewhere else, as a band, and just be well received like that definitely made us feel really good inside about what we're doing," he said.
McCormick says Dude Mountain is recording an EP of original songs that it hopes to have out by late spring or early summer. They plan to gig around Southeast this summer, including a summer solstice party at Ketchikan's Hole in the Wall Marina in June. They'll be back in Juneau for Alaska Fashion Week in July.