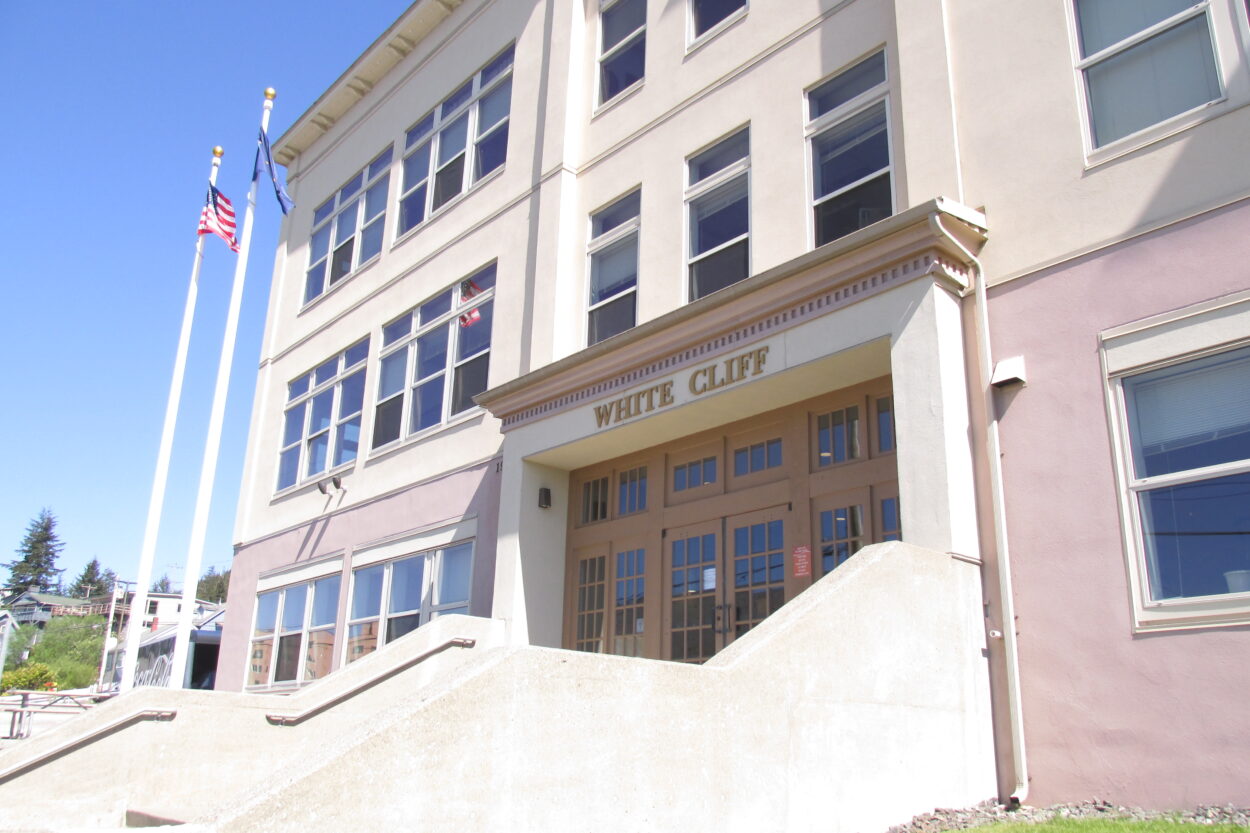 Ketchikan's borough assembly on Monday struck down a move that would have rolled back senior sales tax exemptions on alcohol, tobacco and marijuana. Several residents spoke out against the idea at this week's meeting.
A handful of citizens — both seniors and near-seniors — turned out to show disappointment in the assembly for considering taking away a tax exemption for tobacco, alcohol and marijuana.
The complaints were varied: some expressed concern that the move was a gateway to raising taxes on other items, or that their retirement plans could be affected by changing prices in the community. Others thought that the assembly was taking the wrong approach at trying to prevent health problems.
Mike Holman told the assembly that, to him, making seniors pay tax on those items seemed like virtue signaling. Holman said he thought the sponsors of the statement, members Judith McQuerry and Glen Thompson, were picking on people with "bad habits" who wouldn't defend it to the assembly.
"If I thought paying a little extra tax on cigarettes, and beer might help me stop smoking or drink less, I might vote for it myself," Holman said. "You know, I'm here because I'm disgusted with the cavalier and I think, to some extent, virtue signaling manner in which you passed this in first reading."
Tom Ferry is close to qualifying for the exemption, and doesn't think it will save much money — or stop people from smoking or drinking.
"Cigarettes are $14 a pack now if that's not enough to make you quit, I don't know what it is," he said.
David Hays argued that the move could hurt seniors who live on a fixed income, and questioned how much money it would actually save the borough.
"So I think that I think once again, if we're trying to curb the behavior, aberrant behavior of seniors, it's not going to work," he said. "And if it's an attempt to raise additional funds, all you're doing is taking money out of the pockets of many people who are on a fixed income and are least able to afford it."
Assembly member Grant EchoHawk was originally going to vote in favor of the change. But he said he changed his mind after having conversations with people who would be affected. He mentioned exploring other kinds of tax exemptions to save money.
"I have to say, there's one thing my mother taught me, is when your seniors come and have words with you, you better listen," he said.
Assembly member Judith McQuerry was one of the ordinance's sponsors, and voted in favor. She said that by making the change, people could plan for spending extra money on those items in retirement.
"The exemptions are for people 65. I see no reason why, at 64 and a half, you pay tax, at 65, you don't pay tax," she explained. "I would prefer to put this in, like down in the future, so that people that are 50 know that when they hit 65, there won't be an exemption that would help with planning."
The ordinance failed, with five members voting against it and two for it. Grant EchoHawk, AJ Pierce, Glen Thompson, Jamie Palmer and Jeremy Bynum voted no. Austin Otos and Judith McQuerry voted yes.
And, during the roughly six hour meeting, Ketchikan's borough assembly also decided to postpone introducing an ordinance that would approve a roughly $46 million budget for the school district.
Assembly member Jeremy Bynum asked to delay any decisions on that issue until the next regular meeting on May 15. He argued that more information was needed and said there hadn't been enough time to review the budget before the meeting.
"This hopefully would let us know exactly, kind of, where we're going to be at," he said. "This doesn't in any way prohibit the school district from having an appropriate budget, doesn't prevent us from passing a budget for them. But it does give us more time to collaborate with staff."
The assembly plans to revisit the ordinance at the next regular meeting on May 15. A public hearing on the budget is set for May 22.
Ketchikan Gateway Borough Clerk Kacie Paxton said that the assembly has until May 26 to approve the budget request. 
Raegan Miller is a Report for America corps member for KRBD. Your donation to match our RFA grant helps keep her writing stories like this one. Please consider making a tax-deductible contribution at KRBD.org/donate.