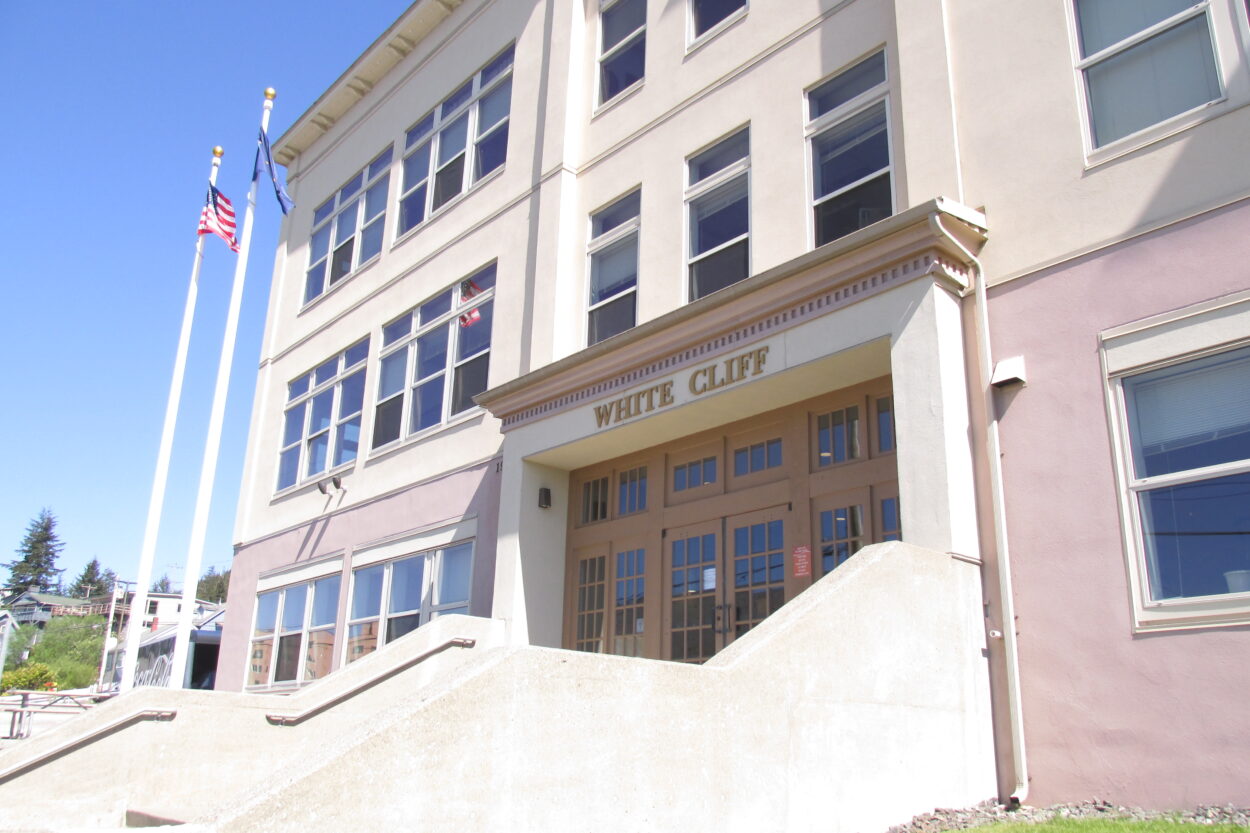 The Ketchikan Gateway Borough Assembly Monday night introduced a budget that would reduce the amount they give the school district by more than $614,000. Some members were hesitant to base the budget off state funding that hasn't been approved yet. 
Ketchikan's school district had drafted a roughly $46 million budget for the next year. That request was based on an increase in the state's per-student funding, known as the base student allocation.
Assembly members were largely uncomfortable leaning on a number that hasn't been approved by state lawmakers yet. Jaimie Palmer was one of five members who voted in favor of introducing a substitute version of the budget that includes less funding for the schools — taking away more than $600,000.
"I also don't want to just say, 'Wave the wand and here we go, let's go with this magical number that hasn't been approved yet by the Legislature,'" she said. "I don't think that's the right thing to do, and would err on the side of being conservative in that way. And then down the line doing a supplemental appropriation, if we can, I think that would be a nice thing to do."
Assembly Member Jeremy Bynum was also in favor.
"I'm in no way making this motion because I don't believe that the superintendent, and his budget is in the best interest of our kids," he said. "I'm making this motion because tonight, I cannot vote yes on moving this ordinance forward, based on the current amounts, because those current amounts are not available by state law."
The assembly was interested in giving the district more funds later on, if the state funding comes through.
Without the full requested funding, superintendent Michael Robbins said the district would look to its programs to save money, and some members, like Judith McQuerry, worried that cutting programs would equal cutting staff. 
"So what we're talking about if we do not approve the presented budget, is the school district will be put in the position of handing out pink slips, and then hoping maybe sometime later on, we will be able to hire those people back?" Judith McQuerry questioned the district's superintendent.
"Well, we'd have to make the decision on what program cuts that we have to make," Robbins replied. "But then if that involves people, then yes, ma'am. That's how it would have to work. Which is not really what we'd like to do." 
Robbins later told KRBD that the district wouldn't look at cutting staff positions.
"Our staff is what makes our students great," he told KRBD on Tuesday. "And it really propelled our district to do what's best for our kids. So that's an area we would not look at."
Grant EchoHawk voted in favor of the substitute budget, but said he was torn.
"But from a purely fiscal standpoint, it is difficult to deny that this makes the most sense," he said.
Echohawk urged the assembly to think about ways to help students directly. Some of the assembly discussed ways that the district could fundraise or lean on community support.
"This really is a great time for our entire community to come together and, and to help out these kiddos because that's ultimately what it's about, It's about the children," he said.
Five assembly members voted to introduce the reduced budget, and two, Judith McQuerry and Austin Otos, voted against it. 
Further discussion about the budget is set for a hearing on May 22. The district's budget will again appear on the agenda, in its reduced form. If the budget isn't accepted by May 30, it will pass as requested. 
Raegan Miller is a Report for America corps member for KRBD. Your donation to match our RFA grant helps keep her writing stories like this one. Please consider making a tax-deductible contribution at KRBD.org/donate.