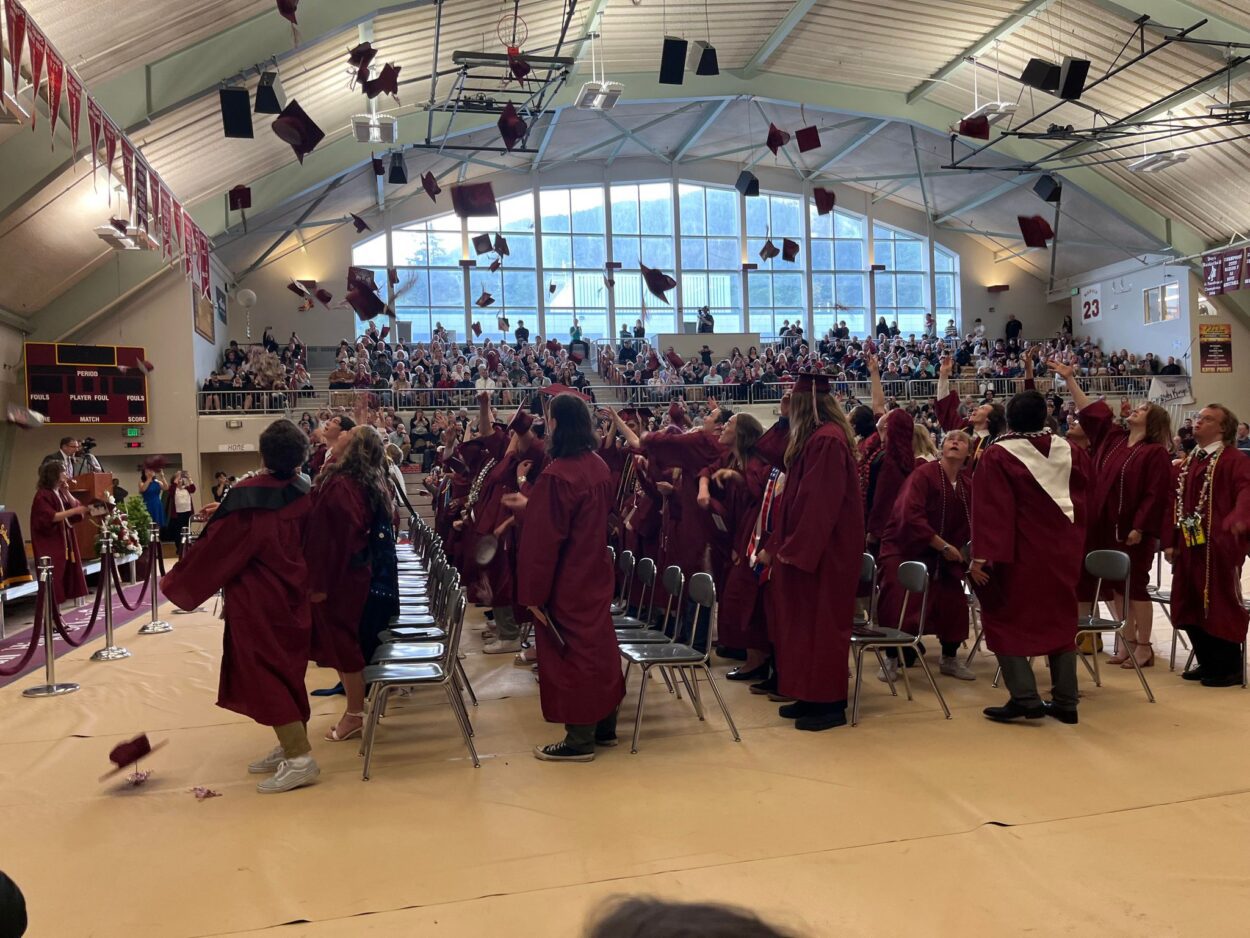 The Ketchikan High School class of 2023 turned their tassels on Sunday evening. The graduation ceremony packed the school gym with family and friends who came to show support for the class, which many speakers hailed as one of the most kind and generous to come out of Kayhi in recent years.
The class of 2023, 106 students strong, filed into the gym for one last time on Sunday, casting nervous smiles or waving to their families in the packed bleachers. 
The district's deputy superintendent, Melissa Johnson, gave a land acknowledgement to start the ceremony off. 
The school's principal, Rick Dormer, thanked the class for welcoming him into the school this year, and for creating a friendly environment for everyone throughout the year.
"The class of 2023 feels like a group of movers and shakers, the kind of citizens who will go to work, college, the military," Dormer said. "You move into communities, you join organizations, and you will make an immediate, positive impact."
That message — about the students being movers and shakers — would be repeated by most of the speakers. Class president Brooklin Dillard, who is set to attend Middlebury College, reminded her classmates to look out for the magic everyday. 
"I want you to know that wonder is out there. Magic is out there," she said. "And I don't mean fairy dust, exactly, or having to see it from a little kid's perspective. I mean, finding magic [in] people [and] what you love, and what you're going to do, and what makes you happy. When we leave this room, I hope you're filled with wonder again, for the new world, the craving for the unknown, and the next steps."
There were two valedictorians, Kelsey O'Brien and Malia King, and two salutatorians, Seth Webb and Emily Bolling, from this year's class. Only the valedictorians, Kelsey O'Brien and Malia King spoke. Seth Webb will be attending AVTEC. Emily Bolling is headed to the University of Arizona (Tucson) to study medical sciences.  
O'Brien plans to study physics at Washington and Lee University in Lexington, Virginia.
"This class is of such potential incredible drive, and exceptional perseverance," she said. "On top of that, this is one of the most kind, compassionate and genuine classes to walk the halls of Kayhi.  It is a combination of all of these traits that prove our class is ready to accomplish great things. One of the most valuable things we've learned here at  Kayhi is how to keep up the courage to continue on our journey despite challenges we may face." 
O'Brien also quoted Eleanor Roosevelt, saying, "the future belongs to those who believe in the beauty of their dreams."
Malia King will be attending Washington University in St. Louis, studying psychology and studio art. King used her speech to reminisce, and encourage graduates who are headed off to new experiences.
"Memories like these mean more to me than the title about of valedictorian ever could," she said. "Before this week, I was so excited to be done. Now, although I'm still glad to do that … I'm sad — so many friends and classmates have become such a huge part of my life since I moved back to Ketchikan in 2016. As we look toward the future, I hope you're excited. There's so much potential in every one of you. So many different towns and interests represented in our class."
Also during the ceremony, graduate Madisen Lundamo performed the song "I Hope You Dance."
And, graduating band students went back to the band one more time to perform "Brave." 
The commencement speaker was biology teacher D Jay O'Brien. He used a science lens to tell the graduates just how special they are.
When he started, he told the students he had a "best of O'Brien's biology lectures" to share with them, prompting laughs from their families.
"Are those tears of joy?" he joked with the graduates.
He told the graduates just how perfect the conditions were for them to be brought into the world — the exact way their parents' genes combined would never be repeated again.
"Okay, kids, hang up and learn. It's time for your final biology lesson," he said. "One that may be called 'Everything I really needed to know in life I learned in biology.' So you've all heard that terribly sarcastic expression goes, 'you're special, just like everybody else.' Well, it turns out that biology proves that to be true. Dear graduates, each one of you is a unique combination of genes that has never existed before."
O'Brien echoed other speakers who had commented on how unique this class is.
"I would argue that the class of 2023 is probably the most generous, most altruistic class in recent memory," he said. "You didn't forget what altruism is, did you? Essentially, it's putting others before yourself. It's very rare in biology and hard to make evolutionary sense of."
After the superintendent and school board president both gave their congratulations, it was time for the students to receive their diplomas. Then, the class president stood up once again, to direct her classmates to turn their tassels.
The air filled with soaring caps and whooping cheers. 
Raegan Miller is a Report for America corps member for KRBD. Your donation to match our RFA grant helps keep her writing stories like this one. Please consider making a tax-deductible contribution at KRBD.org/donate.