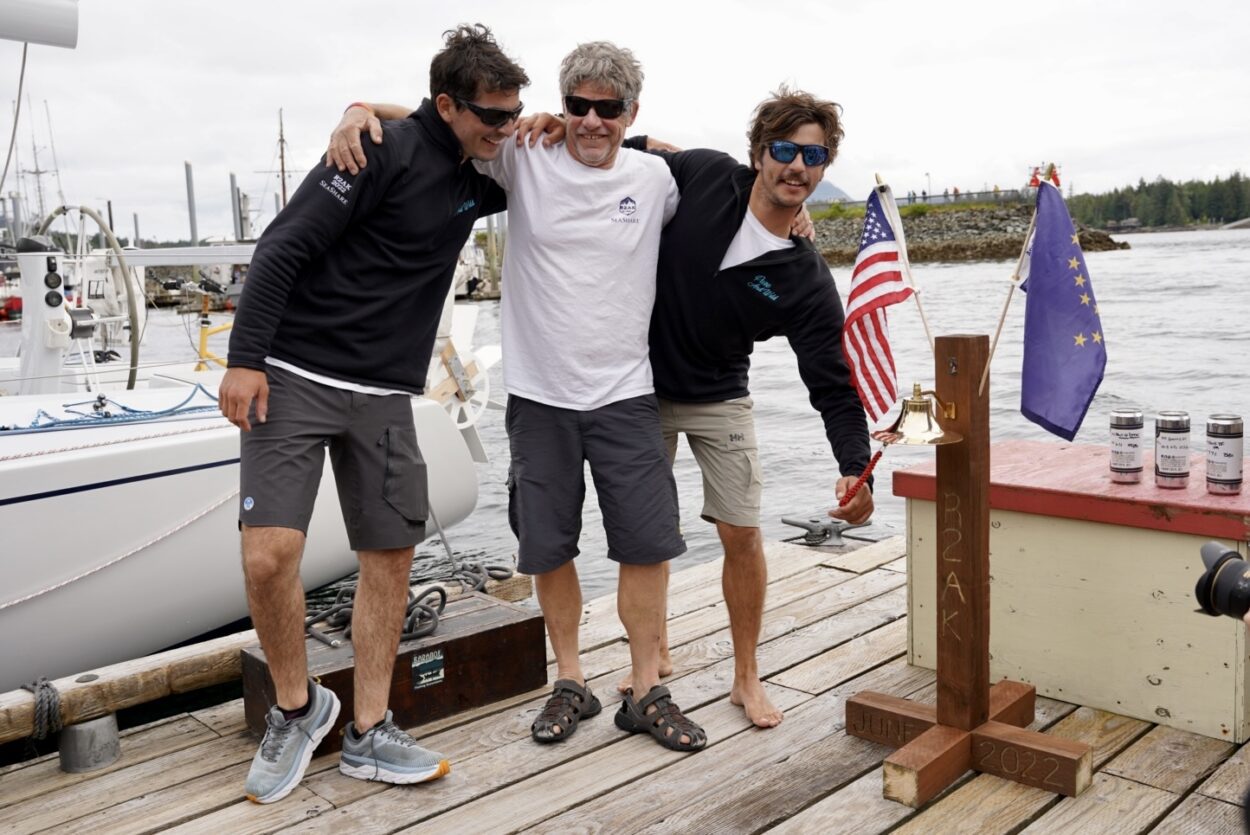 The 750-mile Race to Alaska starts Monday. Intrepid competitors are pouring into Port Townsend, Washington to enjoy their last few days on land. There's a number of fan-favorite teams coming back for another shot at glory — and, of course, steak knives. 
The idea is simple, but the race is not: no motors, no engines, and 750 miles from Port Townsend to Ketchikan, tagging Victoria, British Columbia along the way.
"The weather forecast is looking relatively tame for the start of the race, but that can change in a heartbeat," said Jesse Wiegel, the "race boss."
Wiegel said about three of the 39 registered vessels have arrived at the start line, and the rest are expected over the weekend. 
The idea is described like this on the race's website: "It's like the Iditarod, on a boat, with a chance of drowning, being run down by a freighter, or eaten by a grizzly bear. There are squalls, killer whales, tidal currents that run upwards of 20 miles an hour, and some of the most beautiful scenery on earth."
As far as what they'll face on the water, Wiegel isn't sure. He said it's part of the draw. 
"Funny thing about Race to Alaska is that we planted it right here in June just because it's hard to tell what the weather is going to do," he said. "It could be a shake and bake, kind of slow, 'sit in the sun and pedal your way to Alaska.' Or we can have gales and wind advisories and all sorts of things."
But that won't be news to about 30% of the racers, who are what Wiegel calls "repeat customers." They've done the race before, and they're doing it again this year.
That includes Team Madame Oracle and the Porch Prairie Pirates.
"They've been doing the race human-powered for several years," he said. "This team, they've put together a sailing team. They're going to take it easy on a sailboat this year."
There's also Team Zen Again Dog, a one-man crew from England taking on the race in a Seaward Quest X3 kayak. And there's team Lillian's Vacation, a one-woman show homeported in Port Angeles.
There aren't any teams hailing from Ketchikan this year. But there are teams from across the country, Australia, the United Kingdom and Canada.
First place prize is $10,000. But Wiegel said the runner-up prize is the real star of the show.
"The $10,000 for first place, that's chump change," Wiegel said. "Really what you're after is the steak knives."
Last year, Team Pure and Wild came in first place. Seattle-based crewmembers Jonathan McKee, Aloysha Strum-Palerm and Matt Pistay got to Ketchikan first in their 44-foot riptide monohull. The steak knives, however, went to Team Elsewhere.
The race is separated in courses. "The Proving Ground" is from Port Townsend to Victoria — roughly 40 miles. The second leg is nicknamed "The Bitter End" and takes a team all the way to Ketchikan — the other 710 miles.
Some teams will just do the first leg. Others will go all the way. Some won't finish. Team Zen Again Dog, captained by Robert McCall, is back again this year and didn't finish last year.
It's a lot easier for fans. Once the race has started, teams can be tracked online.
Raegan Miller is a Report for America corps member for KRBD. Your donation to match our RFA grant helps keep her writing stories like this one. Please consider making a tax-deductible contribution at KRBD.org/donate.