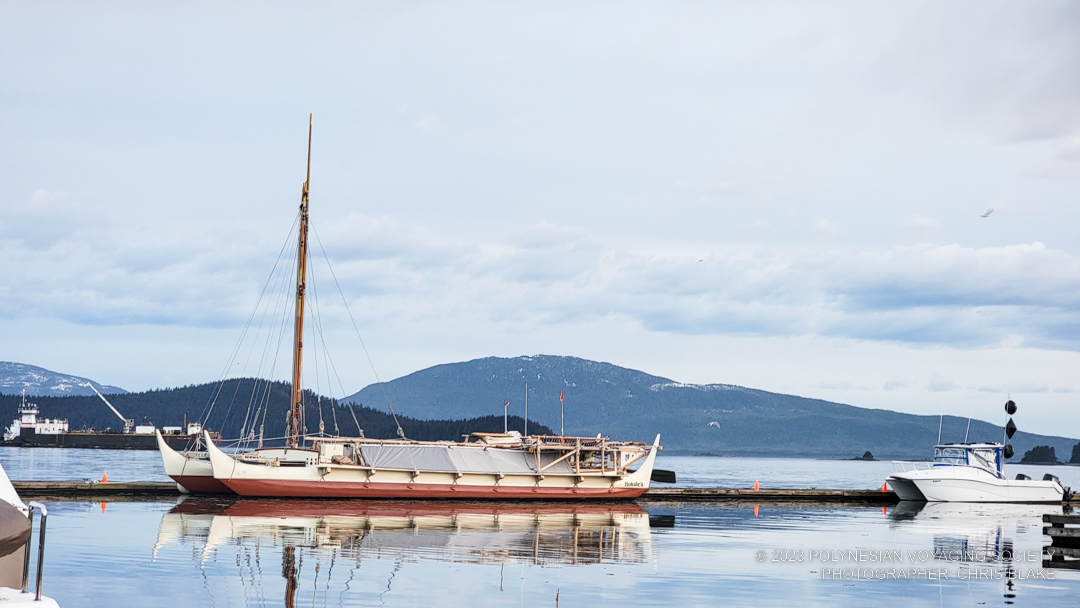 The traditional voyaging canoe Hōkūle'a is setting off on its global journey with big goals. The years-long journey is called Moananuiākea, and it kicks off in Alaska. Right now, the canoe is traveling through the Southeast region. 
The Polynesian Voyaging Society is organizing the voyage. They say the goal is to share "voyaging heritage," while bringing together planetary navigators, spreading a message of caring for the ocean, and connecting with other Indigenous communities to spread and share traditional knowledge.
"As in the recent Mālama Honua Worldwide Voyage, Hōkūle'a will be a needle that threads together partners and people around the world to power up a movement to change worldview and create action that will take on environmental challenges affecting all of humanity," according to a press release from the Polynesian Voyaging Society.
Lehua Kamalu is the voyaging director and a navigator. She talked with KRBD's Raegan Miller while the canoe was docked in Haines. 
KAMALU: "Haines is a really special port to us, we honored the elder Judson Brown, who really was the person who connected our community to a lot of folks here in Southeast and Sealaska, and was really where we started a conversation. And we were ultimately gifted two Sitka spruce trees to build one of our voyaging canoes."
KRBD: "That's really special. And kind of in that vein, could you tell me a little bit about why Alaska is this first leg of the journey?"
KAMALU: "Alaska is such a unique and special place. Right before, in the timescale of voyaging, we did a voyage around the world, actually, from 2014 to 2017. And one of the things about going around the world, is it's really hard to go everywhere in a few years time. And one place that's very special to our community is Alaska. And just due to the way that the voyage worked out, it was gonna be really hard for us to actually get all the way to Alaska. And so I think we came home from that voyage really yearning for that reconnection."
KRBD: "And I know you mentioned being able to honor some folks in some of those other communities that you visited. Will you be able or to the crew, will they be able to also get out in these communities as they visit at all? Or are you strictly on board?"
KAMALU: "In our visits with Yakutat, Hoonah, and Haines already, the community has been incredibly gracious and wonderful hosting all of our crew. Most of them, this is their first time in Alaska — some of them their first time leaving Hawaii really. And as we prepared for this journey, you know, they would always just say 'We are, we're going to take care of you, when you're in our waters, you're under our protection, you're under our care.' They've been able to experience so much of what each place is about what's important to them, what's valuable in their spaces. They've taught us about salmon and hooligan, and about some of the foods what they do at this time of year, and brought them to many special places. And so we're incredibly grateful for that opportunity. And also, we certainly want to share a little bit more about what we do with our voyaging canoe. Our canoe's name is Hōkūle'a. And this is our first journey to Alaska. She's a very, very special vessel. And so we also want to make sure that our community members and our hosts are able to come down to the dock to visit with us to meet the crew to hear about our work and our journey and just be able to experience a little bit of Hawaii."
KRBD:  "And there's so many special things that I feel like can kind of be used tonight to unite the two cultures: the specialness, and the uniqueness, of the canoes and the voyages is one thing that comes to mind."
KAMALU: "Absolutely. So what's wonderful about this relationship is, you know, it's it's been able to, I think, carry on over the many decades that we've been working with our canoes and our Kenyan communities, even here in Alaska. When you think about new cultures, Alaska … very prominent in our minds. And we actually also had an opportunity to celebrate our canoe cultures in a couple of conferences over the past couple of years. It was a little while since the last one. But I think anyone who can appreciate and understand the power of a canoe and connecting place, and reminding us of practice and brings the other community has been very wonderful as well. And we've also been blessed to be joined by some of the, the canoe paddlers here from each of the villages and be greeted in with them to the shores. And so there's a very direct connection. And in so many ways this community makes us feel right at home."
KRBD: "And I know it's going to be a pretty long journey a couple of years, right?"
KAMALU: "It is, it's going to be a few years. We travel pretty slowly on our vessel. Our average speed is about five knots while sailing. Here in Alaska, we're definitely being very cautious. It's much different to landscape or oceanscape than we're used to being out on the open water in warm, tropical ocean waters. And so here we are definitely yielding to the expertise and experience of our local ocean guys and fishermen and boat captains who really know this place best."
KRBD: "And what are some of the other stops that you'll make along the way?"
KAMALU: "There's a few parameters that we keep in mind. We always want to make sure we are first invited in, that we have permission from our First People hosts from the community members who will be welcoming us and we never want to take anyone by surprise. And so a lot of work goes into just identifying each place and port before we even arrived. And same is true for here in Alaska. This process began, in fact two years ago, and now it's coming to that culmination. So as we go throughout our journey, we always make sure that we are still sort of on course, and our relationships are very strong. But after departing Alaska, we will continue on to British Columbia, the West Coast. This is actually another journey where we are hoping maybe to touch the coast of South America. This is something that, after voyaging since 1976, still eluded us. And so if it is meant to be, we will try and make it happen. Carrying forward our journey back to Polynesia, through the islands of Rapa Nui, to French Polynesia, and Tahiti. On route to Aotearoa, to Cook Islands in Samoa. We're also hoping to visit the islands of one of our amazing teachers in Micronesia. And then we really get to think about how we approach really the Asian continent and the many islands that fill that area and the many cultures so that one will still develop as we go along. And we'll keep updating that with our communities as we go."
There will be a ceremony blessing the voyage on June 15, although the canoe's departure date is weather-dependent. Voyaging society information says that the crew is planning to spend the remainder of June through September visiting Alaska, British Columbia and Seattle. While sailing through Alaska waters, they'll stop in Kake, Angoon, Petersburg, Wrangell, Ketchikan, Saxman, Metlakatla and Hydaburg. There will be time for residents to greet the canoe and activities happening while the crew is in port. Altogether, the trip is about 43,000 nautical miles and includes 36 countries and almost 100 Indigenous territories and 300 ports.
Then, they'll move toward the West Coast, Mexico and South America in early 2024. For most of next year, they plan to explore Polynesia.  By September 2026, they'll be in Japan and will ship the canoe to its final stop in Tahiti.
Raegan Miller is a Report for America corps member for KRBD. Your donation to match our RFA grant helps keep her writing stories like this one. Please consider making a tax-deductible contribution at KRBD.org/donate.