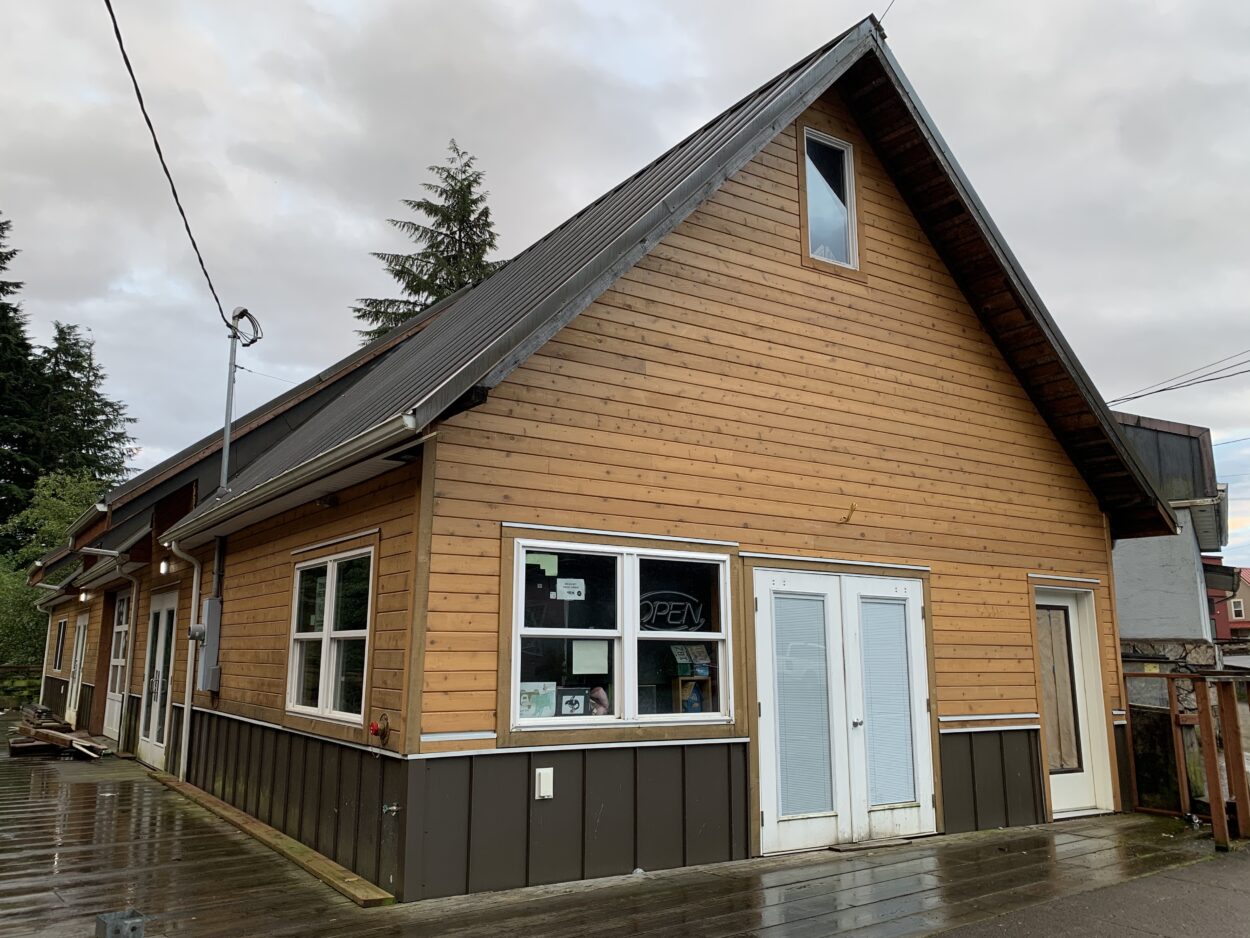 Ketchikan's City Council will soon consider whether to renew its lease with the only 24/7 emergency shelter in town — or possibly, to change the terms. The conversation comes amid recent public testimony about illegal or inappropriate activity in and around the shelter.
In the first of a two-part series, KRBD visited the First City Haven to speak with staff and shelter users about their experiences.
Zach Merrick was at the shelter Wednesday morning, dressed in a brown tee shirt and jeans, watching a movie in the common area filled with recliners and couches. He lost his job in Petersburg. He couldn't find a new one and decided to move to Ketchikan, to see if things got better for him in a bigger town. But they didn't. 
"You find out a lot about a place by how they treat the homeless people on the streets," he said.
Merrick said he's used other shelters in the state, like in Anchorage, and also some down south.
"And I do believe this is the best one I've ever seen," Merrick said.
He said that's because there isn't as much violence, and there aren't gangs.
He said Ketchikan is doing a good job.
"Everybody should understand everybody," he said. "And if we don't understand everybody, then there's a missing piece somewhere."
But despite that sentiment, local business owners and people who live in the downtown area have come to the City Council to complain about illegal or inappropriate behavior from people in or around the shelter. A special session is in the works to give the council room to talk about next steps — whether to move forward with renewing the lease, and if they do, what to change.  City clerk Taylor Lee wrote to KRBD in an email on Wednesday that the session could be in August, and it will likely take weeks for a date to be set. One council member, Abby Bradberry, has even suggested closing the shelter immediately while an audit is performed, and said she heard allegations of staff using drugs.
Deborah Asper is the chief executive officer of First City Homeless Services, the organization that runs the shelter.
"Our participants live in a completely different world than what we live in," she explained. "So their survival skills don't include paying bills, and they don't include going grocery shopping. They include, you know, defending themselves and when somebody is living on the streets, they go into fight or flight. And that really limits the ability their brain has to function. So yes, we do see people getting upset and not knowing how to handle that situation and yelling."
Asper said that drug or alcohol use isn't allowed in the shelter — those who use those substances will be asked to leave. People are allowed to come into the shelter if they are intoxicated, but they can't keep drinking inside. Asper said that staff receive training from the police department about how to handle issues. But if the issues escalate — like, into physical fights — they call the police. Asper said sometimes that results in someone being arrested, but often, the police presence diffuses the issue. 
Anthony Nunley is the security officer at the shelter. Nunley said most of what he sees come into the shelter is alcohol, not drugs.
"We run a tight ship," Nunley explained. "If you violate any of the rules and their basic rules, you will be asked to leave. And if I believe right, we have a sign upstairs and there's eight rules that are on it. Eight simple rules. Anybody can do it. They choose, I'm going to say 4% choose not to — those are the ones that have to keep an eye on."
Nunley said there's very little activity in front of the actual building. Up and down Park Avenue — where he has no authority — is different. But shelter staff can't make anyone come inside or use their services.
Edward George was homeless before First City Haven was an option.
"Sure nice to get out of the weather and you know, and have somewhere to shower and feel like a human being, you know?" he said.
George is a disabled veteran and said the current location is a game-changer for him. It's downtown, and connected to the bus system. There aren't hills around that make it difficult for him to get there, especially in the winter.
But that could change. Asper, the CEO, said there would be a big issue if the City Council wanted to change the shelter's capacity. Right now, the fire department cleared the shelter for 54 beds, and she says they don't fill all of them at night. 
"So if, let's say that the population — the homeless population is — 1,000 people, how do you choose 10 people out of 1,000 or 15 people out of 1,000?" Asper said. "You know, obviously, not all those people need homes. But that also then creates a more of an aggressive, like, response from people needing the services."
She said shrinking the services, or the capacity, will only cause more issues outside the shelter, because people won't be able to get the help that they're fighting for inside. 
Asper said there are at least 818 unhoused people in Ketchikan, as of last year. 
Their public services could change depending on what the City Council decides to do.
Across the past two meetings, there's already been suggestions for changes — like reducing capacity or hours of operation.
This is the first of two stories KRBD produced on the First City Haven shelter issue. Listen to KRBD's Monday evening newscast or look online for the second story on Monday.